Marvel's upcoming Blood Hunt event: Spider-Man, the Avengers, and Doctor Strange take on a vampire uprising
Everything you need to know about Marvel's big Spring 2024 storyline
Things are about to get a little bloody in Marvel's comic book universe, with the publisher having announced its first 2024 event storyline, Blood Hunt. Launching early next year, the event — which will include a central title by Avengers writer Jed MacKay and X-Men artists Pepe Larraz and Marte Gracia, as well as a number of different tie-in issues and series — sees the vampires of the world rise up and fight for supremacy… with only a handful of heroes able to stand against them.
The event was announced at New York Comic Con 2023; while we wait for the blood moon to arrive, here's what we know about Blood Hunt so far.
What is the Blood Hunt plot?
With the launch of Blood Hunt still some months away, Marvel is keeping plot details for the event under wraps. So far, all the company has revealed about the plot is, "Brimming with unsurmountable stakes, this startling saga will drag the world into darkness as your favorite heroes struggle to ward off the vampire race's cursed crusade of terror!"
A quote from writer Jed MacKay suggests that it connects to the titles he's currently writing, including Avengers, Moon Knight, and Doctor Strange.
"We have vampires in our books all the time, there's some bad blood there. What happens if the shoe was on the other foot? We've got the Avengers, Moon Knight's Midnight Mission, Doctor Strange, Miles Morales, and of course, Blade, and there's going to be more vampires you can shake a stick at."
Expect more details as the event gets closer.
What comics are in Blood Hunt?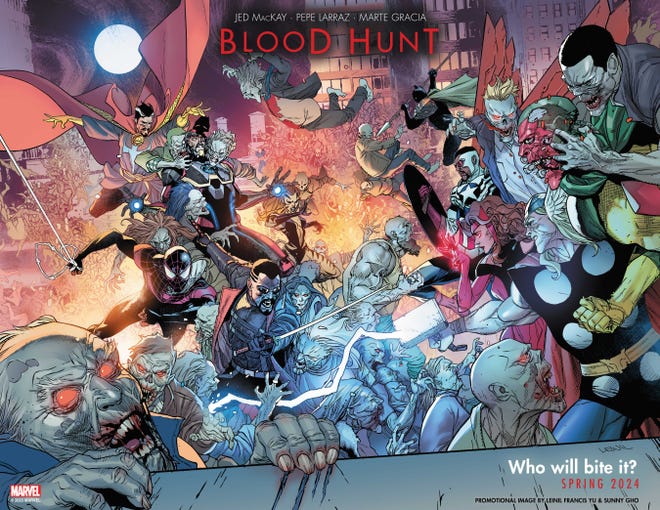 Again, it's too early to have a complete checklist for Blood Hunt, but we know it'll be the central story in Marvel's 2024 Free Comic Book Day offerings. Beyond that, all that has been officially announced is a central series by MacKay, Larraz, and Gracia, although Marvel is promising "a host of tie-in issues in Marvel's hottest current series and see the launch of all-new limited series, one-shots, and redefining status quos." Given that MacKay is writing Moon Knight, Doctor Strange, and the Avengers right now, it's safe to assume that those series will be tying in to the event… but perhaps we should expect some Miles Morales and Blade tie-ins, as well.
Here's what's confirmed:
May 4: Blood Hunt Free Comic Book Day story
When does Blood Hunt happen?
The official announcement of the event promised a Spring 2024 timeline, and writer Jed MacKay says 'Blood Hunt' will kick off with the Free Comic Book Day story on May 4.
Is there a Blood Hunt trailer?
There is indeed… although it might be fair to describe it as more of a teaser, in that all it does it offer animated excerpts of the Lenil You teaser image for the event. Watch it below.
Stay tuned for more on Blood Hunt as we get closer to its launch.
---
Want to know what's coming up next in pop culture? Check out our guides to upcoming movies, upcoming TV shows, upcoming comics, and upcoming comic conventions. If you're looking for specific franchises or genres, we have all the upcoming MCU, upcoming Star Wars, upcoming Star Trek, and upcoming DC movies & TV for you. If you're a fan of superheroes and not specific to just Marvel or DC, we have overall guides to all the upcoming superhero movies and upcoming superhero TV shows (and new seasons) as well.