McDonald's Loki tie-in: Yes, we bought it for the sauce
Lost in the sauce - our underwhelming journey to get the Loki McDonalds meal from start to finish
Last week, McDonalds announced their newest As Featured In crossover with a special Sweet 'N Sour sauce featuring Loki season 2. For those who don't remember, the trailer for the upcoming series featured our favorite characters in some new situations, including Sylvie as a cashier at a vintage McDonalds (rumored to be in 1982). Now, some of that crossover magic is coming to the real world in the form of a sort-of Loki McDonald's meal.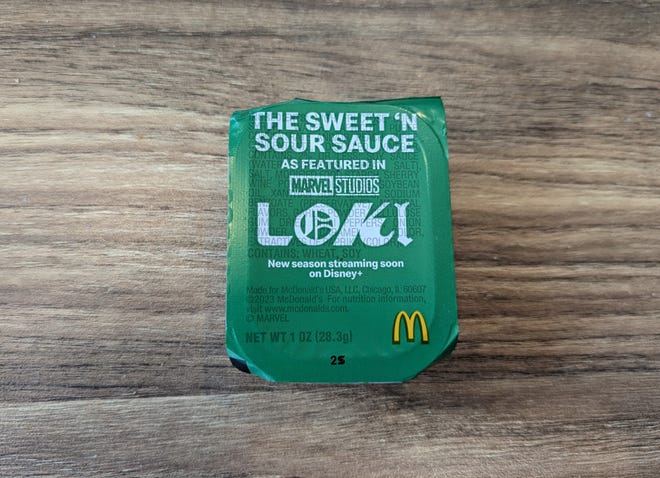 Sure, as a fast food tie-in, it seems a little underwhelming, but we wouldn't be Popverse if we didn't give the new As Featured In Meal a go. So, this morning, when the sauce launched, I made my way down the street to the local McDonalds to order it.
The As Featured In meal comes with three options, a Big Mac, a Quarter Pounder, and McNuggets. Of course, if you want to get the Loki sauce, you'll need to get the McNuggets, which we did. The meal came with a medium fry, ten McNuggets, and a soft drink in a plastic cup that reads "The McDonald's Cup As Featured In Space Jam / Fallen Angels / "You Be Illin'" by RUN DMC / The Office (US) / Coming to America / Seinfeld, "The Boyfriend /Brief Answers to the Big Questions by Stephen Hawking / "Cómo, Cuándo Y Dónde" by AKWID / Chak De! India / The Fast and the Furious: Tokyo Drift / Loki Season 2," and two little plastic containers of sweet and sour sauce that reads "The Sweet 'N Sour Sauce As Featured In Marvel Studios Loki New seasons streaming soon on Disney+."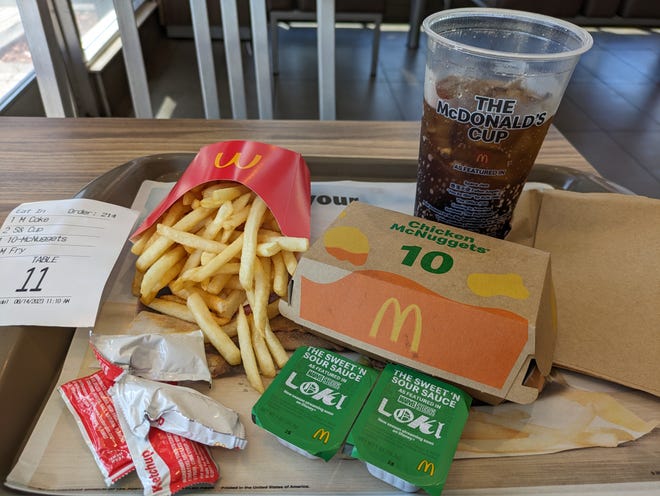 Now about the meal itself? Well, unlike Josh's red-burgered experience with the Burger King Spider-Verse tie-in, there was no discernable difference between this meal and your average McDonalds meal beyond the branding on the sauce and plastic cup. In fact, there were quite a few people having the very same meal that I was, and I'd guess that none of them had ordered it knowing that there was a tie-in promotion at all.
While the As Featured In meal was featured on the video menu at the cash register, it wasn't displayed on the screen prominently and would pass by pretty fast unless you were specifically looking for it. And the only real difference between a regular McNuggets meal and the As Featured In McNuggets meal is your choice in sauce - which - with this meal - is not a choice at all. You get the Loki Sweet N Sour or you're getting a regular meal.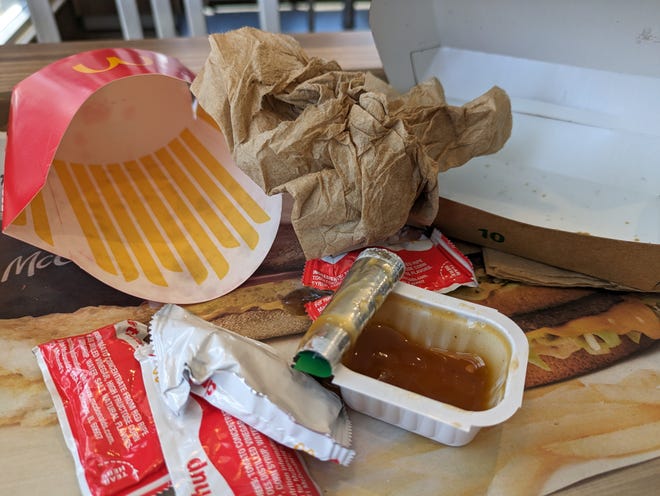 How was the meal itself, though? Well, a little on the cold side, which is unusual for this particular McDonalds, but maybe we can blame it on multiversal incursions.
Want to read a tale of a more interesting tie-in? Check out our trip to Burger King to try the Spider-Burger.