Millie Bobby Brown finds herself in trouble in the first poster for Netflix's next fantasy movie
No Demogorgon to be found here, but there's a dragon.
With Stranger Things' fifth and final season on the horizon, it only makes sense that the show's youngest actors are branching out. More specifically, Millie Bobby Brown, known by many viewers as Eleven, has made great efforts to escape Hawkins' shadow, landing roles in big releases such as Godzilla vs. Kong or Netflix's two Enola Holmes movies. Up next, she'll be fighting a dragon on her own.
That's the basic premise behind Damsel, which was unveiled earlier this year by Netflix and slated for release on October 13 of this year. Well, October has ended and Millie Bobby Brown hasn't slayed a dragon, and that's because the movie was pushed into 2024 for unknown reasons. Now, as part of Netflix's latest Geeked Week, the movie has received its first-ever poster ahead of a trailer debut this Saturday. You can check it out below: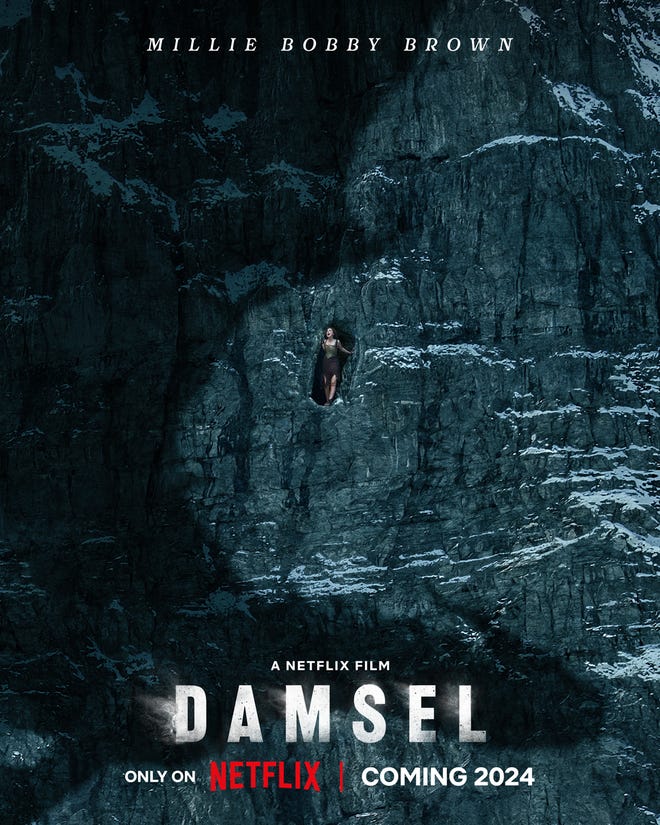 The teaser poster reaffirms a 2024 release, but doesn't go into specifics, likely because the studio is still figuring out if they need to further space out content to counter the self-inflicted harm most Hollywood companies will suffer in 2024 and 2025 due to the writers and actors strikes.
We don't know much else about Damsel's plot, but we won't have to wait more than a few days to find out if this is more than a quick riff on the Disney+ hit The Princess (2022). The official synopsis released earlier this year reads as follows: "After being sacrificed to a bloodthirsty dragon, a young damsel soon realizes that no one is coming and that she must save herself." Alongside Brown, the movie stars Angela Bassett, Robin Wright, Ray Winstone, Nick Robinson, Brooke Carter, and Shohreh Aghdashloo.
---
If you need more Stranger Things in your life, you might like
Fisher-Price's three new Little People sets
as well as want to book some tickets for
the play coming soon to London
.