Our Flag Means Death Poll winner: Pirate's choice announced!
The winner of the OFMD cast poll is...
Our Flag Means Death is not only chock-full of memorable characters, it's also chock-full of the amazing actors behind them as well. From Taika Waititi as the fearsome (kind of?) Blackbeard to Ewan Bremner as the sometimes-unclothed Buttons to Con O'Neill's grizzly Izzy Hands, there's no shortage of choices if you're going to pick your absolute favorite actor on everyone's new favorite show.
Now after a stunningly large turnout of 37,897 votes from Our Flag Means Death fans (and a slight delay because I was out sick for most of the week), we're excited to announce the winner of the OFMD favorite cast member poll!
Con O'Neill as Izzy Hands has won the OFMD cast member poll with a whopping 59% of votes! Coming in second place is Samba Schutte as Roach with 12% of votes! Woo hoo!
Thanks everyone for voting, and check out the detailed breakdown below.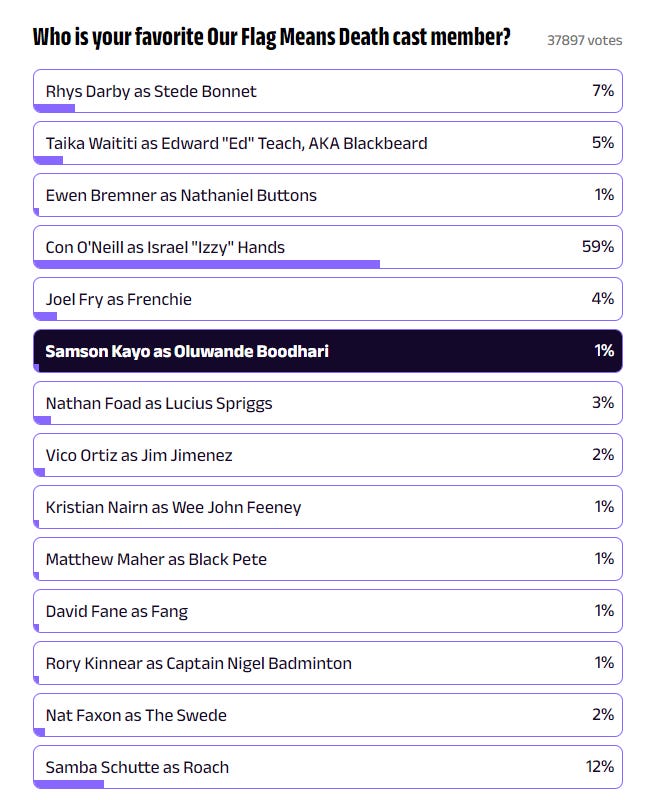 ---
Here's everything we know about Our Flag Means Death season 2
The Our Flag Means Death cast talk about their relationship with the queer community
Did Lucius survive his demise on Our Flag Means Death? Nathan Foad & his castmates share their theories