Our Flag Means Death writer attends Our Flag Means Strike event through felt-portation
Zayre Ferrer showed up to strike in a unique way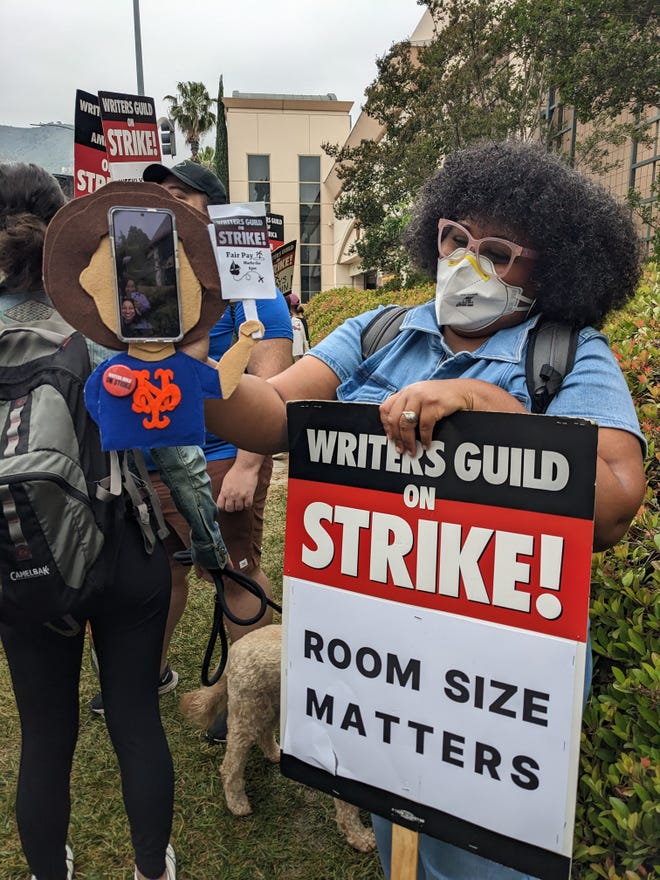 On Thursday June 14, Our Flag Means Death writers, actors, and fans united outside of the Warner Bros lot in Burbank, California to show support for the striking Writers Guild of America. (Read more about the strike here.) One writer from the Our Flag Means Death writers room couldn't attend in person, but that didn't keep them from taking part in such a special day.
Zayre Ferrer shared that they could not attend the event in person due to being severely immunocompromised. Luckily, they had a sibling who could help out. Zadry Zerrer attended the strike event in person, wielding not only a black, white, and red WGA picket sign, but also a small felt puppet version of her sibling Zayre, featuring a phone (on video call) for a face and an outstretched arm holding a tiny picket sign.
As for why Zayre went to such extreme (and amazing) lengths to attend the event, Zayre Ferrer told Popverse, "I just wanted to be there with the writers room and our fan base which is amazing." They added that they were excited to take part in an event focused on getting "a fair deal for everyone and [preserving] the future of our craft."
---
Can't wait for the next season of Our Flag Means Death? Check out this guide to everything we know so far about Our Flag Means Death season 2.
Or maybe you'd like to watch a video? Check out the full panel video of the Our Flag Means Death panel at this year's MCM, featuring Con O'Neill, Nathan Foad, and Kristian Nairn.
Or... you can read about how OFMD fans took over Emerald City Comic Con with extraordinary energy and fandom joy.