Disney Plus: Everything you need to know from the price, the bundles, the movies, the TV shows, and more
Everything you need to know about Disney+ and the range of movies & TV shows they have from Marvel, Star Wars, Pixar, and -- oh yes -- Disney!
The Walt Disney Company just reported that its premiere streaming service Disney+ will be part of "a significant transformation" of the entire company, after losing 2.4 million subscribers in the last quarter of 2022.
"After a solid first quarter, we are embarking on a significant transformation, one that will maximize the potential of our world-class creative teams and our unparalleled brands and franchises," says Disney CEO Bob Iger. "We believe the work we are doing to reshape our company around creativity, while reducing expenses, will lead to sustained growth and profitability for our streaming business, better position us to weather future disruption and global economic challenges and deliver value for our shareholders."
Disney reports that Disney+ lost 2.4 million subscribers in Q4 2022, but if you look under the hood there's more to it. The South Asian version of Disney+, Disney+ HotStar, lost 3.8m subscribers - which upended an overall growth period for the service pretty much everywhere else int he world. In North America, Disney+ gained 200 thousand viewers, and the service gained 1.4m worldwide outside of Disney+ HotStar.
Since it's launch in 2019, Disney+ has become the third most popular streaming service in the world - second only to Netflix and Amazon Prime, which had a head start on them by a couple years. But with that, there's still some of us on the fence about subscribing to Disney+- or are a former subscriber thinking about returning in time for new release, or just some extra free time.
With that in mind, we've prepared this guide on Disney Plus (aka Disney+), and will keep it updated as major Disney+ changes (and major Disney+ deals) come about for us.
What is Disney Plus AKA Disney+?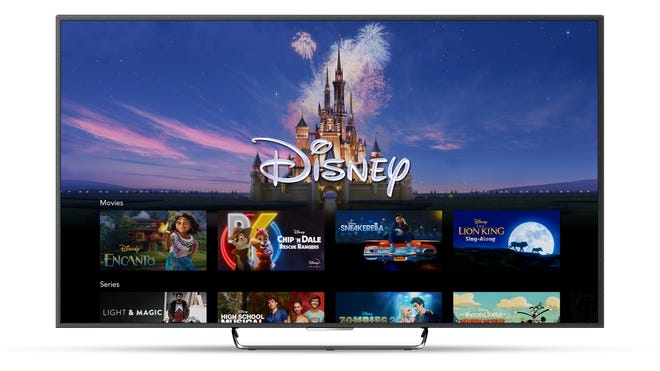 Disney+ is the primary streaming service for Disney's core franchises - be it Marvel, Pixar, and Star Wars, as well as National Geographic, and yes - the core Disney films (both live-action and animation). It offers the complete libraries of Walt Disney Animation, Pixar, Marvel Studios, and Lucasfilm - with only small exceptions such as newly-released movies or shows that don't debut themselves on Disney+.
But boy do a lot of new Disney shows debut on Disney+. Disney+ has become the primary (and almost exclusive place) for all new original Star Wars and Marvel televised series, ranging from Obi-Wan Kenobi and Andor to WandaVision, She-Hulk, and the upcoming Secret Invasion.
How much is Disney Plus?
Disney Plus prices vary by market, but for both of those reading it is available in two main tiers.
Disney+ Premium monthly: for $10.99/month you get all of Disney+
Disney+ Premium: for $109.99/year you get all of Disney+ (that's over $20 of savings a year)
Disney+ Basic: for $7.99/month you get all of Disney+, with outside advertisements help defraying the cost by $3/month
If you watch multiple streaming services (or are considering it), there are also Disney+ bundles.
What is the Disney Plus bundle?
Disney+ is just one of several streaming services that Walt Disney Company offers, thanks to it also owning ESPN, National Geographic, and a majority stake in Hulu. With that in mind, the company owners what's known as the Disney Bundle - basically a combo item of Disney+ plus other services for a lower, combined cost.
Here's the big three options for the Disney Bundle to most customers:
In some countries including those in Latin America, the Disney Bundle incorporates the Star+ service, as well as Lionsgate+ (formerly known as Starzplay), and Brazil's Globoplay.
What are the movies on Disney Plus?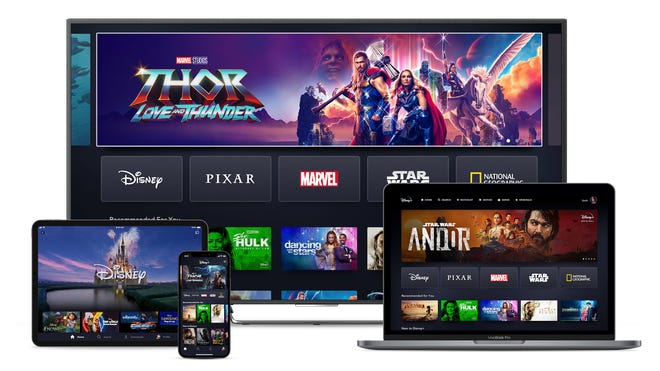 At current count, there are over 500 films on Disney+ - with more being added each month. Most of those are theatrical releases a few months after their original release (and in most cases before it's available on home video), but sometimes there are original movies that debut on Disney+.
We'll spare you a complete list of all 500+ films on Disney+, as by the time we typed it out there'd be more to add, but just for a taste it's all of the current Marvel Studios films, Lucasfilm movies, Pixar films, Walt Disney Animation projects (with just a few notable exceptions), and a host of live-action Disney films from over the decades.
And on the upcoming side, you can look forward to at least three new Marvel Studios films a year debuting in theaters, and then just a few months later on Disney+. Likewise, the film slate for Lucasfulm looks great with a host of upcoming Star Wars movies and TV shows which will make their way to Disney+.
What are the Disney Plus shows?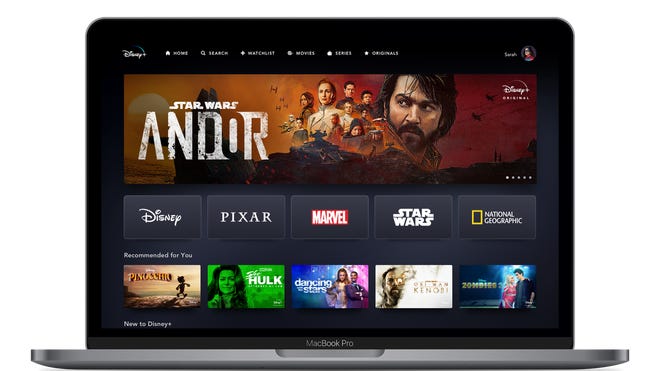 For us, this is where Disney+ really shines - with its TV shows. Disney+ has become the defacto home for all original Lucasfilm and Marvel Studios shows, beginning with WandaVision and Loki but all the way through the recent Andor and the upcoming Ahsoka series.
As we're writing this, for superhero TV alone there are 14 Marvel TV shows in development for Disney+. Check out our full list of upcoming superhero shows here.
How do I watch Disney Plus?
Disney+ is available in 150+ markets around the world, with Israel and the Philippines being the two most recently countries to receive access to it.
In some countries though, Disney+ is known by an alternate name - Hotstar. Hotstar ia a streaming platform that pre-dated Disney+ and was owned by Fox, and had gained a substantial marketshare in India, Canada, the United Kingdom, and parts of Southeast Asia. With Disney's acquisition of Fox, in some of these countries it has merged Hotstar with Disney+.
All about Disney Plus Day
Disney+ Day is an annual virtual event that the company holds to promote the the streaming service, and to that end it organizes launches of new movies, TV shows, as well as special discount prices on the subscription.
The date for the 2023 Disney Plus Day has not been announced, but given the previous two occured in September and November we would estimate a fall 2023 date unless hinted at otherwise.