Rogue & Gambit are back in a new comic (and a new heist!)
During the Women of Marvel panel at San Diego Comic Con 2023, the publisher announced Love Unlimited: Gambit & Rogue #61
Who's the best couple in the X-Men franchise? We won't answer for fear of being sued (Logan/Scott shippers are a devoted people, zealous in their beliefs), but we'll say that certainly one of the most famous by far is Anna Marie, AKA Rogue, and Remy LeBeau, AKA Gambit. Over the years, plnety of X-Fans have fallen for their love story, and now, it's taking center stage in a new Marvel Unlimited title. Love Unlimited: Gambit & Rogue #61 is coming to a screen near you.
Announced at the Women of Marvel panel at San Diego Comic Con 2023, Love Unlimited: Gambit & Rogue #61 is the first issue in an all-new story arc for the powerhouse pair, despite its numbering. The panel also introduced the team responsible for the digital comic, consisting of writer Preeti Chhibber, artist, Carola Borelli, and colorist Carlos Lopez.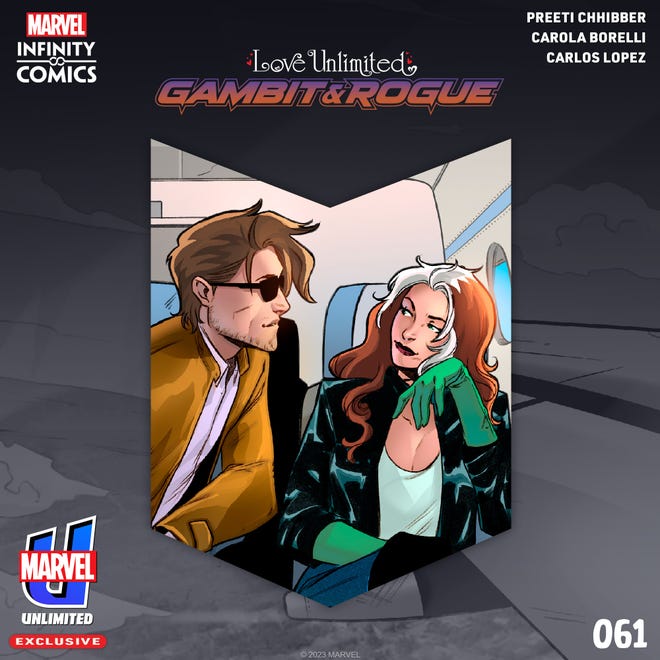 It's not the first time the Sentinel-slapping sweethearts have shared billing on a comic title; that honor goes to the 2018 series by writer Kelly Thompson and artist Pere Perez. However, it will be a perhaps welcoming return to more down-to-earth stories for the lovers, unconnected to the current X-Saga that's been monopolizing Marvel's mutants.
Here's how Marvel's official plot synopsis pitches the book:
"Gambit and Rogue are looking for a little excitement—and when the opportunity arises for the heist of a lifetime, who are they to turn it down?!"
Plans for this story are to run for six issues on Marvel Unlimited. The first issue of the arc, Love Unlimited: Gambit & Rogue #61, heads to subscribers August 3, 2023.
Popverse saw it and did most of it, and you can find all about our guide to All the big news, magic, and moments from San Diego Comic-Con. And if you want to go to SDCC next year, we have the San Diego Comic-Con 2024 dates as well.
If yoou;re reading this article, chances are you know the classic X-Men: The Animated Series theme song. But what you may not know is its history... or the lawsuit it sparked.