SDCC 2023: Artist Alley becomes main street for San Diego Comic-Con after movie & TV dropouts
This year's SDCC saw a different type of traffic in a different part of the convention center
In the lead-up to this year's San Diego-Comic-Con, major studios such as Marvel, Sony, Netflix, and Disney decided not to bring its customary cavalcade of stars and announcements due to the actors strike. While some expressed concern in how this might affect turnout for the popular convention, most comic creators sang a different tune. Several notable creators spoke on how the lack of Hollywood's presence might bring SDCC back to what helped make the huge media companies so much profit to begin with.

"I think the studios not attending SDCC this year is actually a massive positive for American comics," tweeted Mark Millar in June 2023. Millar's place in this is unique; while he is a popular comics creator, he is also a film producer who works for Netflix - one of the companies that did not attend SDCC in 2023). "A comicon [sic] aimed at comic fans is the ideal for me."
Kelley Jones – the award-winning artist whose work on Sandman earned him an Eisner – added to Millar's thread, saying that it was subversive comic creators and not "boardroom Yes Men" made the industry as wealthy as it's become. "Because we are the eccentric force that the billion-dollar industry was built on that they don't want to accept as the reason for their success."
Now that SDCC 2023 has come and gone, the hopes from creators going into the event seem to have come to pass. Speaking with several artists and creators during the four-day event, Popverse is here to report that business concerning comics has been positively high this year with many experiencing as much if not more turnout than ever.
"It has been fantastic," says Eddie DeAngelini, writer and artist of the Collectors. "I have yet to talk to a creator here that is not doing well. This is already on track for being the best convention that I've exhibited at, and I've been going to Comic-Con for fifteen-ish years."
JonBoy Meyers, artist on such titles as Teen Titans: Rebirth and Venom: Lethal Protector, shares similar news on how business was his table at Artist's Alley. Reporting that most years are better than the last, "Nobody's seen anything like it was Thursday."
Two-time Eisner award-winning artist Dustin Nguyen could only comment on his solitary experience from his heavily populated table at the Alley's edge, saying "I haven't noticed much change, the con's been good!"
Dr. Travis Langley, author of the new book Spider-Man Psychology: Untangling Webs, noted that sales to SDCC in 2023 reflected the build-up of people having gone without Comic-Con for two years due to the COVID-19 pandemic.
"I think I lot of folks after two years of lockdown were ready to get out. Last year the floor was not as crowded as it was this year."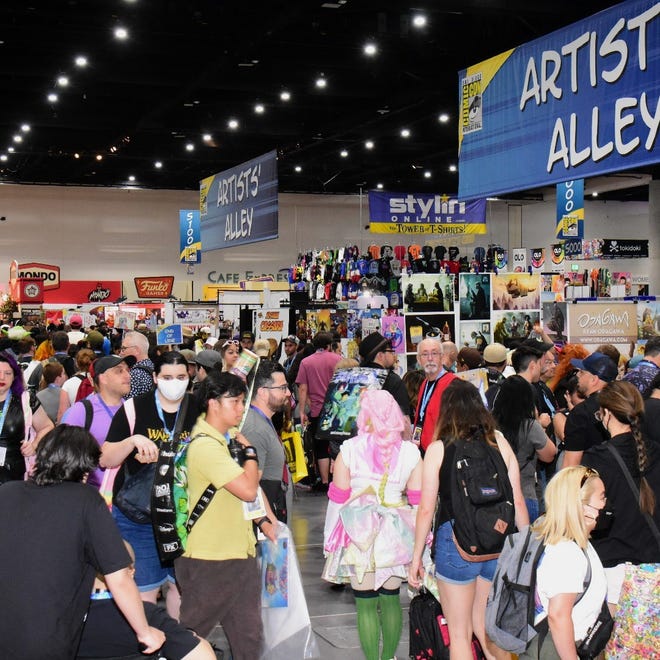 Popverse theorizes that the usual Hall H crowd, drawn towards the big Hollywood previews and announcements on the evenings of Friday and especially Saturday, had no where to go but back to the exhibit floor to explore and purchase souvenirs. This especially made an impact on certain booths which relied upon visible space to be discovered by a crowd growing ever younger.
Jake Modico of TwoMorrow's Publishing – which specializes in interview and biography books spotlighting numerous comics creators both popular and underrecognized – discussed how he saw the challenges of representing a more niche part of comics fandom begin to subside without the presence of Hollywood.
"Fridays and Saturdays are always slow for comic retailers and the old school creators, due to the Hall H crowd. This year Saturday was still kinda slow, but there was still traffic throughout the night, which is atypical from how it's been for years."
Not only were there more people on the con floor perusing the work of artists during Saturday nights, but vibes seem to be good as well.
"Not only is this one just more packed and more fun, but I've definitely noticed a happier, friendlier, more positive vibe in the crowd." says Eddie DeAngelini. "Not to knock the movie people, but they bring a presence that can be overwhelming sometimes. I think it can get to people, especially when you have to fight amongst the crowds, getting to panels or shows on time. It seems much more relaxed, even though it's busy."
Some believe that the current comics boom in pop culture and media has a limited shelf-life. Jake Modico shares that belief, hoping that fans of the material learn about the creators who's work led to their favorite movies and shows.
"When the boom eventually busts and comic book films go the way of the old Hollywood Westerns, people like the creators will still be around, or when they do pass, their work will live on far into the future."
---
Popverse saw it and did most of it, and you can find all about our guide to All the big news, magic, and moments from San Diego Comic-Con. And if you want to go to SDCC next year, we have the San Diego Comic-Con 2024 dates as well.