San Diego Comic-Con 2023: Where are the big booths on the show floor?
We know what you want to see on the floor of Comic-Con International 2023, and we know where to find it
With San Diego Comic-Con 2023 just a few weeks away, it's time to start thinking about the lay of the land — and, specifically, just what the layout of the cavernous show floor of the San Diego Convention Center is going to be like, to make a game plan for how to get to the destination of choice in the least amount of time possible.
(Spoilers: that will still be longer than you think; it's San Diego Comic-Con, which is almost always far busier than you might expect when navigating any journey inside the convention center — or, really, within a mile radius of the convention center, if we're being honest.)
Comic-Con International has released the official map for the show floor, showing just where to find all the big players this year, from Marvel to Lucasfilm, DC to Doctor Who, and even more. Wondering just where you'll be wandering? We're here to help.
Comic publishers
Here's where to find your favorite comic publishers on the show floor: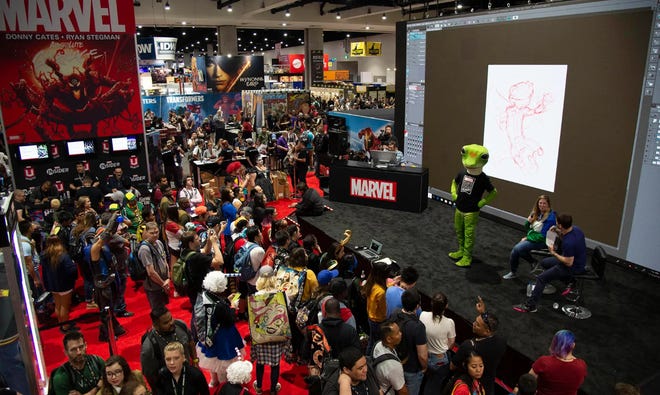 Marvel (Booth 2329; the Marvel Merchandise Store can be found at booth 2519.)
DC (Booth 4645)
Image Comics (Booth 1915)
Top Cow (Booth 2629)
Oni-Lion Forge (Booth 1829)
Skybound Entertainment (Booth 3735)
Boom! Studios (Booth 2229)
IDW Publishing (Booth 2729)
Dark Horse Comics (Booth 1216)
DSTLRY Media (Booth 2314)
2000 AD/Treasury of British Comics/Rebellion Publishing (Booth 2121)
Fantagraphics (Booth 1721)
VIZ Media (Booth 2813)
Kodansha USA (Booth 5542)
Titan Entertainment (Booth 5537)
Last Gasp (Booth 1715)
Scholastic (Booth 2021)
First Second (Booth 2800)
Abrams (Booth 1216)
The TV/Movie Studios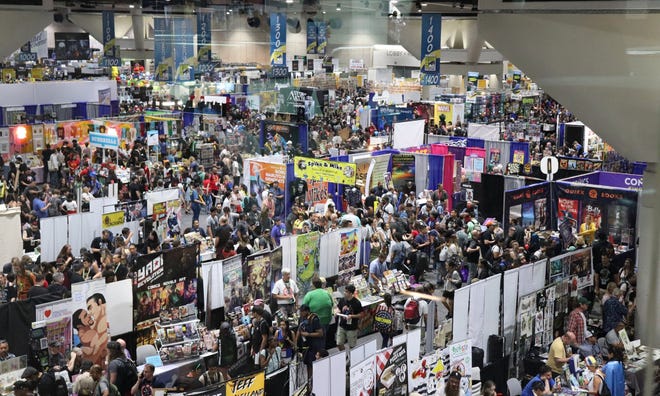 Here's where the big studios are:
Lucasfilm (Booth 2913)
Paramount+ (Booth 3529)
Disney Television Studios (Booth 4229)
Nickelodeon (Booth 4113)
Doctor Who (Booth 4129)
Crunchyroll (Booth 4135)
The shopping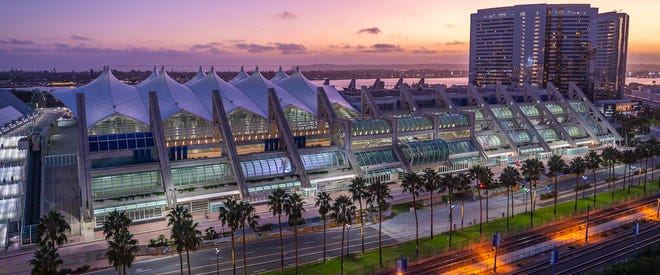 We already know what to expect from Funko's expansive show presence, but there's going to be far more at SDCC 2023 for those who are looking to make some fun and unexpected purchases.
For one thing, anyone looking to do a little shipping is probably going to want to roll up to Entertainment Earth's booth (2343) for some con exclusives, while Diamond Select Toys and Gentle Giant can both be found at Booth 2607 offering a number of show exclusives, including some fun Indiana Jones merch. Bandai Namco, meanwhile, can be found at Booth 3345, with some Grogu Tamagotchi that'll be there in extremely limited numbers. (No, really; just 1,500 units. Again, the show holds roughly 100 times that every day.)
On the other hand, if forward planning is your thing, let's just remember that Hasbro is going to be showing off its latest wares — and selling QR codes to pre-order exclusive merch for sale after the show at Booth 3213 for the entire event.
San Diego Comic-Con runs July 19 through July 23 at the San Diego Convention Center. Popverse will be there for the whole thing, sharing everything from the very start of the show until the very end.
---
Wondering what to expect from this year's SDCC? We've got some answers for you.