There's that monkey's paw again: A travelog of Comic Con International 2023
A trojan horse of hope for comics? Time will tell more than anything else.
Somehow, and by the grace of any god or gods in the known universe, comics apparently 'won' San Diego Comic-Con this year – as if there was a magic competition that we were all unaware of, or a war that we faithful were dropped into without warning. Comics won! Because of reasons relating to the financial and emotional survival of creative talent in the film and television industries, movies and TV were largely gone from SDCC for one year and comics prevailed to the joy of thousands of fans and hundreds of creators! Or, at least, that's what the monkey who's paw started curling told me at least.
Don't get me wrong — SDCC 2023 was easily the busiest I've seen the show floor at the San Diego Convention Center in a hell of a time, and it wasn't just an illusion. Nearly every publisher, exhibitor, and artist reported a definite increase in booth attendance and interest in products, with even comic book vendors and art dealers saying that they'd not been so busy 'for years.' For all that I may very much feel cynical about the whole ordeal — something that we'll get to later — it was refreshing, if not a bit claustrophobic, to feel the buzz of bodies and chattering of all walks of people showing interest in a box of $2 comics, truly considering the investment potential of buying a piece of original art, or discovering the small press guy that is genuinely getting a flop sweat from the normally unheard of amounts of attention.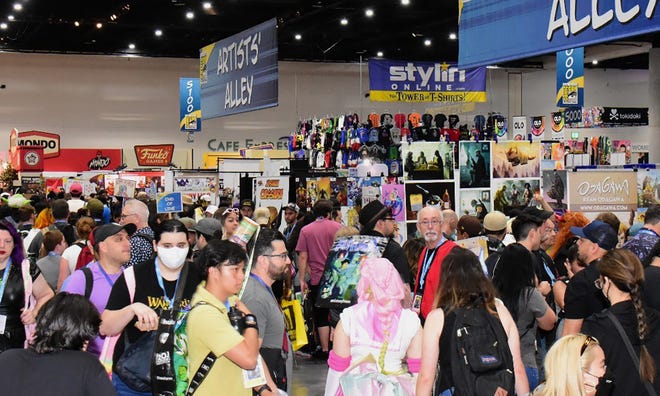 In so many ways, it really did feel like the comic book shows of the old days that so many of us old bastards drone on and on about. It was as if comics were, once again, the star of the show, and fans were celebrating that fact as well with surprised glee, instead of spending the weekend lamenting their lack of Hall H hell experiences.
For all this newfound shift in attendee footfall and increased interest in comics again — at least in the traditional sense — it still seemed as if there were still a few growing pains on display throughout the weekend. Artist Alley remains a favorite part of the con for me, and for many fans, but I found myself staying away from the little corner of the convention center. It wasn't because there were no people that I wanted to see there this year, but because the aisles felt narrower and the placement of lines for the more popular names made that fact even moreso. This hustle and bustle proved pretty fruitful for those tabling, however, with artists boasting both about their connection with new fans (some of which probably wouldn't have normally gone to their tables in the first place, according to several people) and sales of artwork and merchandise.
That's a word that felt prevalent here to me throughout the weekend, though: 'Merchandise.' Yes, I know, it's a show with working people and businesses trying to make a sale to literally tens of thousands of people who are clamoring to fork over money for their favorite things, whether newly discovered or something long held. The oddity to me in this regard, is a slow but clear separation outside of Artist Alley between the talent behind the brand and the brand itself. There's something strangely ghoulish at the idea of a publisher having separate shops to tell t-shirts and keychains and bric-a-brac as to not sell them alongside the books with the name of the people who put in the effort to make them. I suppose there's an argument here that if you're going to buy a Miles Morales t-shirt from the Marvel booth as opposed to one of the many t-shirt tower stores that you might have interest and already know some of the folks who have worked on the book past or present — but I guess that's a discussion to be had here about Comic-Con having spent the past decade building up the sale of a brand overall rather than the sale of a community of talent.
But I digress, don't I?
One of the main points that continued to be brought up during, and even now post-, San Diego Comic-Con, is that comics won in a large way because of the panels across the four-and-a-half days of the show. I don't mean to be dramatic, but the fact of the matter is that with Hall H being largely abandoned and devoid of the cutthroat crowd of camped-out hyper-fans frothing for a first look at the new films and their favorite stars, the panel rooms of San Diego Comic Con were a hive of activity. It became something of joke actually, between myself and some other people who have been panelists for several years, that it was almost jarring to have the attendance that we did on our respective panels after ages of sitting on a stage talking to five people max — instead facing a group of 50 or more excited faces who didn't even seem to be there to rest their feet and wait for the other panel after ours!
Panels which seemed interesting, though normally what would be considered 'filler' by Comic Con schedule standards, were packed in like sardines with not even press allowed to pop into the back for coverage. Don't get me wrong, I'm sure the 'Women of the Hollywood Art Department' panel was actually pretty damn cool — but I couldn't help but feel baffled when I showed up to cover it for Popverse and was denied entry (along with the 30+ people in the line in front me, 20 minutes before the panel was scheduled to start) because so many people had come and queued up in advance.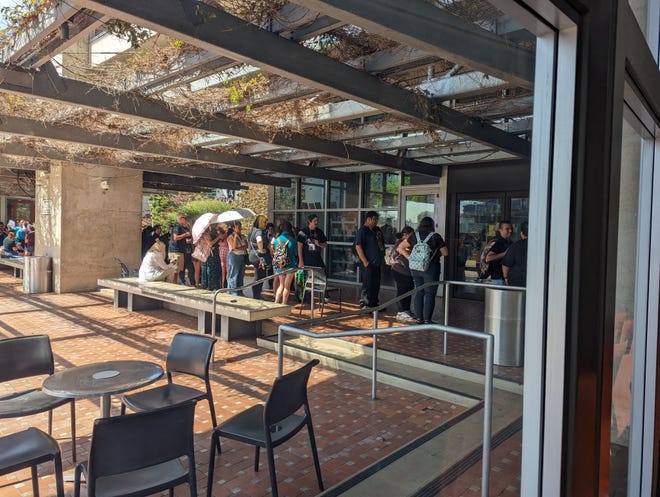 Even this felt like nothing compared to the showing for horror manga legend Junji Ito at the local San Diego Public Library — a walk that was about 15 minutes in some pretty heinously humid heat that made me seriously side-eye the waterproof label on my eyeliner tube. I knew it was something that would be busy and managed to hoof it as quickly as I could to get there early, but was met by not one line, but three. I asked a volunteer, who was kind enough to let me know that they had to split the lines when so many people had shown up and that they had been at capacity for some time. When I asked if there was any possibility for me to sneak in as press just for standing room to take notes, I received a sweet, tired, and comedic sigh before letting me know that he had been there since seven in the morning, where nearly 400 people had already formed a queue, and even if I'd shown up an hour before now he'd have had to have turned me away. I do truly hope that someone bought him a stiff drink later that evening — and that goes for most of the volunteers, let's be honest.
Even the Rob Liefeld panel — which was largely attended by fans and… well, not attended by the star panelist himself — held people's attention and hope for the entire 50 minutes it was scheduled for. The entire thing was baffling and strangely hopeful because, in the grand scheme of things, without Hall H, every panel became Hall H.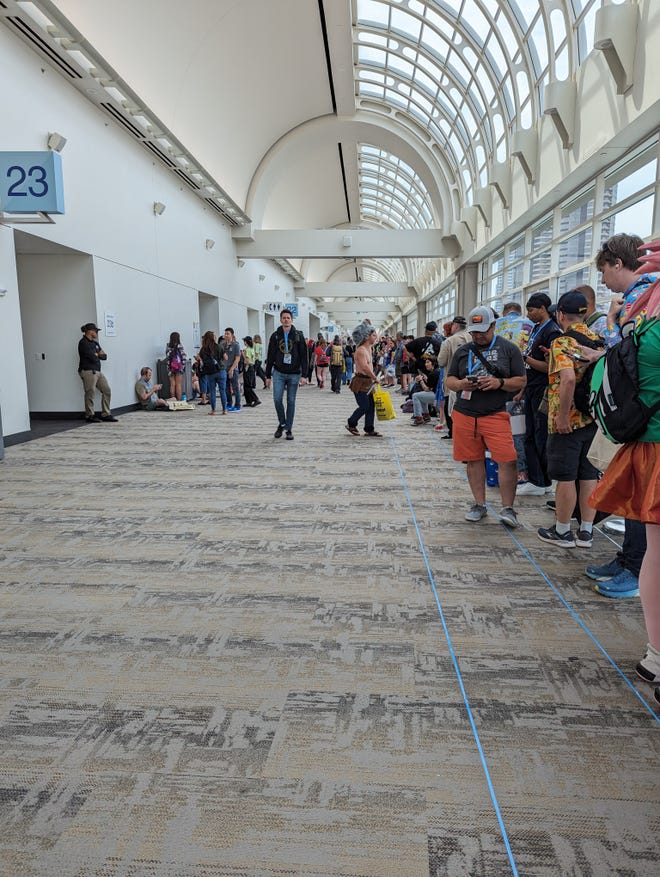 As usual I went to the talkback panel on Sunday afternoon, headed up by the usual panel of Comic Con International organizers and executives, fully expecting to hear a myriad of complaints — surely — about tickets not being refunded in the wake of the SAG-AFTRA/WGA strikes pulling so many celebrities from the guest lineup, and the larger panels being pulled. Yet there I sat, in the fullest I have ever seen a talkback panel, mouth agape over just how positive the feedback was; and the sheer number of people who queued up to the mic to praise Comic Cons performance this year and even comments to the tune of 'I didn't miss camping out as much as I thought I would', and 'I feel like you've really listened from previous years and made the changes necessary to make this a great show again'.
The comment that I heard the most over the weekend though, was that 'comics had won Comic-Con'. It became something of a rally cry from various publishers, fans, exhibitors, journalists, and creative talent alike, and seemed to be considered this giant victory that had been scored in the favor of comic books over film and television. The thing here, too, is that I've spent years complaining about how comic cons of all different sizes throughout the world have shifted focus to film and tv and have left comics by the wayside — yet this rally cry of having won the battle just made me exhausted; not because I wasn't thrilled to see comics talent and comics stories succeeding and sitting in the spotlight again, but because the whole thing is nothing but a fluke. If Hall H had been open with Warner Bros and Marvel and Disney and (the usual) Paramount lineup, but the rest of the show had been exactly as it was this year — would comics still be winning? To that end, are comics really winning when thousands of people in the Screen Actors Guild and the Writers Guild of America not being paid for their creative efforts is the price being paid for the win?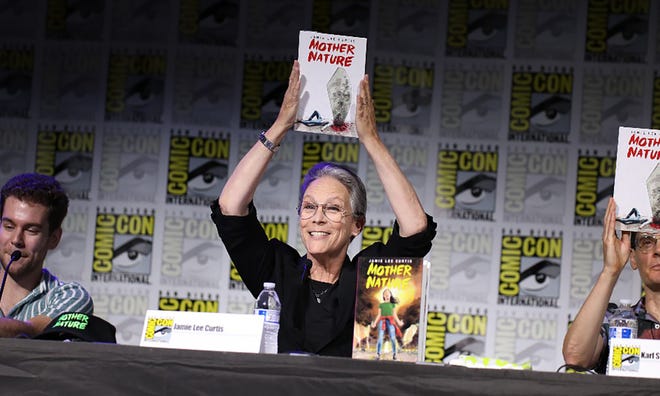 After all, part of the biggest issues in comics right now are countless stories of stolen art, artificial writing, a diminishing in paid criticism, and grossly underpaid creative talent — so when we say comics won, it feels more like an excuse to celebrate what might just be happening to us next; or perhaps what is still happening right under our noses.
Sure, perhaps comics won a battle this year at San Diego Comic Con. After all, creators did well, publishers got publicity and sales, and fans left happier than ever; but whether anyone actually learned anything is unclear. Did comics win this year, or did we just put a pause on it? Will New York Comic Con look this way when (hopefully) writers and actors are given their fair due and people will have to remember that comics are still cool all on their own? Who knows. I guess I'll remain the grump either way, but… well, I guess I got to be a grump in a room full of people excited about comics again, for a change.
---
Read all of our San Diego Comic-Con 2023 coverage here.