Congressman Robert Garcia on the Popular Arts Caucus, SDCC, and Superman
After his panel at this year's SDCC, Popverse had a chance to chat with Congressman Robert Garcia on his new initiative, his return to SDCC, and more
Earlier this year, U.S. Congressman Robert Garcia made national headlines when he was sworn into Congress on a copy of the Constitution, a photo of his parents, his citizen certificate, and an original issue of Superman #1. This past week, Garcia made his first official appearance at San Diego Comic Con, launching the brand-new Congressional Popular Arts Caucus, with plans to bring attention to the issues surrounding the popular arts in the U.S.
For those curious about why the congressman chose Superman 1 to be sworn in on, Garcia shared with the panel audience that the comic is about "taking on corporate power and lobbyists and doing the right thing," which also happens to be what he hopes the Popular Arts Caucus can do. This is particularly personal topic for him, as comics played a central role in his life growing up as an immigrant. "I came to the US as a young kid, I didn't know English. I was a Spanish speaker. A large part of how I learned English was reading comics."
After the panel (and the exciting announcement that the congressman has plans to bring Free Comic Book Day to the Hill), Popverse had the chance to check in with Congressman Garcia on how he felt about the Caucus' first event, what it was like to make the announcement at San Diego Comic Con, and what comics he's been excited about lately.
Popverse: How do you feel about the Popular Arts Caucus' first official event?
Congressman Robert Garcia: Great. I mean, it was great to have a full house and see people excited about the Caucus. I was especially excited to bring the Library of Congress to the convention. It's so important, the interaction with the collection and the public and the fans. I feel really excited about the Caucus. I'm excited there's so many members already - 30 members joining, so that's great!
During your panel you mentioned that your first plans for the Caucus are to start with programming. What kind of programming are you planning?
We're going to be looking at partnering with the Library of Congress on some [events] featuring creators and programming around the collection. That's where we want to start, and then this Free Comic Book Day event [which] we want to do on the Hill, which will be a big day.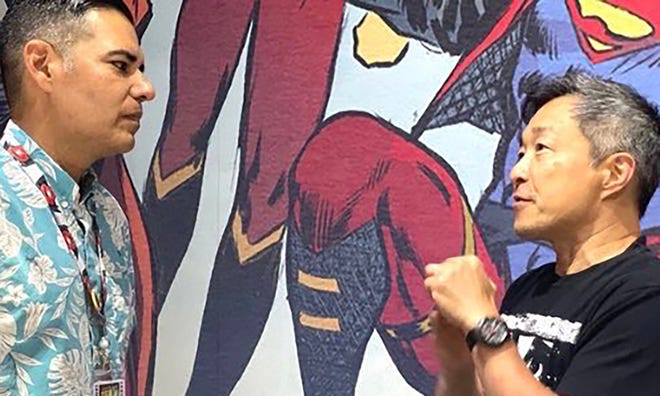 You mentioned earlier that you've been reaching out to comics creators. That must be wild as a comics fan yourself.
It's been great. The interesting part is, I've met so many creators that I'm a fan of, and they're like 'Oh thank you for doing that.' It's been nice to interact with creators that I have admired for a long time that are excited about the Caucus.
You shared during your panel that you've been attending San Diego Comic Con for twenty years. What's it like being back at the convention, on the other side of the table, now launching this huge initiative?
I've gone to, obviously, tons of panels in the past, but I've never been on a panel or run a panel-- so that was different. It's nice to come this year, to hear from so many folks that are interested in the popular arts and the policies, which is what we're focused on. I'm just excited to be here. We hope to make San Diego a place where we do a lot of programming in the future.
What comic are you really excited about right now?
For me right now, my favorite character is Jon Kent Superman. Tom Taylor is a great writer, I love everything he's doing. I have always been an X-men fan, so almost every iteration of the X-Men I enjoy.
---
To read more about the Congressman's recently launched Popular Arts Caucus, read our guide.