September 2022 - This month in comic history, from 100 years ago to now
In Septembers past, remember Stan Lee retires from active Marvel Comics writing duties, Zero Day at DC, and more - including the debut of The Wizard in the UK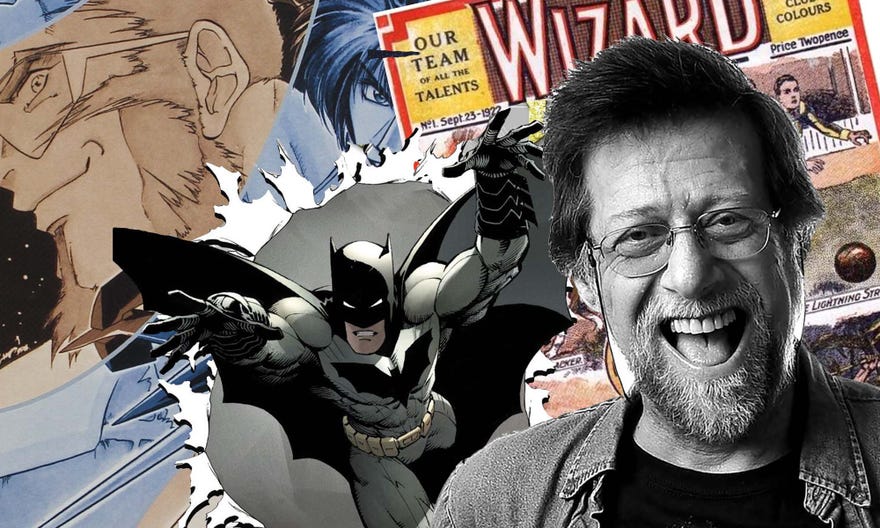 Do you remember? The comic book news of September? For the Justice League and The Avengers? While chasin' the clouds away…
Welcome back to another edition of This Month in Comics History, where we honor the legacy of our medium by looking back at the new milestones of the medium we reach each month. Every few weeks, it's my duty to remind all of us just how far the comic book industry has come, and perhaps how far you've come along with it. 'Wow, it's been five years since Oz Effect,' I can hear you saying now. 'Was Happy! really published a decade ago?' 'The 20th anniversary of Marville?! Geez, I'm old.'
Well, friends, take some solace in the knowledge that it's not just you; we're all getting up there. That's simply the linear nature of time. There's never any going back, but we can always glance over our shoulders to see where we've been. Let's do just that.
Five years ago in September 2017
Len Wein, one of the most essential figures to Western comics in the '70s and 80s, passes away at 69. As a writer and editor at both DC and Marvel, Len Wein co-created DC's greatest horror icon, Swamp Thing, and revitalized the X-Men with the introductions of essential team members like Storm, Nightcrawler, Colossus, and Wolverine. He gave Batman a new origin in The Untold Legend of The Batman. He brought back the Seven Soldiers of Victory in Justice League of America. As editor on Camelot 3000, Wein helped define the modern concept of the 12-issue prestige format. He edited Watchmen, Batman: The Killing Joke, The New Teen Titans, and so much more of what would define DC's Post-Crisis era. As Chris Claremont once said, "The history of modern comics would be incredibly different if you took his contributions out of the mix." He is missed still.
The first Ringo Awards ceremony takes place at Baltimore Comic Con, honoring the memory of artist Mike Wieringo. The comics Vision, I Hate Fairyland, and Love is Love are among the first recipients.
Marvel follows up its popular Spiderverse event with 'Venomverse,' a story arc where Venom teams up with his own counterparts throughout the multiverse.
DC publishes the Harley Quinn 25th Anniversary Special, featuring an all-star cast of writers and artists celebrating 25 years of stories since the smash hit character's debut in Batman: The Animated Series.
In 'The Oz Effect' storyline in Action Comics, the mysterious "Mr. Oz" manipulating the events in Superman's life reveals his true identity: Superman's own father, a time-displaced Jor-El.
10 years ago in September 2012
Zero Month of DC's 'New 52.' To commemorate one year since the 'New 52' relaunch, every ongoing series in the DC line publishes a #0 issue shedding new light on the revised origins of the rebooted heroes across the 'New 52' publication line. Some provided valuable character insight, others a tale simply set earlier in the lead characters' careers. Whatever the case, just remember: when revisiting 'New 52,' the #0 issue usually comes between #12 and #13.
Grant Morrison and Darick Robertson publish Happy! with Image Comics, the story of an ex-cop turned hitman haunted by a cheerful cartoon unicorn. The comic was adapted into a Syfy TV series in 2017, with Christopher Meloni as the ex-cop turned hitman and Patton Oswalt as Happy the unicorn.
Cyclops rises as the new Dark Phoenix in Avengers vs. X-Men #11.
Scum's Wish, a manga by Mengo Yokoyari, debuts in Big Gangan magazine, a romance story about two students who fake a relationship with each other to stave off mutual loneliness.
Takaya Kagami and Yamato Yamamoto present Seraph of the End, a dark fantasy manga where all humans over the age of 13 are eradicated and vampires rise in their wake.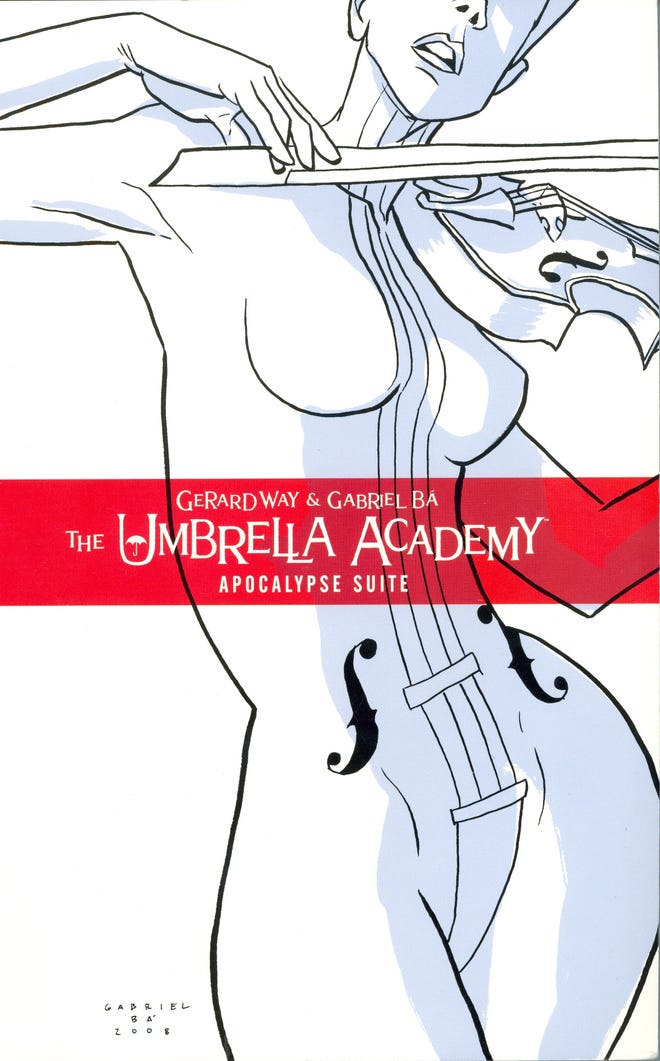 15 years ago in September 2007
My Chemical Romance frontman Gerard Way and comic artist Gabriel Ba debut their music-inspired tribute to Grant Morrison and X-Men with Dark Horse Comics, The Umbrella Academy – the story of 43 superpowered children born spontaneously at the exact same point in history, and the alien scientists who raises seven of them to be a team of superheroes. The fourth and final season of a critically acclaimed Netflix adaptation of the work is currently in production.
Yuki Kodama's Kids on the Slope manga debuts in Monthly Flowers, a thoughtful coming of age story exploring themes of sexuality and Catholicism in Japan while transcending boundaries of class and social status. It would later be adapted into a critically acclaimed anime by Cowboy Bebop's Shinichiro Watanabe and Yoko Kanno.
Wedding bells are ringing in the Green Arrow/Black Canary Wedding Special.
Garth Ennis and John McCrea return for a two issue coda to their Hitman series with JLA/Hitman.
'80s Suicide Squad writer John Ostrander returns for one more ride with the gang in Suicide Squad: Raise the Flag. Amanda Waller pilots Chemo like a mech suit. It's a real victory lap.
20 years ago in September 2002
One year after the September 11th attack on the World Trade Center, the German newspaper Die Zeit begins serializing In the Shadow of No Towers, a spiritual sequel to Maus by Art Spiegelman about the terrorist attack. Despite Spiegelman's legendary reputation in the industry, no American comic publisher would agree to carry it at the time due to its sensitive subject matter. The comic would eventually be collected and published stateside in 2004 by Viking Press.
Bisco Hatori's Ouran High School Host Club is serialized in LaLa magazine, a satirical shojo romance manga where male students run a tea room hidden in their school for their female "clients." Inspiring anime, films, and live action adaptations in the 20 years since, Ouran High School Host Club has become a definitive staple of the shojo genre, and a common first point of contact in gender non-conforming protagonists catered to the female gaze.
WildStorm brings on X-Men veteran Chris Claremont for a run on their own signature team of teen superheroes, Gen13.
Marvel presents the satirical comic book series Marville, a blanket lampoon of the superhero genre which many found to be in poor taste. Some still cite it among the worst comic books ever published.
Logan travels to 12th century Japan in Wolverine: Netsuke.
25 years ago in September 1997
The Cowboy Bebop: Shooting Star manga is published a year ahead of the international smash hit Cowboy Bebop anime, introducing Japanese readers to the crew of the Bebop for the first time. After the show took the world by storm in international distribution in the years following its 1998 debut, the original Shooting Star manga would see publication outside of Japan in 2003. If you haven't read it, it's a fascinating look at a quite different take on the Bebop, but with the same characters at heart.
Divine Right: The Adventures of Max Faraday, the only comic series entirely written and drawn by Jim Lee, begins publication.
Marvel speedster Quicksilver gets his own comic series for the first time. It runs for 13 issues.
Top Cow begins publishing Ascension, a series by David Finch and Matt Banning about the Chernobyl disaster opening a rift in reality. Despite a strong, well-received opening, Finch and Banning parted ways early on over creative differences, and the book was canceled after 22 issues due to low sales.
'World War 3' is declared in Fantastic Four #13, Part 1 of a four-part crossover between WildStorm and Marvel Comics. Due to changes in publishing and ownership rights, this rare crossover has never been reprinted since.
50 years ago in September 1972
Stan Lee is promoted from editor-in-chief of Marvel Comics to Publisher, effectively retiring his career as an active Marvel writer and transitioning towards the role of public-facing figurehead. Stan is succeeded in his prior position by new editor-in-chief Roy Thomas.
Feeling betrayed and disappointed by director Ralph Bakshi's animated cinematic adaptation of his work, Robert Crumb kills off his most popular and successful comic character, Fritz the Cat, in a story titled 'Fritz the Cat Superstar' published in The People's Comics. It was the last time Fritz the Cat would ever appear in print, outside of Crumb's personal sketchbooks.
Osamu Tezuka's epic manga Buddha begins publication, a 14-volume series created over 11 years about the life of Gautama Buddha.
After a 44-issue run in Adventure Comics, Supergirl gets her own series for the first time. It runs for 10 issues, culminating in a crossover with 'Prez, Teen President.' Afterwards, Supergirl would be folded in as a feature of Superman Family Adventures.
In The Demon #3, for the very first time, Etrigan begins speaking in rhyme.
75 year ago in September 1947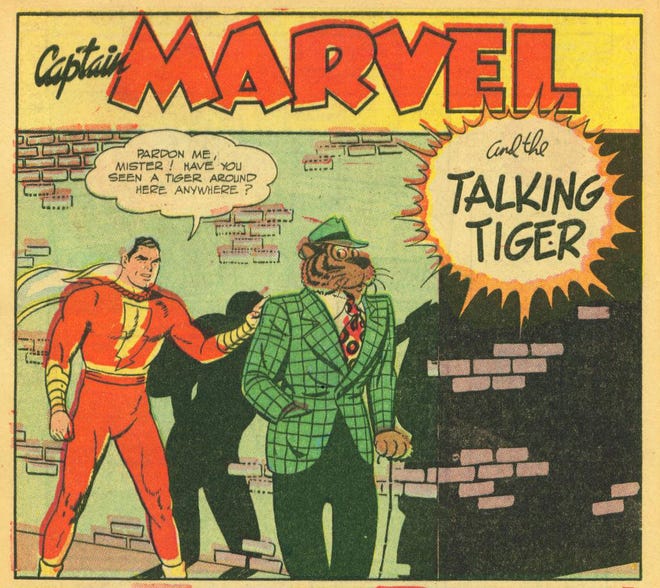 Captain Marvel's best friend, the anthropomorphic tiger Tawky Tawny, debuts in Captain Marvel Adventures #79. As a consistent presence in Fawcett's Captain Marvel comics thereafter, Tawky Tawny was emblematic of the whimsical rules of Captain Marvel's world. Everyone Tawky Tawny met simply took for granted that walking, talking tigers existed, as they'd seen strange and impossible things of that caliber happening every day. Tawny was the most human of all Captain Marvel's supporting characters, with his familiar longing to fit in with those around him. Since DC Comics took over publishing the Captain Marvel characters, there have been multiple attempts to reintroduce Tawky Tawny into Shazam's orbit, but none so elegantly, unapologetically silly as the original.
Rose Canton, alias The Thorn, debuts as an enemy of The Flash, Jay Garrick, in Flash Comics #89. Thorn would eventually go on to marry the Green Lantern, Alan Scott.
In All-American Comics #91's 'Wedding of the Harlequin,' Molly Mayne forces Green Lantern to marry her under threat of blowing up the state treasury building. Many years later, Harlequin would become Alan Scott's second wife.
More Fun Comics #127 is published, the final issue of the series. More Fun initially began as New Fun Comics, the series which launched the publishing house we know today as DC Comics. Once a launching point for heroes like Doctor Fate, Aquaman, Green Arrow and Speedy, and The Spectre, More Fun Comics was retooled as a comedy book after World War II with its more action-oriented features moving to Adventure Comics. The final seven issues of the series featured 'Jimminy Crockett and his Magic Book,' which would bring characters from public domain literature to life.
Wonder Woman battles Flamina, Queen of the Sun, in Sensation Comics #71's 'Invasion of the Sun Warriors.'
100 years ago in September 1922
DC Thomson & Co. publishes the first issue of British boys' adventure magazine The Wizard. In addition to print articles, it provided a venue for some of the earliest adventure comic strips, including such titles as Blazing Ace of Spades, Wilson the Wonder Athlete, and Wolf of Kabul. The Wizard would publish continuously until 1963, before merging with rival magazine The Rover. It would return in 1970 for a final eight-year run, this time as a comics-only magazine.
---
Like comics history? Read our This Month in Comics History guides for
June 2022
,
July 2022
, and
August 2022
.