The '60s UK Marvel & DC comic Smash! returns with some classic heroes thanks to Paul Grist & Rebellion
Paul Grist will bring back the Steel Claw, Janus Stark, and more in the new three-issue mini this October
Following on from its revival of classic series One-Eyed Jack in the Judge Dredd Megazine, 2000 AD publisher Rebellion continues to revitalize British comics history with Popverse exclusively revealing that it's bringing back some distinctly British superheroes in a brand-new three-issue miniseries with a very familiar name this fall. Get ready for Smash!
Originally running from 1966 through 1971, Smash! was a weekly comic book anthology with a special place in British comics history — it was the original UK home for Marvel comics, with the American publisher licensing out characters like the Hulk and the Fantastic Four to Oldhams Press before establishing its own UK publishing arm in the 1970s. (DC did something similar; early issues of Smash! actually included both the Hulk and Batman reprints, as unlikely as that might seem now.)
This new incarnation of Smash! sees writer Paul Grist create a storyline that draws together some classic British adventure comics characters — including The Steel Claw, Janus Stark, and Jane Bond (yes, Jane Bond: she's a British spy from '60s anthology Tina) to deal with the threat of the Syndicate of Crime, and its leader the King of Crooks. There's even more comic book history at play here: the original 1960s run of the Syndicate of Crime featured writing by none other than Jerry Siegel, AKA the co-creator of Superman.
Joining Grist for the new series will be artists Tom Foster and Anna Morozova, with covers from Andy Clarke. Smash! launches October 25, with Rebellion promising more information about the title in the coming weeks. For now, you can see the cover for the first issue below.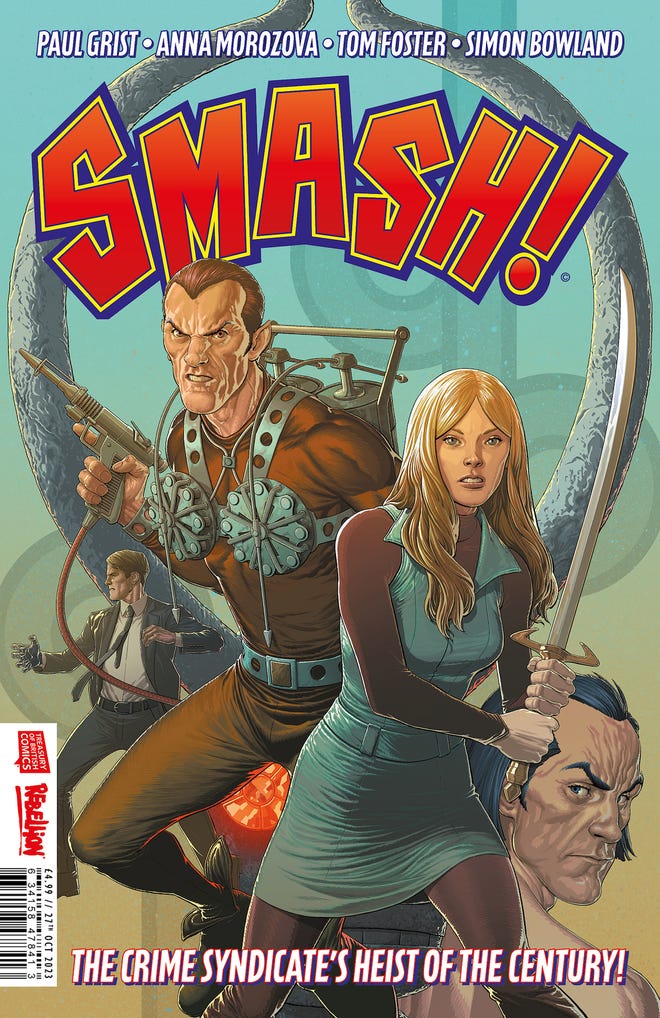 ---
Popverse saw it and did most of it, and you can find all about our guide to All the big news, magic, and moments from San Diego Comic-Con. And if you want to go to SDCC next year, we have the San Diego Comic-Con 2024 dates as well.