Inside the Spider-Verse: Looking at Spider-Man's various worlds in the animated multiverse
Whether you're into, across, or beyond the Spider-Verse, we are living and breathing the many universes that make up the animated Spider-Man movie franchises' multiverse
Whether you're into, across, or beyond the Spider-Verse, we are living and breathing the many universes that make up the animated Spider-Man movie franchises' multiverse. With Spider-Man: Across the Spider-Verse, this web of Spidey universes came into bloom - but the frentic nature of the film next let us sit and enjoy the worlds it visited. But now we can.
Popverse has a copy of the new behind-the-scenes book, Spider-Man: Across the Spider-Verse: The Art of the Movie, and got a first look into how some of Across the Spider-Verse's stellar worlds were designed.
Spider-Verse universe: Earth-65, Gwen's World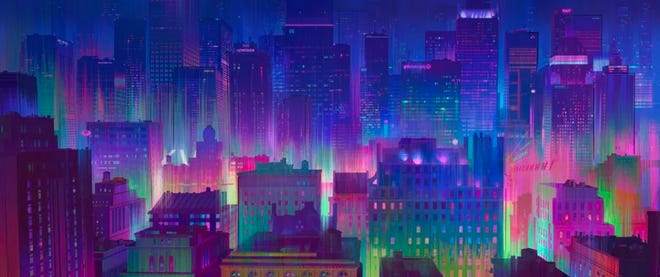 The sequel opens with a quick recap of the last film as narrated by Gwen Stacy as she plays a funky beat on her drums. Right off the bat, we are immersed in her world's highly different style and color palette, which according to the film's art director Dean Gordon is a representation of her "tunnel vision." According to the book, Gwen's world was heavily influenced by Manhattan's Chelsea neighborhood art scene circa the '90s and the contemporary feel of the Gwen Stacy/Ghost-Spider comics. In Earth-65, far distances are rendered in watery brushstrokes to bring forward and emphasize the linework and details of the things that matter to Gwen the most at any given time.
"The look of Gwen's world combines the graphic styling of her comics with watercolor, and the relationship between the two is driven by Gwen's emotions and focus," Visual effects supervisor Mike Laser shared.
Spider-Verse universe: Earth-1610, Miles' World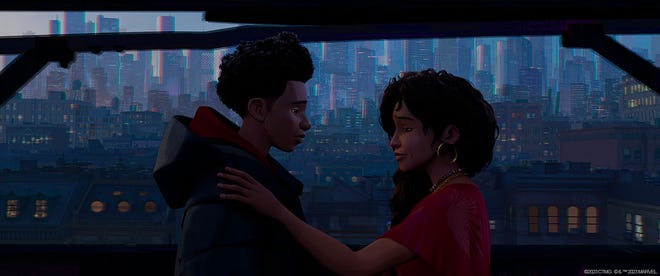 Fans are, of course, more familiar with Earth-1610 following the events of the previous film. Set in a fictionalized version of Brooklyn and Manhattan, Miles' world makes use of a classic combination of linework and iconic Ben-Day dots, a printing method that makes use of small dots to craft color and shades which defined the golden years of comics. Director Joaquim Dos Santos describes this use of Ben-Day as the production's way of paying homage to classic comics: "Miles's world is obviously a huge love letter to classic comics. It's all the Ben-Day dots, and all those techniques are explored even further."
Dos Santos adds that this use of Ben-Day is combined with the Kirby Krackle, another well-known stylistic device that features black dots and lines, to introduce one of the film's primary villains. "Our villain Spot sort of becomes this intrusion onto all these worlds. One of the things that was a tell-tale of this in the first film were these amazing, colorful array of Kirby Krackle that would appear whenever the Super-Collider went off."
One of the best moments in Miles' world takes place on a rooftop during a barbecue to celebrate his father. These scenes are colorful, fun, and provide deeper insight into Miles' Latin roots. "The crowd I drew for the BBQ scene were all based and inspired by all the Latin and Puerto Rican people living in Brooklyn, and all the traditional celebrations with the neighborhood and family," artist Jesús Alonso Iglesias, who worked on the designs for the background characters in these scenes explains. "We have plenty of colors, funny shirts, and joyful dresses—all very far from the cool minimalism of the other Brooklyn characters and even more from the avant-garde, ultra-modern people from Manhattan."
Spider-Verse universe: Earth-50101, Pavitr's World - Mumbattan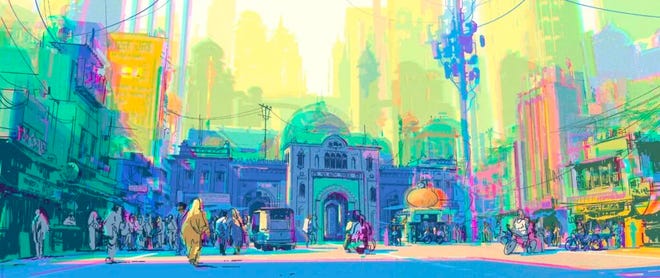 Mumbattan is an easy favorite among the many worlds featured in this sequel and is described as a "kaleidoscopic hybrid of Mumbai and Manhattan." For Mumbattan, the artists drew heavily from the Indrajal comics from the '70s, which were also formative materials for several crew members who grew up in India.
"Those comics have so much visual texture, which we studied, broke down, and utilized to shape our ideas for what this world could look and feel like. We essentially hybridized Mumbai and Manhattan and emptied out the East River—so the East River is this giant chasm where the city is sort of built and stacked down, levels upon levels," director Dos Santos once again shares.
Spider-Verse universe: Spider-Punk's World - London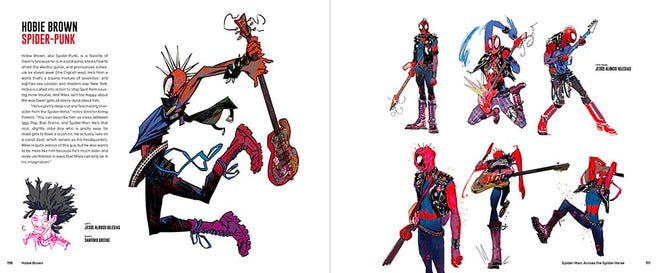 Anarchist Hobie Brown's world is reflective of his overall personality and is based on the early punk scene of London. For the sequel's iteration of the UK, the designers researched artwork, comics, and magazines from the '70s. "We wanted to embrace all of those elements to create a world that is not always consistent in its execution, but is uniform in its emotional direction. It's a wild world influenced by artists like Jim Mahfood and Ashley Wood, bringing that excitement and that energy into the line quality and then maintaining the sort of 'punk-isms' of the era," production designer Patrick O'Keefe says.
In essence, Spider-Punk's world is a homage to that era of London in time and is the product of a combination of new media, collages, and that degrading feel achieved through Xerox machines.
Spider-Verse universe: Earth-928; Nueva York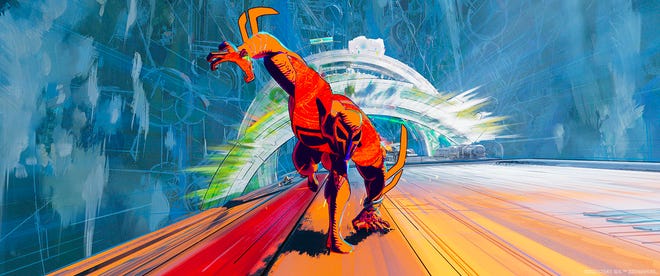 The idea behind Nueva York was creating what would be the Spiver-Verse's version of Utopia but with a dark secret. Designed to be reflective of Miguel O'Hara's cold and hard exterior, Nueva York showcases a glorious range of brutalist buildings, clean lines, and a futuristic feel inspired by the works of Syd Mead and Ron Cobb.
"I love the world of Miguel O'Hara, and how it was hugely influenced by Syd Mead's concept art. The world above the ground is very idealized, with great blues and clean lines. Then, the underground sections are inspired by darker visions of the future, like in Blade Runner," Dos Santos says.
O'Keefe agrees and adds that this world was his favorite among all the ones they had to work on for the film: "To be able to pull inspiration from sci-fi comic books and concept design from like the seventies and eighties—from artists like Syd Mead, John Berkey, John Harris, and John Bell—was thrilling. We also looked at many of the works that came before that, early in those artists' careers when they were selling cars and kind of envisioning an aspirational world of tomorrow. Of course, we later find out that this Utopia has a much darker underbelly."
Spider-Verse universe: Earth-42; Miles G. Morales' World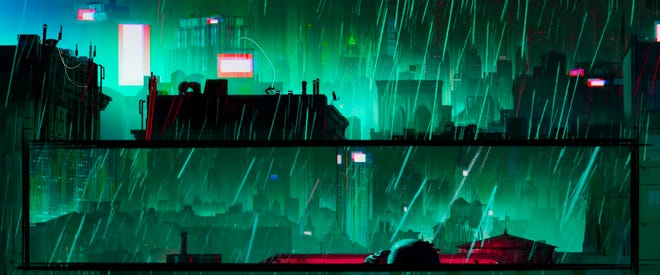 During the film's climax, viewers are left as stunned as Miles when he's left in a parallel version of his Earth where—spoiler alert—his Uncle Aaron lives. In this dimension, Miles' father, Jeff, is dead, and Aaron has stepped up as a surrogate father to Miles, turning away from his life of crime. He looks much older than he did in the previous film but retains his sophisticated streetwear. In Earth-42, everything is gritty and dark as the streets are lined with the aftermath of criminality and the Sinister Six taking over.
"We wanted to create a world where it felt like Aaron and Miles G. Morales of Earth-42 are the only heroes," Director Justin K. Thompson elaborates, also explaining that the team internally calls Earth-42 Miles as "Miles G." Morales. "It's a much darker version of Miles's original home. So, we looked at comic book artists who epitomized that sort of noirish world—artists like Frank Miller, Sean Gordon Murphy, John Polygon, where there is heavy use of black and colors sort of recede behind the dark shadows."
Thompson further shares more interesting details about Miles G. Morales and how he probably got the nickname The Prowler: "The powerless version of Miles is still capable and efficient and has great acrobatic and physical prowess."
Spider-Verse bonuses
Spot's Apartment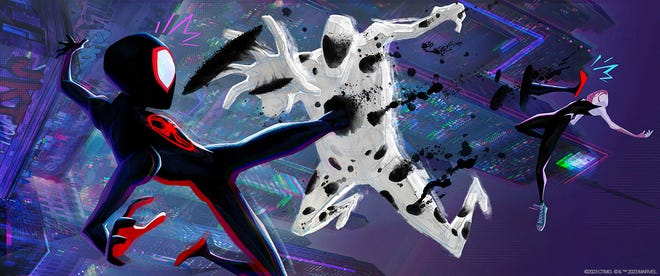 Spot's apartment actually gives away a ton of character details about him that you may have missed upon first viewing. In the book, Thompson explains that his apartment reflects a scientist who wasn't "taken seriously." Having been constantly pushed aside by Dr. Olivia Octavius, the Spot—or Dr. Jonathan Ohnn, as he was known then—was left with having to tinker with his experiments on his versions of the Super-Collider at home.
"Our goal was to tell as much of his backstory with the design, lighting, and set design of his apartment. As we walk through his place, we see smaller prototype versions of the Super-Collider. We realize that Octavius stole the core of the technology from this guy, who is constantly tinkering with the idea of traveling to other dimensions to, perhaps, find better versions of himself," Thompson shares.
Miguel's Headquarters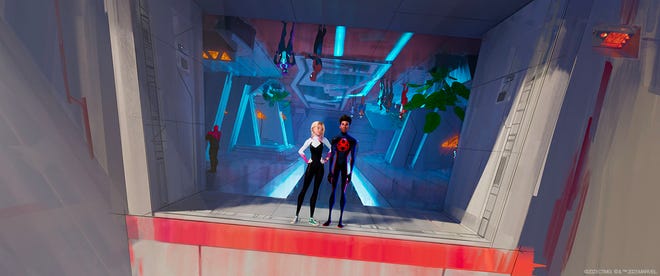 Much like Spot's apartment, Miguel's headquarters also provides excellent insight into how his character thinks and works. Located in a hidden conclave of the otherwise perfect and ideal Nueva York, his office houses countless projects and a bird's eye view of every Peter Parker or iteration of Spider-Man to have lived across all universes. Thompson notes that this need to control every detail and outcome is reflective of Miguel's personal need to compartmentalize and avoid his own problems.
"You see examples of unfinished ideas and projects that have plagued him for years. You can see once you get outside of the Spider Society and the office, and you come face to face with the hidden side of the city," Thompson adds. "Everything has been paved over. We wanted the design to express a world that's constantly being painted right in front of you, trying to catch up to an aspiration it can never quite attain. Everything is being painted over, while underneath, it starts to fall apart into sketches and linework."
---
Spider-Man watch order: How to watch Spider-Man movies (live-action and animated) in chronological and release order.