Spider-Punk: Everything you need to know about the Spider-Verse's anarchic hero
Meet Hobie Brown, the anarchic Spider-Punk
Note: There are NO spoilers for Across the Spider-Verse in this article.
With great power comes a punk rock attitude.
The Spider-Verse is filled with many unique spider-themed heroes, from dinosaurs to ramen. However, even in the sea of endless Spider-Men, Hobie Brown stands out. The anarchic hero marches to the beat of his own drum and isn't afraid to thumb his nose at authority. You might have caught this arachnid agitator in the animated film Spider-Man: Across the Spider-Verse. If the movie piqued your curiosity, then read on! Here's everything you need to know about Spider-Punk.
How was Spider-Punk created?
The crazy thing about Spider-Punk is that he was created by accident. During the original 2014 Spider-Verse comic book event, artist Oliver Coipel designed a character who was meant to be Spider-UK. According to writer Dan Slott, the design didn't match the character, since Spider-UK was supposed to be from the Captain Britain Corps, while Coipel's design was heavily punk. In the end, a different look was created for Spider-UK, but Coipel's design was too good to waste. That character became Spider-Punk.
Who is Spider-Punk in the comics?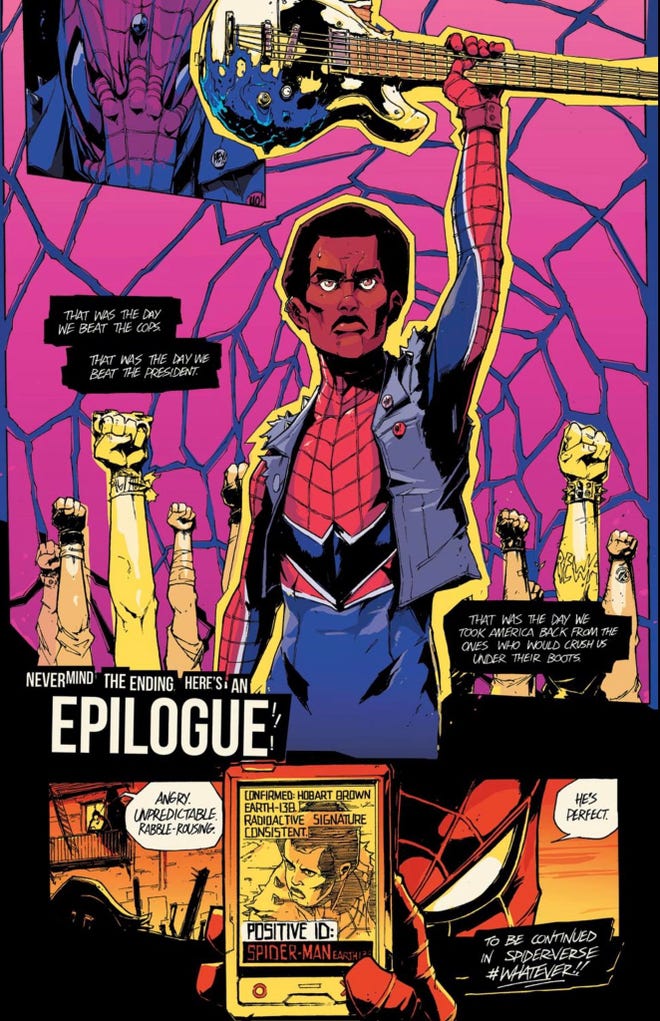 Hobart Brown lives on Earth-138, a world where America had become a totalitarian regime. He was a squatter who made his way through the streets of New York City. Although the nation was ruled by the tyrannical President Norman Osborn, Hobie took solace in punk rock music. His love of punk music kept his hope alive and fed his rebellious spirit. Hobie's life was changed forever after he was bitten by a spider. The arachnid had been irradiated by toxic sludge, and the creature's bite gave Hobie fantastic spider powers.
If you know about Spider-Man's powers, then you should have a pretty good idea of what Hobie can do. Like Peter Parker, the spider bite gave Hobie the ability to stick to walls, fantastic agility, strength, and a spider-sense which warns him of danger. Hobie decided to use these powers to take on the corrupt government, adopting the identity Spider-Man. However, Hobie's allies and enemies preferred to call him Spider-Punk. Hobie initially hated the name, but he's since come around to it.
Hobie led an uprising against President Osborn, assembling an army of rebellious citizens to topple the authoritarian regime. President Osborn and his police forces were armed with Venom symbiotes, but they were no match for Hobie's electric guitar. Using the sonic waves from his instrument, Spider-Punk was able to wipe out the symbiotes. He then used his electric guitar to bash Osborn's skull in for good measure. The guitar might not be as light as Spider-Man's web-shooters, but it's Hobie's most important weapon.
After defeating President Osborn, Spider-Punk was drawn into the first Spider-Verse conflict. When a group of villains known as the Inheritors began devouring spider-themed heroes across the multiverse, Hobie joined an army of other spider-heroes to stop them. Since then, Hobie has reunited with the other spider-heroes whenever a major villain threatens the multiverse. When he isn't going on Spider-Verse related adventures, Spider-Punk continues his quest to make Earth-138 free from all fascists.
Where can I read more about Spider-Punk?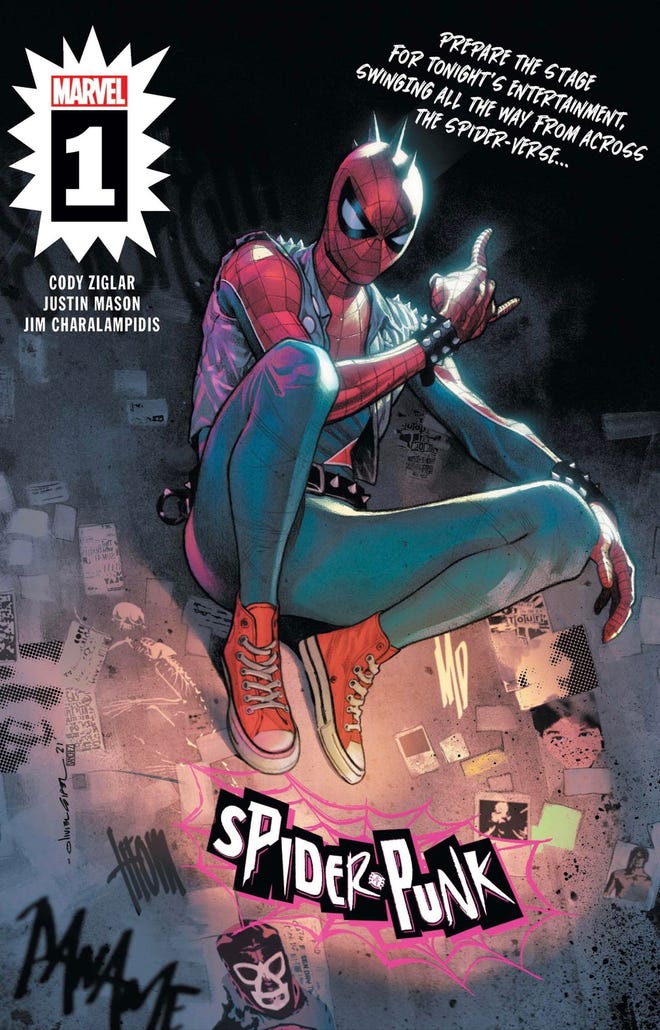 If you're interested in learning more about Spider-Punk, here are some comics which should help you get to know him better. Spider-Punk's first appearance was Amazing Spider-Man #10 (2014), which was part of the original Spider-Verse event. The entire Spider-Verse storyline is collected in trade paperback and can also be read digitally.
Spider-Verse #2 (2015) is Hobie's first solo story. It's also the first appearance of Earth-138, Spider-Punk's homeworld. This comic can be considered Hobie's bible, since it's the first time the character was fleshed out away from his Spider-Verse allies.
If you like Spider-Verse related adventures, then check out Spider-Geddon, which features some great Spider-Punk action. Hobie also had an arc in the title Web Warriors, appearing in issues 7 through 11.
In 2022 Marvel published a 5 issue Spider-Punk limited series, which was written by Cody Ziglar and penciled by Justin Mason. The limited series explored more of Hobie's world, and introduced punk rock versions of other heroes, including Ironheart (called Riotheart here) and Hulk.
Where else has Spider-Punk appeared?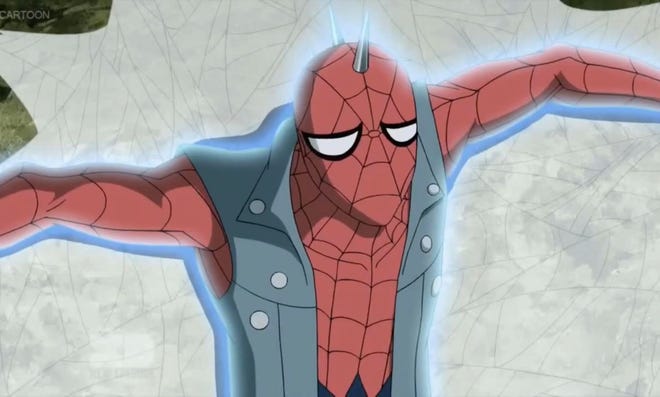 Spider-Punk made a cameo appearance in the Ultimate Spider-Man animated series. The character was briefly seen in the episode "Return to the Spider-Verse: Part Four." He was voiced by Drake Bell, who gave the character a Cockney accent. This means that Ultimate Spider-Man made the character British years before the release of Across the Spider-Verse.
Spider-Punk can also be found in a few video games. Hobie was a playable character in the mobile game Spider-Man Unlimited. The character can also be unlocked in the mobile game Marvel Strike Force. Spider-Punk's costume is also available as a skin in the PlayStation game Marvel's Spider-Man.
Who is Spider-Punk in Across the Spider-Verse?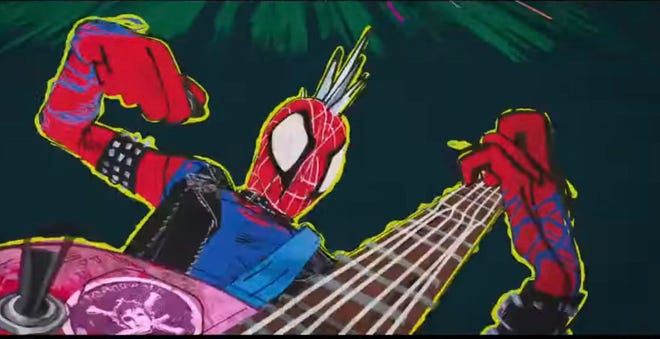 Spider-Punk makes his cinematic debut in Spider-Man: Across the Spider-Verse as a member of the Spider-Society, a group of spider-themed heroes. Hobie has a flippant attitude about the Spider-Society's rules, but then again, Hobie has a flippant attitude about authority in general. Spider-Punk enjoys a close friendship with Gwen Stacy, which leads to some jealousy from Miles Morales.
In Across the Spider-Verse, Hobie is given a distinct animation style. The character switches between traditional animation and a style evoking punk rock posters. According to director Justin K. Thompson, it took almost three years to animate Spider-Punk.
While the comic book version of Spider-Punk was born in New York, the version of the character seen in Spider-Man: Across the Spider-Verse is British. Hobie is voiced by Daniel Kaluuya, an Academy Award winning actor best known for his role in Get Out. Marvel fans might remember him as W'Kabi in the 2018 film Black Panther.
Where will we see Spider-Punk next?
The Spider-Verse saga will continue in Spider-Man: Beyond the Spider-Verse, which is set to be released March 29, 2024. We don't have a lot of details about the film, but it's safe to assume that Spider-Punk will be making a return appearance.
---
We're certainly excited about Spider-Man: Across the Spider-Verse. So much so that we've already reviewed the film as well as written about Miles swinging into Fortnite, covered the Spider-Verse Burger King takeover, looked into the new Spider-Jordans, and even eaten a Spider-Whopper. If that isn't enough Spider-writing for you, check out Five Spider-hero comics to read that aren't about Peter Parker's Spider-Man.