Spider-Man: Across the Spider-Verse continues to push the boundaries of what American animation can be
Ambitious and heartfelt, Across the Spider-Verse doesn't replicate the magic of Into the Spider-Verse; it makes magic of its own
As a movie fan, it is a rare delight to see something new on the big screen. In 2018, Spider-Man: Into the Spider-Verse surprised audiences by declaring what many considered to be a new era for American animation. Now, Spider-Man: Across the Spider-Verse has accomplished something new too, in its own way.
Across the Spider-Verse isn't a rehash of Into the Spider-Verse, but something different altogether. While the first movie created an enticing visual language and seeded the possibility of other Spider-verses, this film takes those concepts and runs wild, darting through new visual languages and styles, and deepening Miles Morales' story by contrasting it to those of a seemingly-endless number of Spider-folks.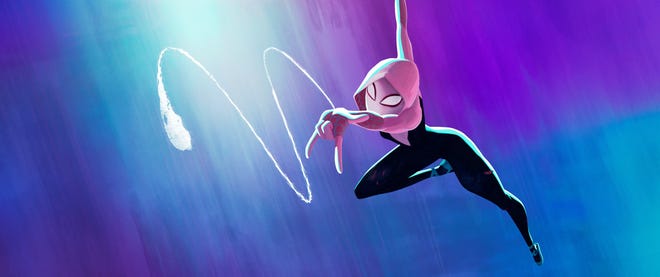 If Into the Spider-Verse was about Miles Morales learning to become Spider-Man, then Across the Spider-Verse is about what kind of Spider-Man Miles wants to become. This movie charts Miles' first step into the real world, and his continuous challenge - the push-and-pull between his heroism, his relationship with his family, and the man he's growing into - makes him a more engaging character than ever. This personal throughline is anchored by nuanced emotional performances from Shameik Moore as Miles and Hailee Steinfeld as Gwen, as well as sturdy (almost heartbreaking) performances from Brian Tyree Henry, Luna Lauren Vélez, and Shea Whigham as their parents.
Along with all this newness comes a new tone for the world Miles Morales finds himself in. The new Spider-folk in his life are not all as likeable and chummy as his first time around (though the standouts include Spider-Man 2099, Spider-Punk, and Pavitr Prabhakar), and his world has grown more complex, more complicated. Miles' challenge isn't reaching his potential anymore. His antagonist(s) are out in the world, including the brilliantly chosen villain Spot and his perfect-for-animation antics.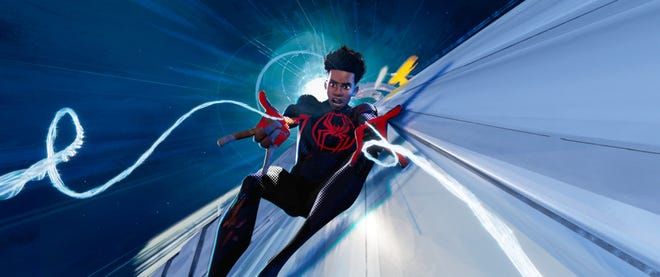 The extraordinary animation of the film could, on its own, cement Across the Spider-Verse's place as a cinematic gem, but the true joy of this movie is that all of that art is driven by heartfelt storytelling. The movie's use of color and abstraction, especially in the Gwen sequences, is central to our emotional understanding of Gwen's story. An early action scene with Miles and Gwen solidifies their friendship and ease with each other, but also that they may be out of sync. But the animation isn't just there to deepen our connections with the characters, it drives the story, and is playful too.
Perhaps even more than the first movie, Across the Spider-Verse is a joke (and an easter egg) a minute, but that feels all part of the fun instead of distracting. Like in the best Spider-Man stories, the humor doesn't ever fully puncture the central tension of the story, which remains, in many ways, tragic.
Across the Spider-Verse showcases what can happen when an expert team takes advantage of all of their considerable skill and all of their tools, whether that's animation style, story, color, voice acting, score, or the entire catalogue of every Spider-person likely to ever been put on the page in Marvel history, to tell a story that packs a punch. The Spider-Verse may be big, but we never get lost in it because the movie never loses its emotional focus.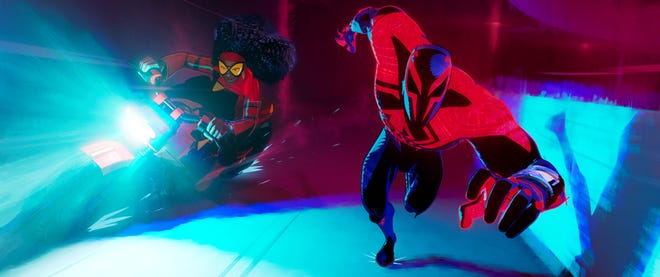 It is of course, hard to judge an entire arc by the first half of a story. But Spider-Verse does sidestep the half-way blues through it's framing of the story from Gwen Stacy's point of view. While the Across the Spider-Verse doesn't resolve Miles' journey, it does resolve some of Gwen's, which makes the movie feel satisfying in a way, while having the audience at the edge of their seats to see the next one with the requisite (and pretty exciting) cliffhanger.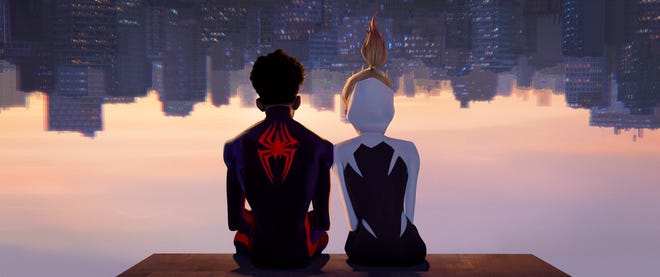 Though I don't know for sure that next year's Beyond the Spider-Verse will stick the landing so expertly set up by this film, it's hard to leave a movie like Across the Spider-Verse without some level of trust in a creative team which was not only wildly ambitious, but also skilled enough to fulfill that ambition.
---
Spider-Man: Across the Spider-Verse has a screenplay by returning writer Phil Lord, returning producer Christopher Miller, and David Callaham (Shang-Chi, Mortal Combat) and a new directing team in Joaquim Dos Santos, Kemp Powers, and Justin K. Thompson.
Spider-Man: Across the Spider-Verse hits theaters on June 2. Buy tickets on Fandango or Atom Tickets.
---
We're certainly excited about Spider-Man: Across the Spider-Verse. So much so that we've written about Miles swinging into Fortnite, covered the Spider-Verse Burger King takeover, looked into the new Spider-Jordans, and even eaten a Spider-Whopper. If that isn't enough Spider-writing for you, check out Five Spider-hero comics to read that aren't about Peter Parker's Spider-Man.