All the news and announcements from the Marvel's Voices panel at NYCC
Marvel's Voices has some exciting things in store for fans. Here's what they revealed during their NYCC panel.
On Saturday October 8th Marvel held a panel celebrating their Marvel's Voices line, with special guests, exciting announcements, and more. For those who aren't familiar, Marvel's Voices is a line of comics, podcasts, and video features that celebrate the unique voices within Marvel across multiple cultures. The panel was moderated by Angelique Roche, a writer and podcaster who helped get Marvel's Voices off the ground five years ago.
Roche began by telling everyone she is so proud of what Marvel's Voices has become. She introduced the panel, which included writers Eve L. Ewing, John Jennings, Danny Lore, Steve Orlando, Cody Ziglar, and editor Sarah Brunstad. Roche then announced that everyone in the audience would be receiving a copy of Marvel's Voices #1, with an exclusive variant cover for NYCC illustrated by Luciano Vecchio. A video was then played promoting the recent release of the Marvel's Voices: Comunidades anthology. "This is our second Comunidades anthology. We brought in a bunch of new folks and some legacy talent as well," Brunstad said.
New Releases
A Marvel Voices: Heritage trade paperback was announced for October. It will collect all the Marvel's Voices comics from the past two years, with some new introductions. Roche then talked about the Marvel's Voices podcast, which she hosts. The podcast has just finished its 6th season, and big plans are being made for the future. "We are not going anywhere," Roche proudly said.
Brunstad reminded everyone to check out the Marvel's digital Infinity Comics, which include a fourth part Iceman story, and a Werewolf by Night story that she's particularly excited about. "That one is really special to me and magical," Brunstad said. A video from Walmart's artist spotlight series was played, spotlighting the iconic artist Damion Scott. Once the video concluded, Roche dove into the announcements. "My heart is bursting to tell you about all the incredible things I'm about to tell you," she said with clear excitement.
Wakanda Forever
The first book announced was Marvel's Voices: Wakanda Forever, a one-shot coming in February 2023. The book will be an anthology featuring a wide variety of Marvel creators, with a stunning cover from Kan Lashley.
Miles Morales: Spider-Man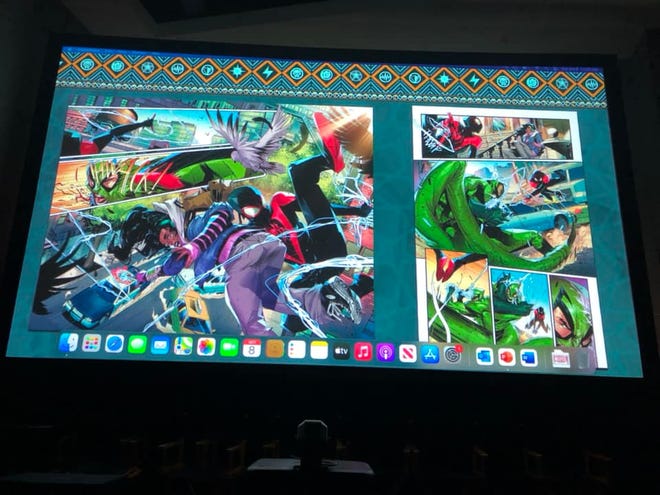 Cody Ziglar got a chance to talk about his upcoming Spider-Man run, which begins this December with Miles Morales: Spider-Man #1. "I'm an enormous Miles stan. I remember 10 or 11 years ago when I found out Miles was going to be a real thing," Ziglar shared. He spoke about rushing to the comic shop to buy Miles' first appearance, which he has bagged and boarded at every desk he's ever had. "I think it would be nice to have a black mentor in Miles' life," Ziglar shared, before revealing that Misty Knight would be that mentor.
Monica Rambeau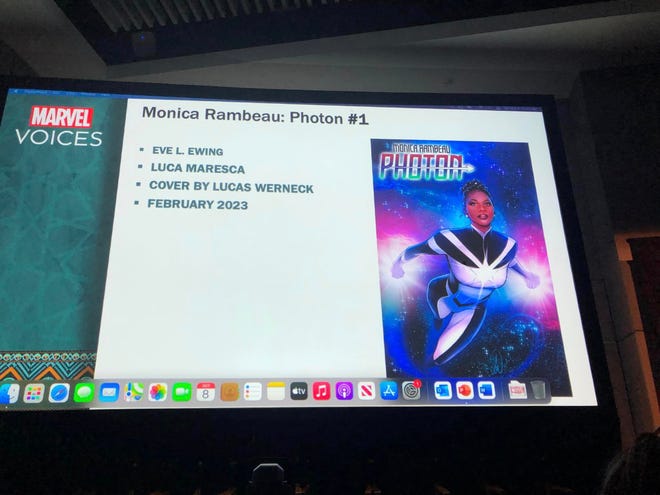 The spotlight shifted to Eve L. Ewing's upcoming series Monica Rambeau: Photon, a limited series coming this December. Roche introduced it as a book she's been waiting for her entire life. Ewing noted that many writers haven't known what to do with a powerful black woman, citing a panel she once saw where Monica brought Carol Danvers coffee. "We could do more with Monica," Ewing said. The book will deal with the struggles women of color have with not being seen, but Ewing hopes people will also enjoy the space opera elements. "I also hope you'll come for cool space stuff. Cool cosmic stuff."
My Superhero is Black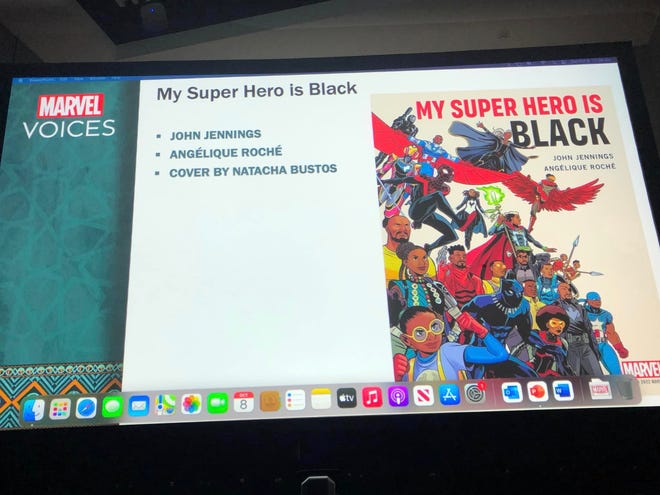 Angelique Roche and John Jennings began talking about their upcoming history book My Superhero is Black, which will be published in June 2023. "It has been a privilege and honor to put this together," Roche shared. Jennings said the book will take a decade by decade look at the creation of Marvel's black characters from the Silver Age to the modern day. While researching for the book, Jennings latched onto a character from Silver Surfer #5 (1969), who wound up playing a big part in his next project.
Silver Surfer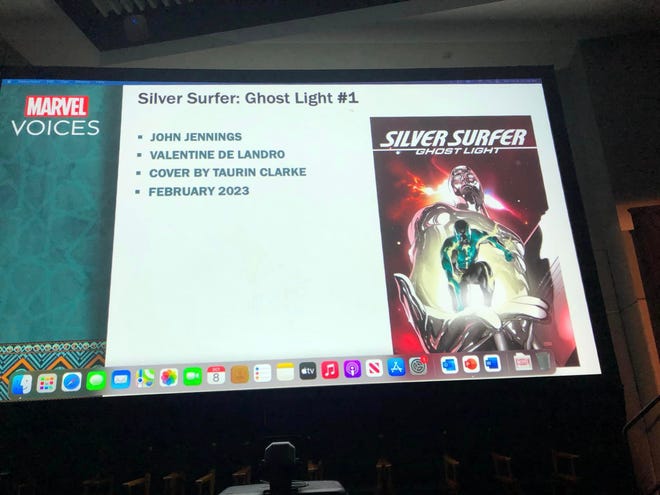 Silver Surfer: Ghost Light is a 5 issue limited series which will be released in February 2023. Jennings will write while Valentine De Landro will illustrate. The series will bring back Al B. Harper, a character who sacrificed his life for the Surfer in the previously mentioned 1969 comic. "I just couldn't see another black character in the ground," Jennings shared. Harper will become the cosmic being Ghost Light, a term that might be familiar to fans of Broadway shows. Theaters will sometimes use "ghost lights" to remind patrons that they will be reopening in the future, and Jennings thought that was perfect for Harper's revival.
Scarlet Witch and Marauders
Steve Orlando then spoke about his upcoming Scarlet Witch series, which kicks off in January 2023. Orlando noted that most of Wanda's most iconic stories were about her suffering, and he wanted to move her past that. "We wanted to set her on a new path, and activate all that she's been through, but not in a negative way," Orlando said. The series will feature Wanda helping those who are at the end of their rope, so that nobody will ever have to feel the way she once did.
Orlando compared the Scarlet Witch to Superman, reminding people that even though she's invulnerable, she can still be hurt. Scarlet Witch #2 will take place within Vision's dreamscape. "If an android can cry, it can probably dream too," Orlando reasoned. He then spoke about his series Marauders, teasing readers that all his seeds will tie up "at the end."
Bishop: War College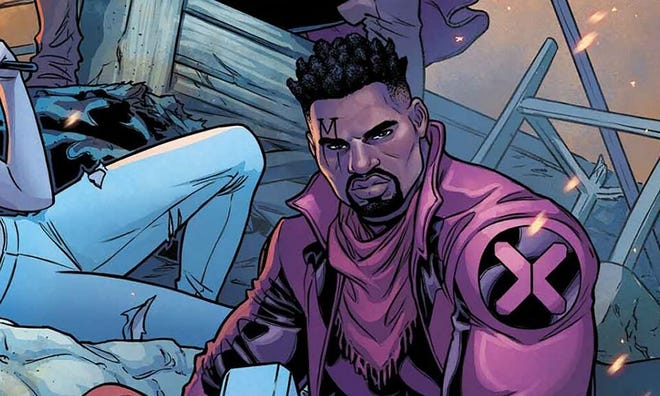 A limited series called Bishop: War College was announced with a February 2023 publication date. The series will be written by J. Holtham and penciled by Sean Damien Hill. It will focus on Bishop leading an all-black team of X-Men. Holtham couldn't be there for the panel, but a video message from the writer was played. The title promises "time travel, war games, and black X-Men."
Bloodline: Daughter of Blade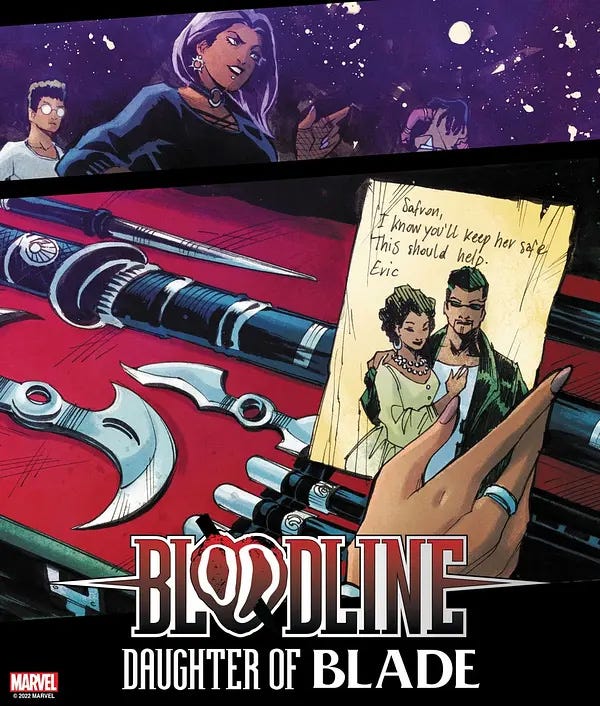 The next announcement was Bloodline: Daughter of Blade, a five issue limited series that begins in February 2023. Danny Lore will be writing the series, allowing her to continue the story of Brielle Brooks, the daughter of Blade. The comic features art from Karen S. Darboe, who co-created Brielle with Lore. The book is near and dear to Lore, who shared a story about seeing the first Blade movie with her father. "There is nothing I love more than building a world to look like the people I grew up with," she shared.
Marvel's Voices shares the love
Roche reminded everyone to check out the Marvel's Voices podcast, sharing that recently they've interviewed creators from almost every single continent on the planet. "We wanted to show Marvel was truly the world outside everyone's window," Roche said. A recent interview with comic book artist Peach Momoko was spotlighted. Listeners can hear the interview in Japanese, or English thanks to translations from Momoko's husband.
The panelists closed things off by affirming one another. Danny Lore spoke about the bond everyone had with Roche. "You could call me and ask for anything and I would jump to it, because you would do the same for us," Lore said. The panelists spoke about how they were looking forward to one another's books, a sentiment that was definitely shared by the audience. The panel wrapped up, with every attendee feeling renewed excitement for the next wave of Marvel's Voices content.
---
Get fully immersed in NYCC with Popverse's wall-to-wall coverage of the event. From filmed panels to backstage interviews, on-the-floor coverage, news, cosplay galleries, and more - we're tracking it all in Popverse's New York Comic Con 2022 round-up.