Alice Oseman's Heartstopper webcomic set for an April 1 return (No fooling)
The romance, which has since found a new audience because of its Netflix adaptation, has been on hiatus since May 2022
Having successfully conquered Netflix with its first season, Alice Oseman's Heartstopper is headed back to where it started with an April 1 date finally announced for its return to regular publication as a webcomic after almost a year.
The coming-of-age romance series that won both critical and audience hearts upon its Netflix debut in April 2022 started life as a webcomic in 2016, with Alice Oseman responsible for both writing and art. (She's also the sole writer on the Netflix series.) Originally published on Tumblr and Tapas, Oseman added WEBTOON as an additional publishing platform in 2019; print rights were acquired by Hachette in 2018… and then, partway through 2022, Oseman brought the webcomic to a temporary close.
The strip has been officially on hiatus since May 2022, with Oseman announcing the hiatus by writing, "I have been suffering from severe stress and burnout for a very long time which has been impacting my physical and mental health, and I can no longer create the comic to the best of my ability. I'm really sorry to everyone who's disappointed, but if I carry on, I will not be able to create something I'm proud of or happy with."
Since then, there have been two official Heartstopper updates; a belated Halloween episode and a holiday episode. In notes accompanying the former, posted early November 2022, Oseman shared, "Since going on hiatus from the comic, I have been incredibly busy with the release of the Netflix show, then writing season 2 in an extremely short timeframe, and also creating the Heartstopper Yearbook. I want to be honest with you all and let you know that my health is not great right now. Due to extreme overworking, stress, and a lack of breaks over the past several years, I am dealing with some mental and physical health issues, and therefore I am not yet able to return to making the comic. The hiatus will continue while I try to rest and heal, so that I can come back to the comic with energy and passion for the story."
In late December, she described the holiday episode as "a little something to ease myself back into drawing Heartstopper pages," in the first sign that the strip's return was coming. Earlier this month, she tweeted about the return of monthly fundraiser efforts, writing that the webcomic "hasn't quite returned yet." A week later, she made the official announcement that the strip was coming back.
Oseman shared news of the strip's return on social media last week, adding "I promise this isn't an April Fool's joke lol" in reference to the April 1 relaunch date.
The second season of the Netflix series is expected to arrive on the streaming service later this year.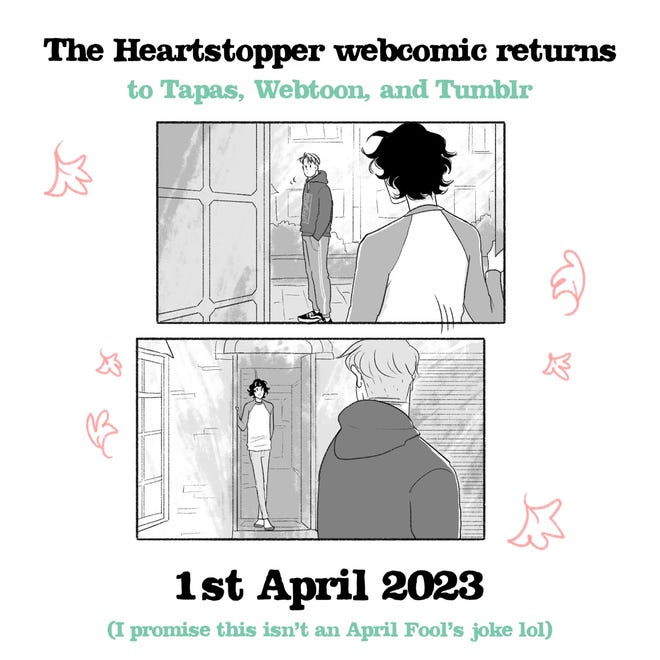 ---
Heartstopper is one of the most popular webtoons in the world, ranking high on our list of 2022's most popular Webtoons and again on 2023's most popular webtoons so far.