The lessons learned from, and the questions never asked at, New York Comic Con 2022's Q & A panel
Sunday afternoon brought convention organizers face to face with fans, with one shared mission: making NYCC better
A curious thing happened at the NYCC Staff Q&A session at New York Comic Con 2022: what seemed, prior to the actual panel itself, like a contentious room filled with fans unhappy with the show became a surprisingly positive panel filled with goodwill and support for con organizers and the event as a whole… and literally no questions from the crowd about masks during the entire hour.
That's not to say that masking wasn't mentioned in the session; it was the second thing ReedPop VP of events Kristina Rogers brought up in her introductory remarks, following a brief admission that the reservations system "did not go super smoothly… again." (Next year, there are plans afoot to shift towards a lottery system that asks attendees to list their panel preferences in ranked lists; it's legally not allowed to be called a lottery, so Rogers joked that it's being referred to as a "not-tery.")
Speaking about the masking situation, Rogers said that it was "a hard one, with difficult times and really difficult opinions," referencing President Biden's September statement that the pandemic was "over" as well as the lifting of COVID restrictions as complicating factors in convincing attendees to mask up for the show. With over 100 staff dedicated to the matter, Rogers said that she felt that the team "made a pretty good effort," adding, "a lot of mask adoption comes down to the fans attending the show." She did, however, acknowledge, "we did do our best, I'm aware that was not good enough."
It was, seemingly, good enough for those attending the panel, who were more interested in asking about location management and VIP passes. Indeed, the latter topic was perhaps the most commonly raised concern during the entire session, with multiple fans commenting that those fans who'd paid extra for VIP tickets to the show were not receiving all of the perks of the experience; more than one VIP ticket holder complained that not enough was being done to ensure that only VIP guests were given access to the VIP lounge and the food therein.
"I spent $250 extra," said one fan. "When I can't get snacks in the middle of the day, I wonder what that $250 went to." By the time the issue had been raised a second time, Rogers said that she was already considering increased security and, "just out of the gate, [tripling] catering" in the same space next year. It wasn't all bad news for this year's VIP guests, however; Rogers also revealed in response to one question that VIP ticket holders to this year's show would have the first opportunities to purchase VIP passes for next year's show.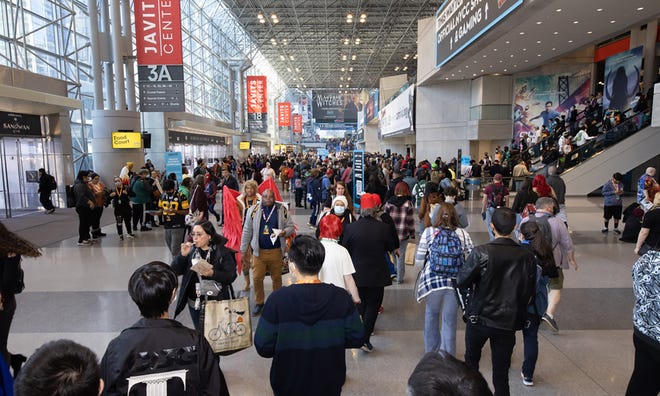 Similarly, there were concerns over passes being checked appropriately at a number of panels — the Back to the Future panel on Saturday night was brought up more than once — with fans complaining that line jumping was taking place, and priority was not given to those who'd paid extra for confirmed seating in certain panels. The note was taken to improve things for future events, with Rogers saying that there was certainly work to do in future when it comes to policing VIP access, but "I think we did pretty good, with a lot of notes to improve on next year."
Other matters that were raised included the cost of shipping tickets to fans, the lack of comic book publishers at the show ("You should probably tell the publishers that," Rogers noted, as SVP of sales Ryan Will pointed out that he'd addressed a similar question at an earlier ReedPop show, adding that he expected more publisher presence next year), security at the event — with as much praise for the security teams as there was criticism — and, fascinatingly, a request for stronger curation of panels, with one fan noting that the panels felt "mundane" this year, leading them to question whether or not there was even a point to many of them.
(Again, though, this criticism was balanced by praise from other fans; the Q & A session started with someone saying just the opposite, and praising this year's panels in particular.)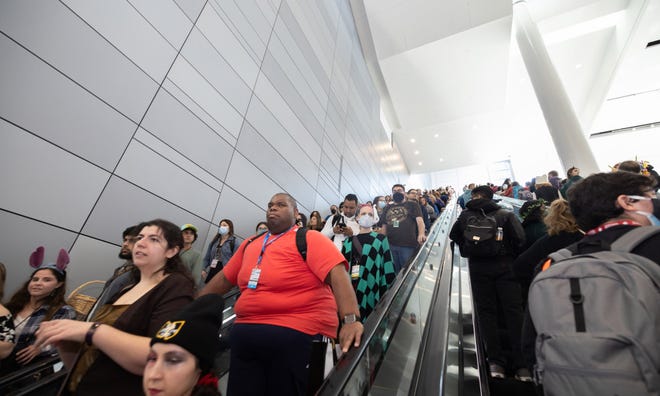 In terms of future events, Rogers said that there was hopefully going to be "more expansive late night programming" at New York Comic Con 2023, and specifically said that live music was on her radar. ("It's going to Abe all folk music by the way," she joked.) There also may be a shift in terms of guest lineup in future shows, with Rogers saying that this year, due to the pandemic, "not everyone was comfortable" in appearing at the show — and that, in future shows, organizers were looking to get a broader array of guests in terms of fandoms.
Overall, however, the mood in the room was positive, as guests shared not only their enjoyment of the show as a whole despite whatever problems they might have been talking about at that moment, but also the number of years that they've been coming back; it reinforced the genuine love that fans had for New York Comic Con, and the pride they feel for the show.
There was a palpable sense that — despite the complaints that they were loudly sharing with each other in the minutes before the panel officially began; something that suggested a far more contentious panel than actually happened — they feel a sense of shared ownership over the show that means that each complaint is part of a process to make everything better, no matter how blunt the criticism might seem at the time.
Panels like the NYCC Staff Q&A are, ultimately, a sign of a healthy convention ecosystem, and a give-and-take between two of the primary ingredients in any convention: the organizers and the fans. But don't take my word for how things transpired — you can watch the whole thing for yourself below.
You can watch the full New York Comic Con 2022 Staff panel here.
---
Earlier ReedPop convention talkbacks haven't been filmed, but Popverse has covered them. Here's what was said during the talkback session for Emerald City Comic Con.