Spider-lamp! Spider-lamp! Does whatever... a spider can?
As Across The Spider-Verse nears it's debut, it's time to dive deep into Spider-Merch, and we're obsessed with this Spider-Lamp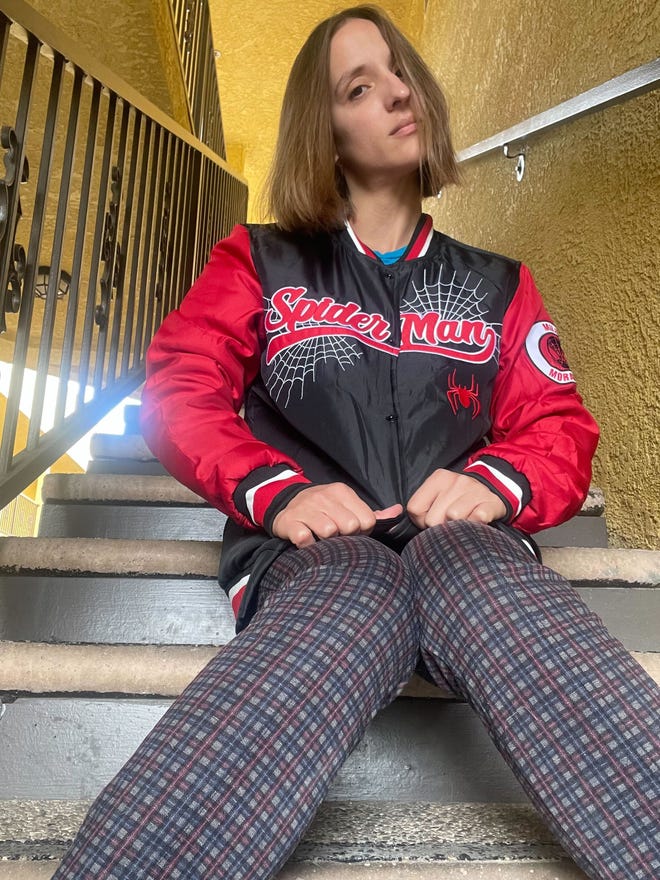 Yes, summer has finally come. Which means big blockbuster movies! And there's no blockbuster that we're more excited to watch this year than Spider-Man: Across the Spider-Verse. In fact, we are so excited that we've written about Miles swinging into Fortnite, covered the Spider-Verse Burger King takeover, looked into the new Spider-Jordans, and even eaten a Spider-Whopper. Now, while we're waiting to debut our review of the movie next week, we've been whiling away our time looking at some cool new merch.
BoxLunch has a bunch of fun Spider-Verse themed apparel including an exclusive Miles Morales Bomber Jacket (modeled here by Popverse's very own video producer Ashley V Robinson) and Ghost-Spider crewneck.
But what is really capturing our eye is this incredible looking Spider-Lamp. Yes, this Spider-Man lamp is shaped like a streetlight, with a classic little Peter Parker Spider-Man dangling upside down from the pole. The base of the lamp is not as nice as the rest of the lamp, but it does have a brick print, so at least it fits the vibe. It's one of those designs that is so brilliant, you don't know how it hasn't already been done a million times.
For those who need a little more detail before making a purchase, the lamp is LED, approximately 16 inches tall, and is powered by a USB cable (though the USB power adapted is not included). The lamp is operated by a little clicker switch (no, you do not pull Spider-Man down to turn the lamp on), and it is currently 30% of its original $59 price to be $41.93-- so grab it quick, if you want it.
Unfortunately, even though we're seeing so many different Spider-variants nowadays, there seems to be only a Peter Parker lamp. Hopefully, someone out there will put together a Miles Morales Spider-Lamp soon. We'll certainly be in line to grab one.
---
How Miles Morales grew from a legacy Spider-Man into his own unique hero.