October 2022 - This month in comic history, from 100 years ago to now
In Octobers past, revisit Batman: Hush, the debut of Thanos, Seven Deadly Sins, Fritzi Ritz, and more
Season's screamings! It's the Spooky Season here at Popverse, which means it's the right time of the year to scare ourselves out of our minds. And what, dare I ask, could possibly be more frightening… than the inexorable passage of time, making you ever more aware of how much older you're getting with each passing year? That's right, it's time for This Month in Comics History! Taking you back to Halloweens past, this month we'll explore the slow death of Jane Foster, DC's hopeful but doomed early effort to enter the webcomics market, the debut of a little Batman story called 'Hush,' the birth of the most notorious villain in the Marvel Universe that DC had the rights to in 2012, the centennial of the progenitor of your coolest friend's favorite daily newspaper comic strip, and the manga origins of that one anime series that always seems to autoplay when you open up Netflix. Let's get nostalgic!
Five years ago, October 2017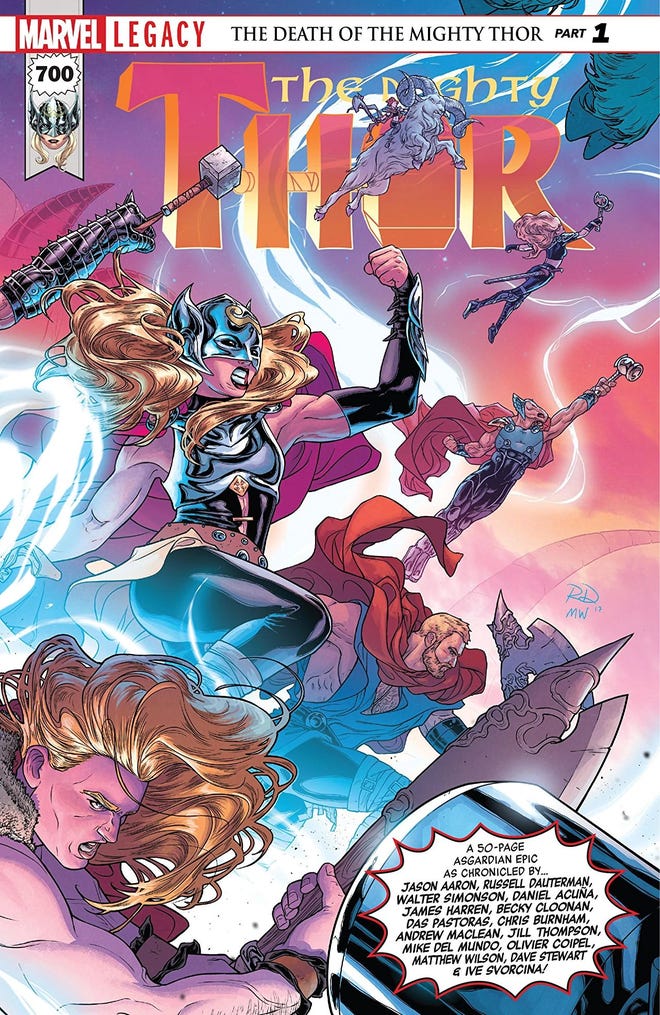 The landmark issue Mighty Thor #700 begins 'The Death of The Mighty Thor,' covering Jane Foster's final days as Thor as she succumbs to cancer. The story would go on to partially inspire the events of the film Thor: Love and Thunder.
Also happening this month back in 2017...
Sean G. Murphy's Batman: White Knight envisions an alternate Gotham where the Joker has some valid points, the Batman has more than a few skeletons, and Harley Quinn is stuck in the middle. Oh, and some radical new Batmobile designs. The series has since inspired a number of sequels and spin-offs, becoming the foundation of an independent, cohesive vision of Gotham City and its most infamous citizens.
The It-Girls of Archie and DC Comics cross paths in Harley and Ivy Meet Betty and Veronica
In a miniseries by Victor Gischler and David Baldeon, The Spirits of Vengeance go to war at the gates of Hell.
Catwoman accepts Batman's marriage proposal in Batman #32.
10 years ago, October 2012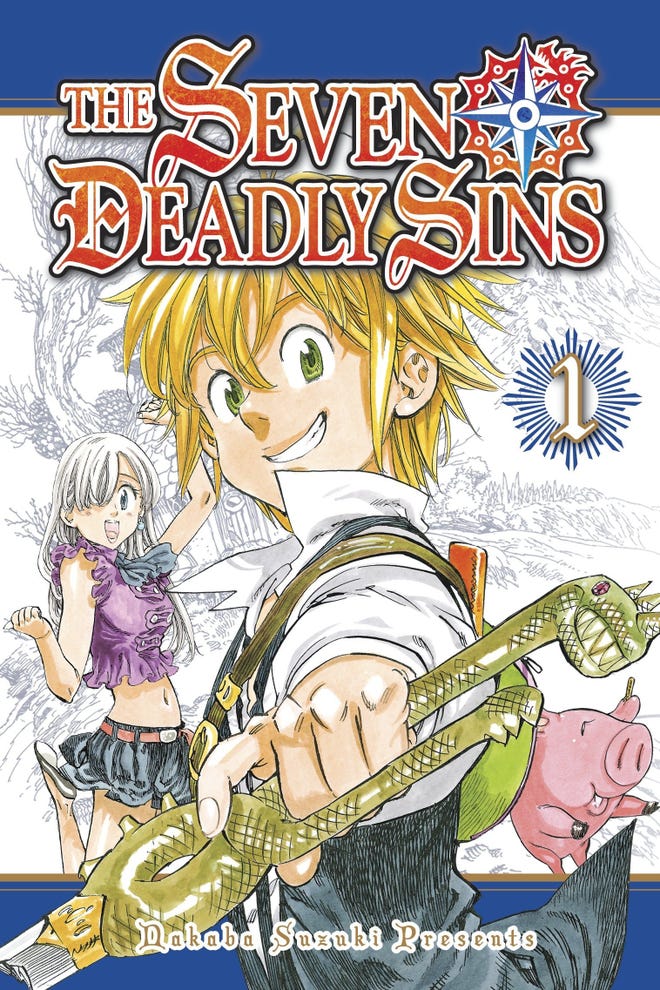 Seven Deadly Sins, by Nakaba Suzuki, begins serialization in Weekly Shonen Magazine. This story about a group of superpowered knights, each themed on one of the cardinal sins found in Christian theology, draws as much on religion as it does the legend of King Arthur and Camelot. Seven Deadly Sins has since been adapted into a massively popular anime series and several films.
Also happening in comics 10 years ago in October 2012...
Land of the Lustrous by Haruko Ichikawa is serialized in Monthly Afternoon magazine. A high fantasy story of people made from jewels, Land of the Lustrous would inspire a 3D anime television series by Orange Co, Ltd. which has come to redefine the possibilities of anime in the CGI medium.
Spinning out of the Avengers vs. X-Men event, the new Uncanny Avengers series spearheads an era of collaboration between the Avengers and X-Men teams which would define the 'Marvel NOW!' period of Marvel publications between 2012 and 2015.
Wolverine gets the adults only 'Marvel MAX' imprint treatment with his own Wolverine MAX title. It runs for 15 issues.
As an extended treatment of the 'Marvel: The End' concept which envisions the 'final' stories of various Marvel icons, Brian Michael Bendis, David W. Mack, Klaus Janson, and Alex Maleev present Daredevil: End of Days. Inspired by Citizen Kane, the story begins with Daredevil's death and final word, with a reporter- in this case, Ben Urich- attempting to uncover the word's meaning.
15 years ago, October 2007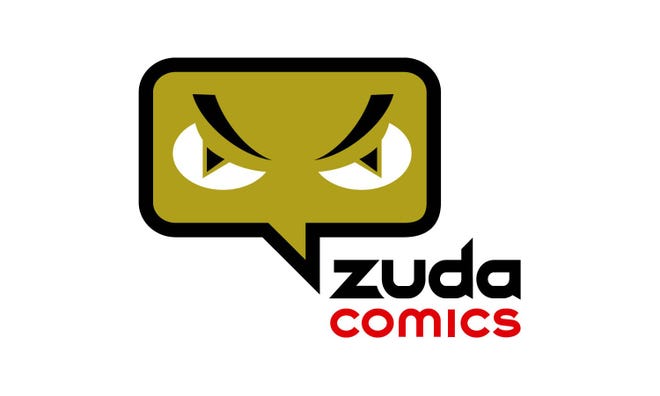 DC Comics makes their first attempt to enter the webcomics space with imprint Zuda Comics. Overseen by Paul Levitz, Zuda Comics allowed comic creators to submit their own short spec comics, which would compete against each other for publication first before an editorial board, and then online for readers to vote on for a contract. Over thirty titles were launched through Zuda, before ending operation in 2010 for DC to focus on internal digital comic development.
Also happening in comics 15 years ago in October 2007...
20 years ago, October 2002
Jim Lee takes over art duties for 12 issues of the regular Batman title with The Long Halloween author Jeph Loeb starting on issue #608, for a unique arc which would present a new mystery tied to Bruce Wayne's past while presenting his significant enemies and allies to new readers. They called it Batman: Hush. It's considered essential beginner Batman reading to this day, and received its own animated film adaptation in 2019.
Other big things according in October 2002, just 20 years ago...
25 years ago, October 1997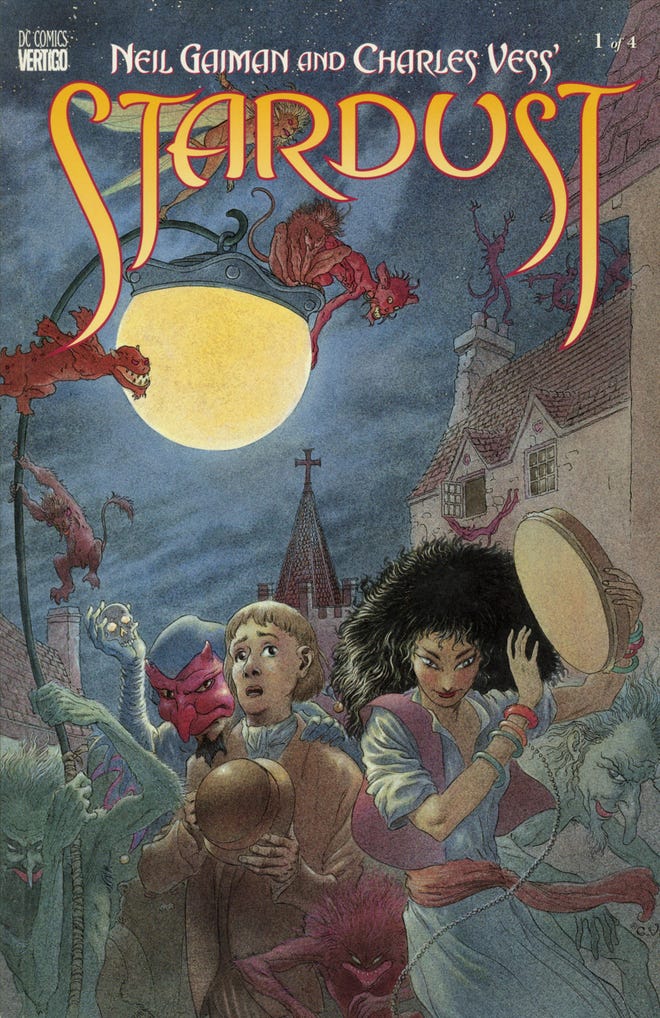 Neil Gaiman and Charles Vess debut their fantasy romance comic book miniseries Stardust, the story of a young man who travels to the land of Faerie and falls in love with a fallen star. The series would soon thereafter be adapted into a novel, and a major film in 2007 starring Claire Danes and Charlie Cox.
There was more to October 1997 than just Stardust. Here's what else was occuring in October 1997...
In a rare collaboration, DC and Marvel co-publish Unlimited Access, a comic spinning out of the 1996 DC vs. Marvel Event. The four-issue series features Axel Asher, also known as Access, with the power to move between the Marvel and DC universes at will.
DC launches their line of Tangent Comics, a series of stories set in an alternate universe where everything you know about a character has changed, with their names and titles completely recontextualized.
Spawn and Batman artist Greg Capullo launches his own creator-owned series with Image Comics, The Creech. The titular "Creech" is an amalgamated monster made from aborted fetuses.
The secrets of Gambit's past are revealed in Uncanny X-Men #350.
50 years ago, October 1972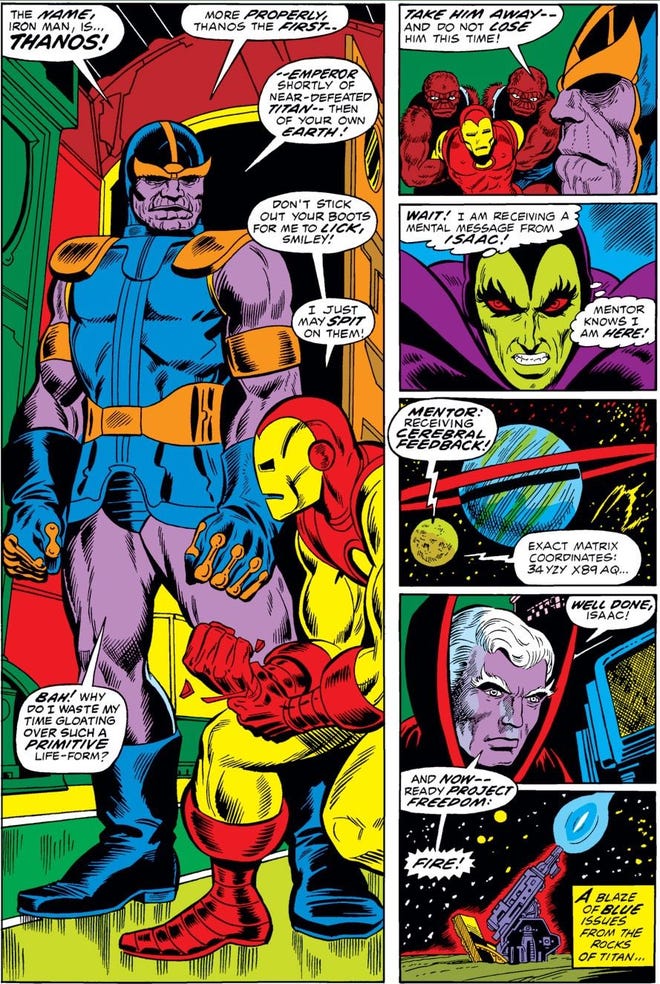 Thanos, the most notorious villain through the first decade of the Marvel Cinematic Universe, debuts in Iron Man #55. Drax the Destroyer first appears here as well, warning Iron Man of the Titanic threat to come.
Also occuring 50 years ago back in October 1972...
Mazinger Z by Go Nagai debuts in Shonen Jump, a codifier of the mecha genre – it's widely considered the first manga to put the mecha pilot inside the mech suit itself, as opposed to piloting it remotely. It's hard to overstate the influence Mazinger Z has had on the form since then. If your favorite giant robot story wasn't inspired directly by Mazinger Z, it was surely inspired by something that was.
In Fantastic Four #130, months of marital issues culminate in Sue Storm separating from Reed and leaving the team. She would return to the fold by Fantastic Four #159.
Christopher Chance, the Human Target, appears for the first time in Action Comics #419.
A secret, unauthorized crossover between DC and Marvel plays out at the Rutland Halloween Parade, in an event woven through Amazing Adventures #16, Justice League of America #103, and Thor #207 for eagle-eyed readers.
75 years ago, October 1947
The Wayne family's origins are explored for the first time when Batman must clear the name of his ancestor Silas Wayne in Batman #44.
Also underway in October 1947, 75 years ago...
The original Star Sapphire of the Golden Age debuts in All-Flash #32 – not as an enemy of Green Lantern, but of the original Flash, Jay Garrick. Another classic Flash villain, The Fiddler, debuts in the same issue. All-Flash #32 would be the final issue of Jay Garrick's solo series.
Harlequin fever sweeps comic readers as the original femme clown fatale, Molly Mayne, appears in every story in Green Lantern #29.
100 years ago, October 1922

Cartoonist Larry Whittington's Fritzi Ritz, a daily comic strip satirizing contemporary 'flapper girl' culture through its title character, debuts in the New York Evening World newspaper. The strip was taken over by Ernie Bushmiller in 1925, who would continue most of its run through 1967. Fritzi Ritz is survived today by its most popular character, introduced to the comic in 1933: 'Aunt Fritzi's' incorrigible, boundary-pushing niece, Nancy.
---
Revisit days gone by with our previous This Month in Comics History guides from June 2022, July 2022, August 2022, and September 2022.