Everything we know about One Punch Man season 3 release date
HERO!
One-Punch Man is one of the most popular animes of the past decade. The first season was a brilliant blend of hilarious one liners, meme-friendly content and awesome action sequences. Not to mention an incredibly catchy OP.
The second season was...less well received, with animating duties shifting from Madhouse, the revered studio behind anime classics like Perfect Blue and Summer Wars, to A Certain Magical Index makers J.C.Staff.
Despite this, there is plenty of hype surrounding the return of Saitama and co in One-Punch Man season 3. If you can't wait to be reunited with the Hero Association then we've rounded up everything you need to know. We've got details on the expected release date, what the new episodes could cover and more.
---
When is the One Punch Man season 3 release date?
So far, a One-Punch Man season 3 release date hasn't been announced yet. Fans had been expecting the new season to launch in 2023, as that would line up with previous gaps in-between seasons. The first season aired in 2015, and then there was a four year gap until season 2 in 2019, so fans felt it stood to reason that season 3 would arrive in 2023.
As of yet though, the premiere date for One-Punch Man season 3 hasn't been announced, and with not much time left until 2023 is over a 2024 release date seems more likely.
When could we find out more about One Punch Man season 3?
It's rumoured that more news on One-Punch Man season 3 could be announced at Jump Festa 2024. The annual manga and anime convention in Tokyo is the place where announcements on upcoming shows tend to drop, with last year's event revealing more about the new seasons of Jujutsu Kaisen and Spy x Family, among other things.
Seeing as a 2024 release date is rumoured, and it's been quite awhile since there's been any One-Punch Man news, an announcement at Jump Festa could be the perfect way to kickstart the hype train as we head into the new year. The next Jump Festa event is taking place on Saturday December 16 and Sunday December 17, 2023.
When was One Punch Man season 3 announced?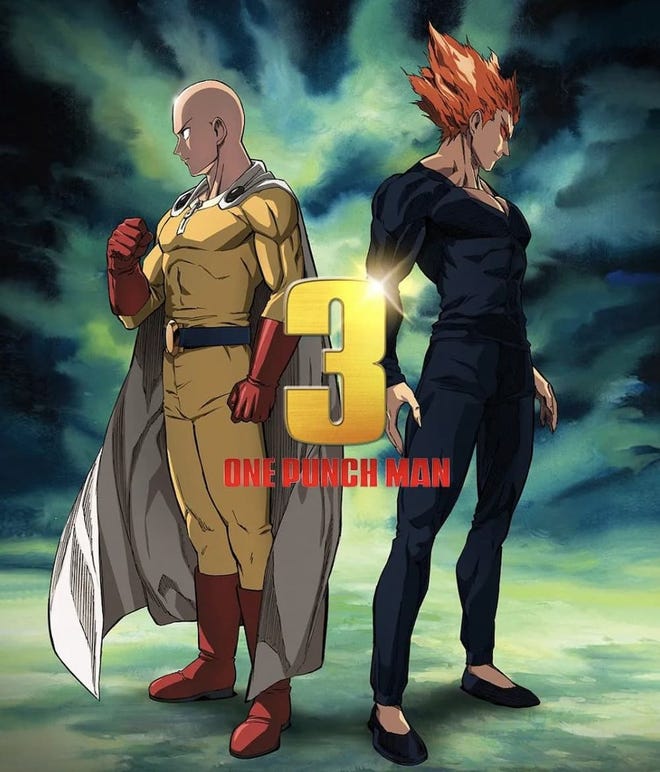 One-Punch Man season 3 was officially announced in August 2022, alongside a teaser visual for the new season. The artwork was created by Chikashi Kubota, who was in charge of character designs for the anime's first two seasons, and it showed main character Saitama and the villain Garou with their backs turned to each other.
Since then, news on One-Punch Man season 3 has dried up and it hasn't been confirmed which studio is charge of animating it. Towards the end of 2022 rumours emerged that MAPPA, the studio behind Attack on Titan season 4 part 4, could be making the new season of One-Punch Man. But the official Twitter One-Punch Man account pushed back against these claims, telling fans not to be "misled" by "unofficial information".
This is the only official Twitter account for the anime "One-Punch Man". Please don't be misled by unofficial information from other accounts. Accurate information will be announced from this account when it is time.

— (@opm_anime) December 22, 2022
What will One Punch Man season 3 be about?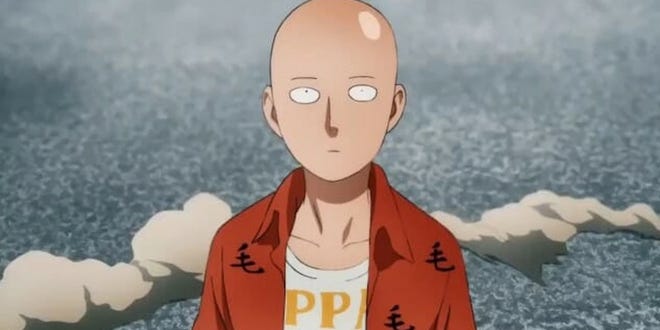 Plot details for One-Punch Man season 3 haven't been announced, but we can expect things to pick up where season 2 left off. That means the show will continue adapting the Monster Hunter Association Arc from the manga. This would see the heroes launch a full scale invasion of the Monster Asscociation HQ, culminating in a huge battle between Saitama and Garou.
Where to watch One Punch Man
If you want to catch up on One-Punch Man before season 3 arrives then you will need a Hulu subscription. The streaming service has every episode of season 1 and season 2 in its library. Hulu is priced from $7.99 a month, and if you want to try before you buy and you can get your first month for free with an introductory trial.
---
That's a wrap on our round-up of everything we know about One-Punch Man season 3. If you're looking for more anime content, then check out our pages on the Naruto 20th anniversary episodes and everything the One Piece live action changes. If you need help getting started with some of the most popular animes around, head to our guides for the Baki watch order, Fate watch order and the Naruto watch order.
---
Want to know what's coming up next in pop culture? Check out our guides to upcoming movies, upcoming TV shows, upcoming comics, and upcoming comic conventions. If you're looking for specific franchises or genres, we have all the upcoming MCU, upcoming Star Wars, upcoming Star Trek, and upcoming DC movies & TV for you. If you're a fan of superheroes and not specific to just Marvel or DC, we have overall guides to all the upcoming superhero movies and upcoming superhero TV shows (and new seasons) as well.