Inside the Our Flag Means Death strike: An "unreal" day brings together showrunner David Jenkins, cast, writers and fans
On Thursday June 14, a large group of pirates descended on the Warner Bros gates
Last week, Our Flag Means Death writer Alex Sherman tweeted an open invitation for fans to attend a special strike event in support of the WGA called Our Flag Means Strike. And the fans came, in large groups with many donning cosplay and pirate-y outfits. Over the course of the afternoon, fans picketed, cheered, chatted with actors and writers, ate desserts from a dessert truck, and took part in a costume contest (to the winners went a $100 gift card to a tiki bar).
To meet the many fans came the writers of Our Flag Means Death, including showrunner David Jenkins, as well as series actors Nat Faxon (The Swede), Vico Ortiz (Jim), and Samba Schutte (Roach). Popverse had a chance to speak to some of the team behind the fan-favorite pirate show about what it was like to see the fan turnout and their thoughts on the strike so far.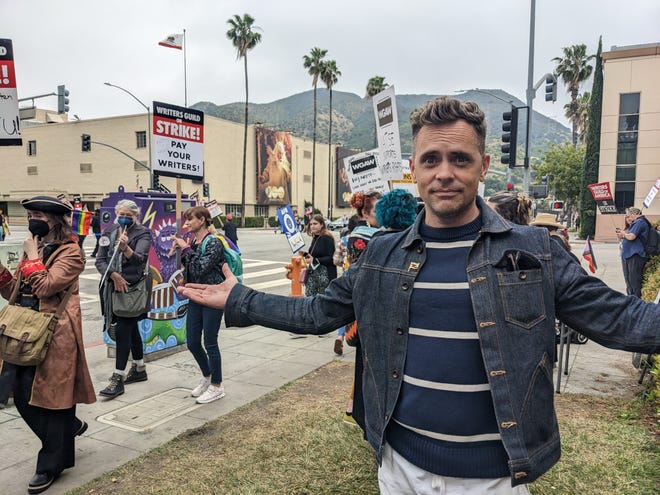 About seeing the fans show up at the Warner Bros gates, Our Flag Means Death show creator David Jenkins told Popverse that the day was "unreal. It's like a waking dream to be across from the building where we made the show the first season-- to have all of this support and creativity come out. It's maybe the best feeling you could ever have as a writer and a show creator."
Sharing a similar sentiment, actor Samba Schutte told Popverse, "It is overwhelming to see the support of, not only our show, but the support for our lovely writers who work at Warner Bros shows and a lot of other shows. It takes my breath away. And I don't think there's been this many pirates standing outside the Warner Bros lot in a very, very long time. It's gorgeous!"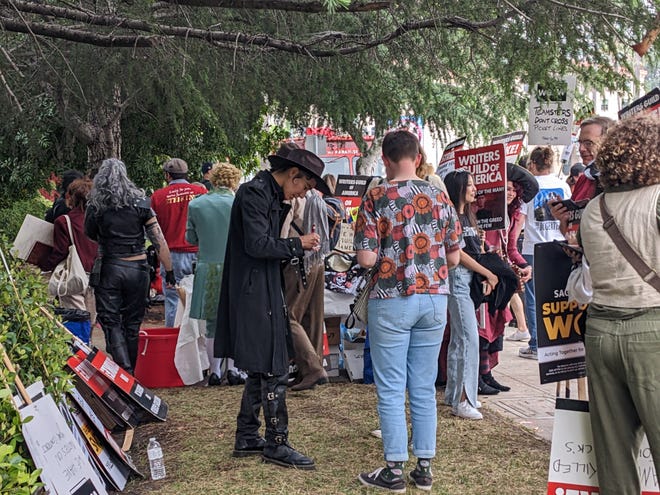 Our Flag Means Death writer Alyssa Lane shared that, "It is so amazing to be reunited with the fans. They all look so incredible. They all came with their amazing crafts to represent the show. And they're such a loving and thoughtful group. They've taken such good care of us. I'm so excited that get to give a little bit of our gratitude back to them." About how the strike has been going, Lane said, "I wish that we were back making stories. That's what we all prefer to do instead of lightly sweating in the Valley. But we're fighting for a really important thing. We just want to be able to tell our stories and make a living wage. It's gonna take a while, but it's absolutely worth it to put ourselves in the light in this way."
Show writer Alex Sherman added that, "This is amazing. Just seeing all of our fans. We have the most creative, passionate fans out there, and they've just been giving us so much support throughout the whole strike. I feel like everywhere I go when I tell a union captain that I'm on Our Flag, they immediately say, 'Oh my gosh. They've been sending packages and well wishes since day one, every day.' Especially the Warner Bros lot. The Warner Bros lot loves the show." About how the strike is going, Sherman said, "One of those weird things is nobody wants to be striking. No one wants to be out here. But it is great to see other writers. I think just seeing the solidarity of it all and just remembering we have friends from past shows, future shows, we're seeing so many people."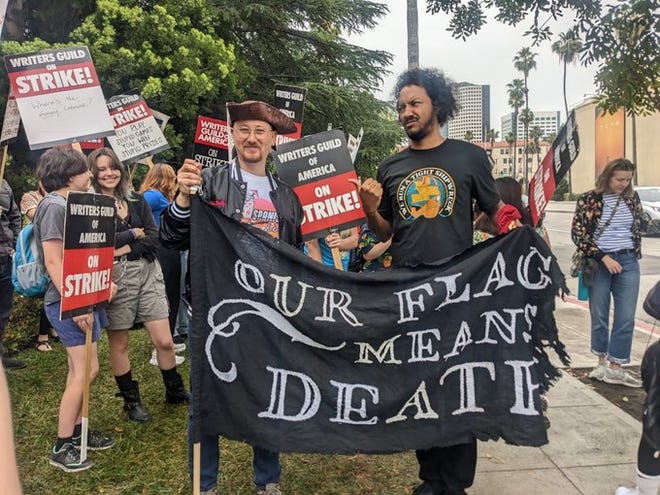 One writer, Zayre Ferrer, was even able to attend the event from afar, all in the service of getting "a fair deal for everyone and [preserving] the future of our craft."
The participants of #OurFlagMeansStrike certainly added some joy and color to the proceedings outside the Warner Bros lot on Wednesday and showed that fans don't need to be part of the WGA to show their support of the strike. They can send snacks, messages of support, and even show up-- in pirate costumes, bearing picket signs.
Check out our gallery of photos from the event below.
---
Can't wait for the next season of Our Flag Means Death? Check out this guide to everything we know so far about Our Flag Means Death season 2.
Or maybe you'd like to watch a video? Check out the full panel video of the Our Flag Means Death panel at this year's MCM, featuring Con O'Neill, Nathan Foad, and Kristian Nairn.
Or... you can read about how OFMD fans took over Emerald City Comic Con with extraordinary energy and fandom joy.