What to expect from DC in 2023
Whether films, television, or comic books, DC is headed into 2023 with one primary goal: rebuilding
Forget the House(s) of Ideas: if there's one company worth focusing on in 2023, it's going to be DC, which — for multiple reasons, including but not limited to the restructuring and relaunch of its media arm as DC Studios — is going to have to spend much of the year starting over and deciding just what the future looks like.
It's not just the on-screen DCU that will be getting a makeover this year, of course; the comic book DCU is undergoing the 'Dawn of DC' throughout 2023, with multiple new titles launching and existing properties and characters getting makeovers in the wake of last year's Dark Crisis on Infinite Earths event. (Fans of Blue Devil, surely this is our time.)
All of this adds up to DC facing arguably the most dramatic year the company has gone through in quite some time — more dramatic, even, than the publishing company crossing the continent back in 2015, or the launch of the current DC cinematic universe in 2013 with then-record-breaking release of Man of Steel. It's a pretty high stakes year for the Warner Bros. Discovery company… but high stakes can bring high reward.
DC Studios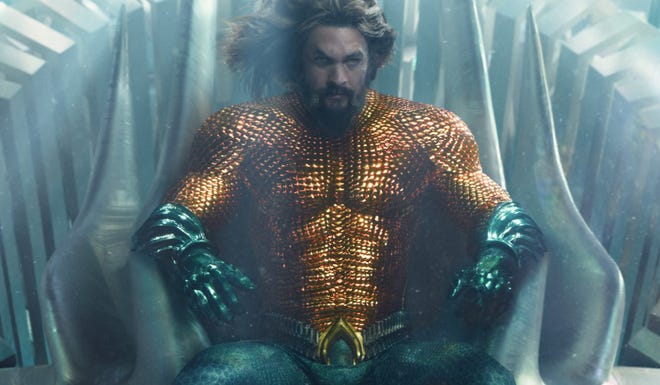 As has been widely reported, James Gunn and Peter Safran were placed in charge of DC's movie, television, and animated projects effective November 1, 2022, with the two co-CEOs planning a new era of interconnected storytelling across platforms, which apparently includes some level of reboot to the pre-existing movie continuity — to the extent that Henry Cavill is no longer returning as Superman, despite the tease (and announcement) at the end of Black Adam, a movie released in late October 2022.
Gunn has teased a slate of projects with announcements coming early in the year — "a few" of them, it seems — meaning that we're close to getting our first hints at just what is going to follow this December's Aquaman and the Lost Kingdom, the final movie in the previous cycle of productions, and what to expect from the new DC Studios' rumored 10-year-plan for movies, shows, and more.
With that promise of new things in the future, however, is likely to come news that will upset existing fans. Henry Cavill is out as Superman, but what about his fellow Justice League cast members, or other actors from pre-existing DC movies? (Could we have seen the last of Margot Robbie as Harley Quinn? Surely not.) If, as has been reported on multiple occasions, the new plan is to bring everything together in one consistent continuity and storyline, what does that mean for existing projects that exist outside of that dynamic? Are shows like Doom Patrol, Titans, and the yet-to-launch Gotham Knights about to be canceled, or will there be some workaround created to keep them going, as has been indicated will be the case for both Robert Pattinson's The Batman sequel and the second Joker movie?
In terms of actual releases, DC is going to have a busy 2023 — Shazam: Fury of the Gods, The Flash, Blue Beetle, and the aforementioned second Aquaman movie are set for theatrical release, while new episodes of shows like The Flash, Gotham Knights, Superman and Lois, Harley Quinn, Doom Patrol, and Titans are all set to debut. There's also the (distant, but not impossible) possibility of Peacemaker season two, which was rumored to start filming this upcoming summer… but will that survive the new regime, even with James Gunn attached to the project himself?
Keep track of all the upcoming superhero movie and TV projects with our superhero movie schedule and superhero TV schedule.
DC Comics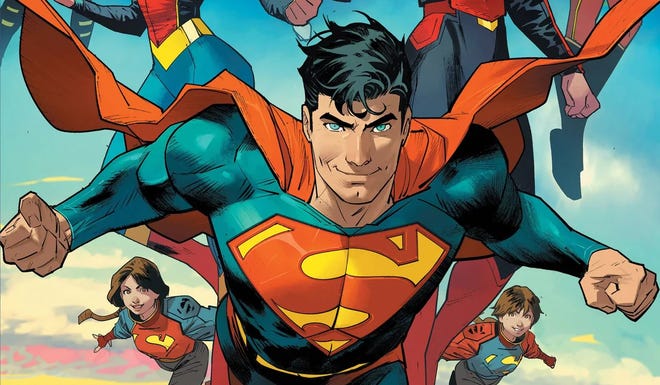 If the media arm of DC is in a state of uncertainty — or, more correctly, looking that way, because decisions are being made behind closed doors — then the comic publishing arm is in a far more comfortable place, with the twelve month 'Dawn of DC' initiative about to begin, with 10 new series already announced as part of the push, including new Green Lantern, Superboy, and Doom Patrol series.
As the name suggests, 'Dawn of DC' marks the beginning of a new era for the publishing arm of the company, at least in terms of its core superhero universe. The DCU has, itself, been in no small amount of flux in the past four or five years, for reasons both intentional — the Dark Nights: Death Metal and Dark Crisis on Infinite Earths storylines both centered around cosmic upheaval changing the very nature of reality, and both had multi-year build-ups that purposefully undercut and ignored the traditional status quo — and metatextual, with former co-publisher Dan Didio stepping away from the position in 2020, a year which also saw the dismissal of Bob Harras as editor-in-chief after a decade in the chair. (2020 was also the same year in which DC split from longtime distribution parter Diamond Comic Distributors; a lot happened, that year.)
While 'Dawn of DC' isn't the first line-wide initiative under the regime of Marie Javins as editor-in-chief — remember the two month 'Future State' event in early 2021, and the 'Infinite Frontier' branded relaunch that followed? — it is the first post-Dark Crisis push, following a purposeful two years of maneuvering and preparation, and as such stands as a statement of intent for what DC is doing as a comic book publisher moving forwards: the question now is, what will fans have to say about the titles when they start rolling out in March?
The Big Change
Unspoken in all of the above is just what DC's corporate parent is going to be getting up to during the next 12 months. Over the past few months, Warner Bros. Discovery has made headlines as it attempts to reach its stated goal of $3.5 billion in cuts, which has included massive cuts at HBO Max and CNN, amongst other high profile moves intended to reduce the operating cost of WBD as a whole.
To date, DC has been left surprisingly untouched — in part because the company never really staffed back up after a significant round of layoffs in 2020, and in part because WBD executives reportedly see DC as a crown jewel in the overall corporate structure. (That hasn't stopped many from expecting cuts at any given moment in the past few months, at least when it comes to those outside of the company.)
Even with significant changes being made to the leadership of Warner Bros. Discovery Global Brands and Experiences — the parent division for DC inside the larger WBD company — last month, DC remains essentially unchanged, with DC remaining under the leadership of General Management and Senior Vice President Anne DePies and Chief Creative Officer and Publisher Jim Lee, reporting directly to Global Brands and Experiences President Pam Lifford, according to sources inside the company.
While DC is, in terms of both DC Studios and DC publishing, headed into a year of significant rebuilding and restructuring, it's not entirely outside of the realms of possibility that all of this could be undercut by another round of cost-cutting at WBD — adding to the feeling that, once again, DC is the company to keep watching across the next twelve months. At this point, after all, almost anything could happen there.
---
Of course, perhaps you're wondering what Marvel could be up to across the next year…