The most popular Kickstarter comics crowdfunding projects of 2022
Listening to the crowds behind the crowdfunding successes of Kickstarter Comics in 2022
We're still just a few days out from the end of 2022, but we're already beginning to look back on the biggest hits in different genres and forms. We've shared our favorite comics, movies, and TV, and looked at the most popular Webtoons and Netflix movies/TV shows, and now we're looking at Kickstarter comics.
According to Kickstarter's director of publishing & comics outreach Oriana Leckert, 2022 was a big year for the company.
"Given the relentless chaos in the world, it's been so inspiring to see another incredible year for the #KickstarterReads community," Leckert tells Popverse. "The top projects speak to the comfort of familiar series and artists, like Brian Pulido, Mark Waid, and Ursula Vernon, but also readers' excitement for newer works from Michele Fus, Hideyuki Kikuchi, Zach Stafford, and more."
Here's a rundown of 2022's 15 most popular Kickstarter projects in the comics section by pledge amount:
Most popular Kickstarter comics projects of 2022
| Project | Pledged amount | Organizer |
| --- | --- | --- |
| How to THINK when you DRAW Book 5 | $945,500 | Lorenzo Etherington |
| Ava's Demon Book Two: Aftermath | $648,198 | Michelle Fus/Skybound Entertainment |
| All New Lady Death: Necrotic Genesis #1 | $532,722 | Coffin Comics |
| Joe Jusko's Art of the 1992 Marvel Masterpieces | $516,919 | FPG |
| All New Lady Death: Diabolical Harvest #1 | $500,138 | Coffin Comics |
| The Extra Fabulous Experience | $471,229 | Zach M. Stafford/Skybound Entertainment |
| Vampire Hunter D: Message from Mars | $445,205 | Kurt Rauer |
| Digger Unearthed: The Complete 10th Anniversary Collection | $420,730 | Grim Oak Press |
| The Complete Irredeemable Deluxe Edition Library | $345,873 | BOOM! Studios |
| Let's Play Volume 3 | $332,884 | Rocketship |
| All New Hellwitch: Forbidden #1 | $323,553 | Coffin Comics |
| Stjepan Sejic's Sunstone statue | $285,032 | Dynamite Entertainment |
| Stand Still. Stay Silent. - Book 4 | $241,762 | Hiveworks Comics |
| The Dark Crystal 40th Anniversary Library | $240,328 | BOOM! Studios |
| The Complete Giant Days Library | $236,677 | BOOM! Studios |
The first thing you might notice about this list is that some of these aren't actually comics, but rather comics-adjacent projects, books on How to Draw or statues based on comics. That's because Kickstarter has found that grouping these like projects together under the 'Comics' category helps the most people find them.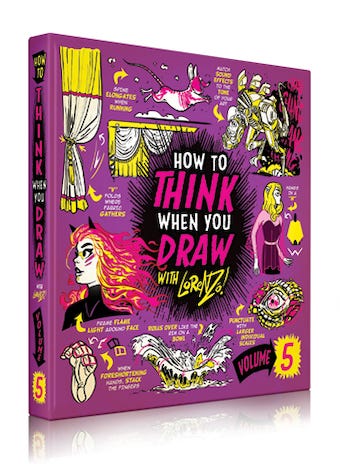 Back in July 2022, Leckert told Popverse that the comics category has the highest success rate among any category at Kickstarter.
"I think there are two main reasons for this: the savviness and originality of Kickstarter comics creators and the support and dedication of Kickstarter Comics backers," said Leckert. "Comics has always had a strong DIY spirit, and concepts like crowdfunding and self-publishing have much less stigma here than in, say, traditional book publishing. Additionally, books and comics have relatively low manufacturing costs and relatively simple production processes, making it a category with a low barrier to entry for both creators and backers."
While not comics in and of themselves, the Etherington siblings' How to THINK when you DRAW/WRITE book series has been tremendously popular on Kickstarter over the years and is often paired with comic collections created by the duo.
Ava's Demon Book Two: Aftermath is a good example of a webcomic using its audience to crowdfund print editions - and it is now bolstered by Skybound Entertainment stepping in as the publisher of those print editions, as well as a co-organizer of the Kickstarters, alongside creator Michelle Fus.
Skybound's involvement in crowdfunding appears to stem from fellow comic publisher BOOM! Studios' immense success with Kickstarter in funding new comics and collections of older comics. In 2022, BOOM! again ranked high with collected editions of Irredeemble, Giant Days, and The Dark Crystal comics.
But arguably the least-talked about continued success in the Kickstarter comics domain is that of Brian Pulido's Coffin Comics. The Coffin Comics team has flown under the radar with successful Kickstarters of single issues of perennial cult-favorite goth pinup girl Lady Death, as well as new characters such as Hellwitch.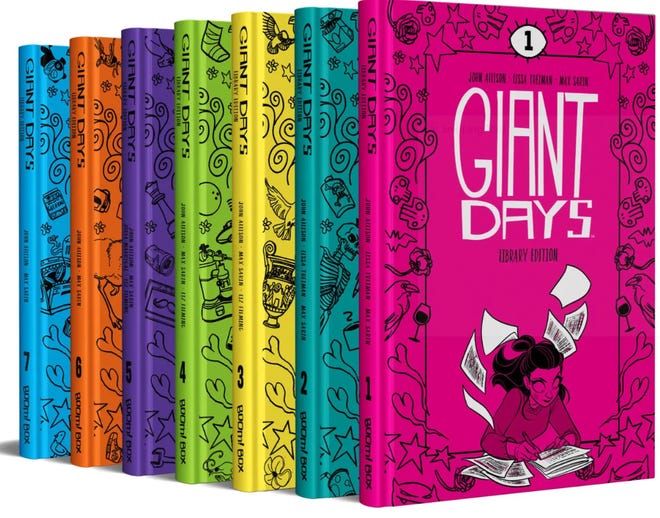 Seeing publishers like Skybound, BOOM!, and Coffin take part in Kickstarters continues to revise how crowdfunding is being understood as a publishing tool. Originally introduced as a platform for indiviual creators and small entrepreneuers to raise funds, having big publishers use this as a defacto pre-ordering system raises questions about these larger, traditional publishers being unable (or unwilling) to fund these projects on their own as publishers have done for decades.
Almost all of the organizers in the top 15 Kickstarter comics projects of 2022 have one thing in common - they've been doing Kickstarter projects for years. Kickstarter, and the Kickstarter Comics area, thrives on repeat business - both in terms of building and naturing a fanbase, but also in learning and adapting to what works with each successive project.
According to Kickstarter, as of July 2022, 51% of successful Kickstarter comics creators launch a second project within 12 months of their previous one's success. And it adds up, with the percentages of successful Kickstarters after previous successful Kickstarters adding up over time (and over projects). After two projects, the success rate is 74% - and it climbs, with 84% after five projects, 90% after 15 projects, and 92% after 20 projects.
---
Learn more about Kickstarter comics from our interview with Kickstarter's director of publishing & comics outreach Oriana Leckert.