What are we all enjoying this weekend?
The TV, movies, and comics that the Popverse team is planning on checking out this weekend
It's been a banner week over here at Popverse, as we've been celebrating an entire year of being in existence (or, as some might call it, our birthday). Celebrations have included certain members only pieces and panels being made free to access for a period of time, a Scott Snyder AMA, and a NYCC ticket giveaway (pretty exciting stuff if we do say so ourselves).
But birthday celebrations don't stop the news, and so we've also done a lot of original reporting, with a members-only piece on what's been happening at Comixology, what's been happening with the Thomas Woodruff situation, , and figuring out whether or not Captain America comics have really been pulled from a YA section of an Indiana library.
All of that is to say that we're ready for the weekend. So check out what we're checking out below.
Ashley V. Robinson (Video Producer):
After the incredible Strange New Worlds season 2 trailer dropped earlier this week I seriously considered binge rewatching either the first season of Strange New Worlds or all the seasons of Lower Decks. I'm a Trekkie, in case you didn't know! However, this weekend I'm looking to relax and enjoy the quietude and not do a ton of thinking. My plan is to dive into the TruTV series 101 Places to Party Before You Die. I'm a big Jon Gabrus & Adam Pally fan, but somehow haven't got around to watching their tragically-cut-short travel show. It feels like it will pair well with a cup of tea and long, hot bath!
Not a geeky enough choice? Following our Creator AMA with Scott Snyder earlier this week I am planning to revisit WYTCHES beginning this weekend. Any media which portrays witches is automatically my favourite thing. I really dug the comic series when it was first released, so it feels like not real work to revisit and enjoy again over the weekend!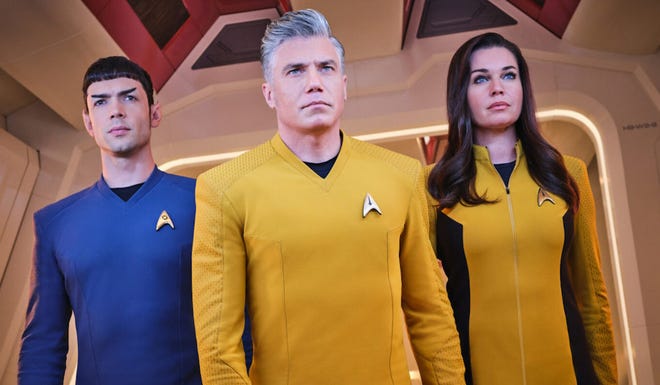 Chris Arrant (Editor in Chief):
I am midway through reading a prose biography of Prince by Ronin Ro. I am about two-thirds of the way through it with a plan to finish it this weekend, and I'm oddly fascinated by the dismissive tone Ro has for Prince as a person while sanctifying him as a artist. I've read Ro's Jack Kirby book Tales to Astonish and found it lacking, but I know him well for his music journalism for Rolling Stone and MTV. Seeing this tact when it comes to a revered figure is at the same time startling and entrancing.
Graeme McMillan (Staff Writer):
If there's one thing I can say for sure that I'm going to be appreciating this weekend, it's the music of the Kinks. In the past few days, I've fallen down a rabbit hole of obsessively revisiting their first few albums — basically, everything from 1964's Kinks through 1970's Lola Versus Powerman and the Moneygoround Part One (There was never a part two, if you're wondering) — and I've fallen back in love with the combination of wordplay and melody that Ray Davies et al brought to the table on everything from "Stop Your Sobbing" through "Shangri-La" and beyond, to name two of my current favorites. For all that I grew up a child of 1990s Britpop, I can listen to this now and hear where so much of my favorite stuff had its roots, and also so many things that have sadly fallen by the wayside in the decades since this stuff was made. This, as the saying goes, is where I belong.
Tiffany Babb (Deputy Editor):
I am halfway through R.F. Kuang's hilarious (and often painful) new novel Yellowface, and I hope to finish it this weekend. Yes, the book is a brilliant and cutting satire of the lit world and all that, but what stands out to me the most is that this may be the first novel to truly understand Twitter. Of course, the Twitter in the book is Twitter of ~6 months ago (it's wild how fast cultural understanding about something like "Blue Checks" can change). But still, Kuang's depiction of how social media pulls you in is so specific that it will catch you off guard. (I'm certainly closer to deleting Twitter now than I was when starting the book). Overall, Yellowface is a riot and will be of particular interest to anyone in or adjacent to book publishing.
I am also going to the LA County Fair, so I'm excited about that.
Veronica Valencia (Video Producer):
This weekend, I'll be at MCM London Comic Con and I am super excited to be moderating the Our Flag Means Death panel! There's also going to be a Pokémon: The First Movie panel which is super awesome! I remember watching that movie when it first came out, owning it on VHS, and it's going to be so nostalgic getting to hear the cast of that movie speak on it so many years later, but I swear, if they play Brother My Brother at any point, I will be crying!
---
What are you checking out this weekend? Comment below, and let us know!
---
Check out that Scott Snyder AMA. There's some pretty good stuff.