Ambush Bug jumps out of the Popverse Comics Advent Calendar on day 23
If you thought Father Christmas seemed dated, be grateful he didn't get this new look in the '80s...
Every day of December counting down to Christmas Day, Popverse is hijacking the grand tradition of the Advent Calendar to share a moment from a holiday comic of yore. What else could you want from a classic combination of comic books and the yuletide gaze? Today, it's the turn of 1985's Ambush Bug Stocking Stuffer #1, which featured the shocking new look and new attitude of one of the oldest heroes of them all!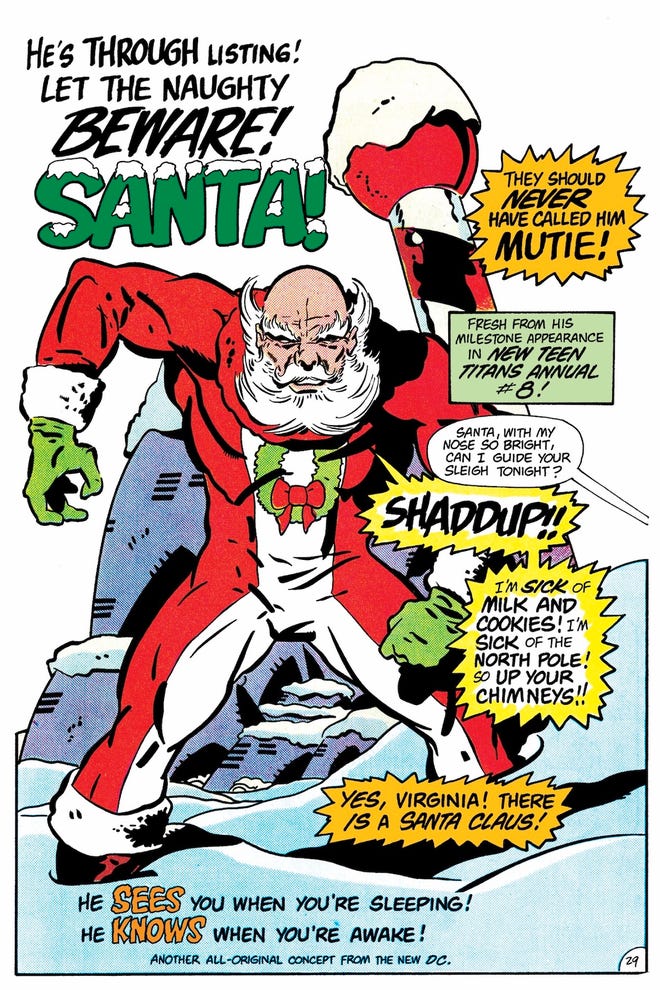 There's layers to this joke, but we can get to them in a moment. For now, just take a moment to appreciate this counterintuitively cantankerous reboot of Santa Claus? (And from Keith Giffen, the same man who had a similarly grumpy attitude to Ol' Saint Nick in the Lobo Paramilitary Christmas Special we covered earlier in the month, too! What does he have against the Jolly Old Man In The Big Red Suit, is the question I think we should all be asking ourselves. And what do inker Bob Oksner and scripter Robert Loren Fleming have to say about it all?)
And now, to the layers: the joke isn't just that this Santa doesn't act like the Santa we all know and love; it's that it's a reboot of a beloved icon offered in the same era that DC was trying to reposition itself as an edgier, more daring publisher than fans expected — hence the mention of "the new DC," as well as the gag about him having debuted in New Teen Titans Annual #8. Just look at how poised for action he is! Look at that scowl! This is a Santa for a new generation! Feel how groundbreaking this Santa is!
There's less than a year between this page being published and the launch of Batman: The Dark Knight Returns. I think we can all agree that this isn't a coincidence.
Want more? You can read the entire story in Ambush Bug Stocking Stuffer #1, available via Comixology and on DC Universe Infinite.
---
Stuff those stockings and fill those empty spaces under the tree with Popverse's recommended gifts for friends, loved ones, and yourself.