Day 11 in the Popverse Comics Advent Calendar 2022
A reminder not to be so wrapped up in ourselves in this, the holiday period.
Every day of December counting down to Christmas Day, Popverse is hijacking the grand tradition of the Advent Calendar to share a moment from a holiday comic of yore. What else could you want from a classic combination of comic books and the yuletide gaze? Today, it's the turn of 2009's Werewolf by Eve, which just goes to show that it's easier to have a silent night when the full moon isn't such a problem.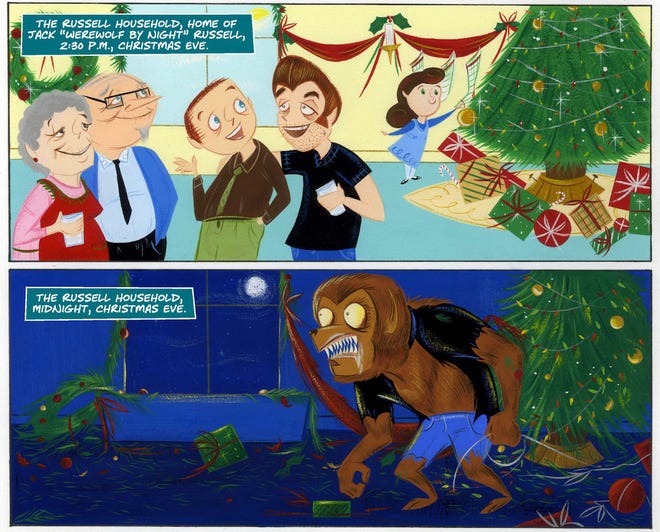 As much as we like to celebrate the season as a whole here at the Popverse Comics Advent Calendar, there's no denying that some parts of the Advent are just a little bit more special than others. No offense, December 11; you might mark the two-week mark until the big day for Christmas fans, but otherwise, you're just not that special. Not like, say, December 24…?
Of course, Christmas Eve is something that just builds throughout the entire day: that sense of anticipation and excitement surrounding what's about to happen only gets stronger as it gets closer to the next day, making the night of December 24 a particularly powerful time, even for those who aren't hoping to catch a glimpse of an old man on a flying sleigh. That's where 'Werewolf by Eve,' by Ben Morse and Stephanie Buscema comes in to help Christmas fans remember that, even at this time of year, it's not all about us.
Yeah, for fans of the yuletide cheer, the night of Christmas Eve is a time for excitement and metaphorically rocking around the mental Christmas tree as we plan which present we want to open first the next morning. Consider the poor example of Jack Russell, though, Marvel's Werewolf by Night: no tidings of comfort and joy for him, only the horrific devastation brought on by his monthly transformation into a terrifying wolf man that has, unfortunately, coincided with Christmas this particular year. It might be a joke to some, but it's also an important lesson at this time of year in particular: it's really not all about what you want. Think of the werewolves in your life, and do something for them — for example, lock them in a room so that they don't destroy the fun for everyone else. You know it makes sense.
Want more? You can read the entire story in Marvel Holiday Spectacular #1, available via Comixology and on Marvel Unlimited.
---
Stuff those stockings and fill those empty spaces under the tree with Popverse's recommended gifts for friends, loved ones, and yourself.