Day 12 in the Popverse Comics Advent Calendar 2022
He sees you when you're sleeping, even if you're part of the Fourth World
Every day of December counting down to Christmas Day, Popverse is hijacking the grand tradition of the Advent Calendar to share a moment from a holiday comic of yore. What else could you want from a classic combination of comic books and the yuletide gaze? Today, it's the turn of Present Tense, the 1997 crossover between Ol' Saint Nick and Jack Kirby's Fourth World that you didn't even know you wanted.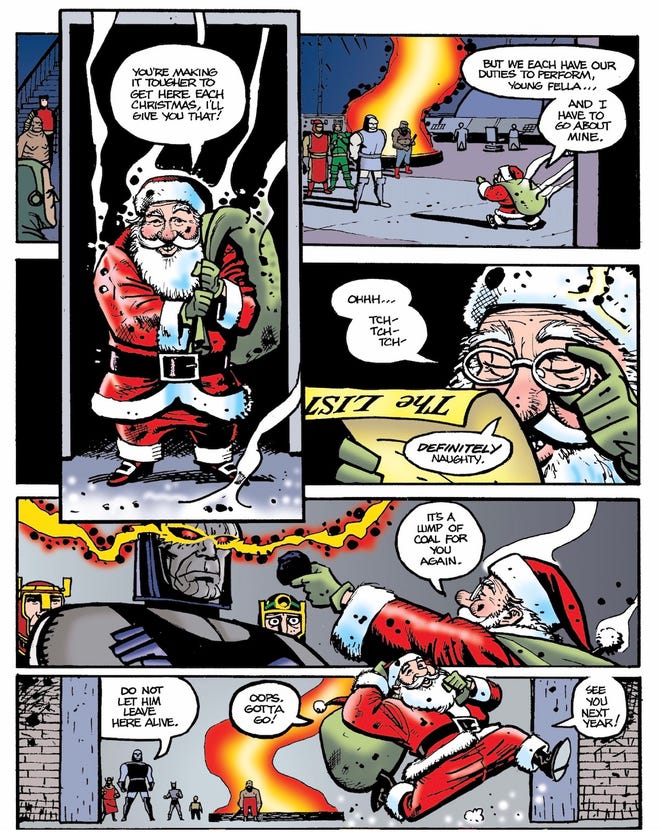 While it's more than true to say that not everyone celebrates the season — and there's no reason that they should, I hasten to add — it can be fun to imagine what it would mean for some fictional characters if their refusal to participate wasn't shared by the season itself. That's the hook behind 'Present Tense,' a two-page short by the great Ty Templeton that appeared in the little-remembered DCU Holiday Bash II anthology way back when, a story that just so happens to be one of the greatest Santa stories ever told. No, I mean it.
Anyone with a passing familiarity with the DCU knows just how scary Darkseid is — he is, after all, the "Tiger-Force at the Core of All Things," as he'll happily remind you at any given opportunity — and, for that matter, how deadly Apokolips, the planet he rules as a cruel despot, happens to be, as well. It's not somewhere that you can visit easily, and somewhere that is even more difficult to escape; even Superman hasn't been able to drop in unannounced without it causing trouble.
Turns out, Santa doesn't have that problem. That's the gag of the entire thing: that Santa turns out to be even more unstoppable than Darkseid himself when it comes to checking off his list… and, in the process, he's become one of the most dangerous foes Apokolips has ever faced. That's just in their minds, of course; everyone knows that — outside of the Santa that shows up in that Lobo comic — Mr. Claus is just an old softy who sees the best in everyone and wouldn't hurt a fly. Just… don't get on his bad side, though. Just in case.
Want more? You can read the entire issue in DCU Holiday Bash II #1, available >via Comixology and on DC Universe Infinite.
---
Stuff those stockings and fill those empty spaces under the tree with Popverse's recommended gifts for friends, loved ones, and yourself.