Day 13 in the Popverse Comics Advent Calendar 2022
Johnny Storm is a grinch, but less furry (Probably good, if you can imagine how his burned fur would smell)
Every day of December counting down to Christmas Day, Popverse is hijacking the grand tradition of the Advent Calendar to share a moment from a holiday comic of yore. What else could you want from a classic combination of comic books and the yuletide gaze? Today, it's the turn of 1971's Marvel Team-Up #1, which demonstrates that most underrated part of the Mighty Marvel Formula: how great it is when superheroes act like grumpy children for little-to-no reason. Excelsior…?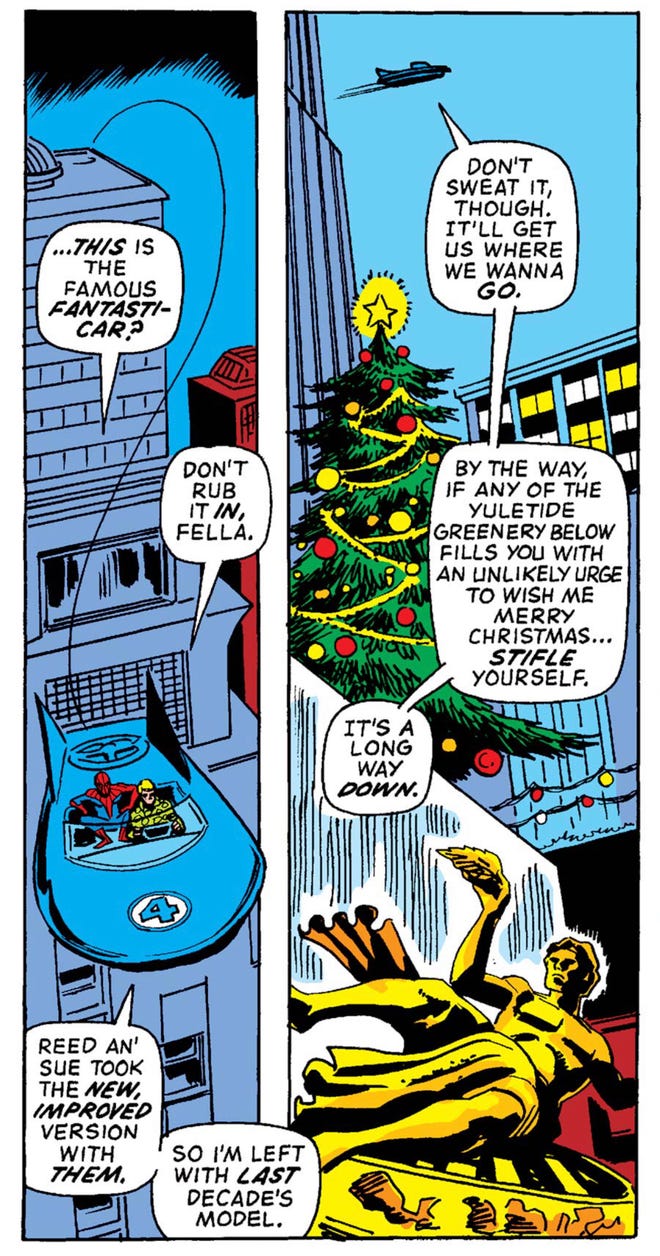 If ever there was a superhero who'd not dig this time of year, it only makes sense that it would be the Fantastic Four's Human Torch. After all, think about what makes Johnny Storm tick: Fast cars! Cute girls in revealing outfits! Heat! All of which are in reasonably short supply in December, thanks to icy roads, the need to stay warm when the temperature is dropping, and, well, the temperature dropping, respectively. I'm not saying that the Torch is Marvel's Ebeneezer Scrooge — that, surely, has to be Doctor Doom, right? — but it's only understandable that he's the kind of guy who'd prefer July.
This grinch-like attitude is in full display in Marvel Team-Up #1, by Rascally Roy Thomas, Rambunctious Ross Andru, and Melodious Mike Esposito. Yes, weirdly, Team-Up — which would go on to run more than a decade, and feature Spider-Man teaming up with all manner of Marvel heroes (hence the title) — launched with a holiday-themed story, inexplicably. The issue's even called 'Have Yourself A Sandman Little Christmas,' presumably due to Thomas forgetting that 'Sandman' isn't actually an adjective.
As you might expect, the story sees Spidey and the Torch taking on the Sandman, who seems to be up to no good… even though he's just trying to visit his sick mother for the holidays. The highlight of the issue, though, is just how impressively grouchy Johnny is throughout most of the issue, because of what he describes as "girl troubles." You're not fooling us, Mr. Storm: we know it's because no-one was impressed at your trick to heat up hot cocoa in a flash. Better luck in summer, hotshot.
Want more? You can read the entire issue in Marvel Team-Up #1, available via Comixology and on Marvel Unlimited.
---
Stuff those stockings and fill those empty spaces under the tree with Popverse's recommended gifts for friends, loved ones, and yourself.