Day 14 in the Popverse Comics Advent Calendar 2022
For the crew of the Enterprise-D, maybe the yuletide is the final frontier
Every day of December counting down to Christmas Day, Popverse is hijacking the grand tradition of the Advent Calendar to share a moment from a holiday comic of yore. What else could you want from a classic combination of comic books and the yuletide gaze? Today, it's the turn of 1987's Star Trek: The Next Generation #2, a comic that sums up the first year of the beloved television show perhaps a little too well.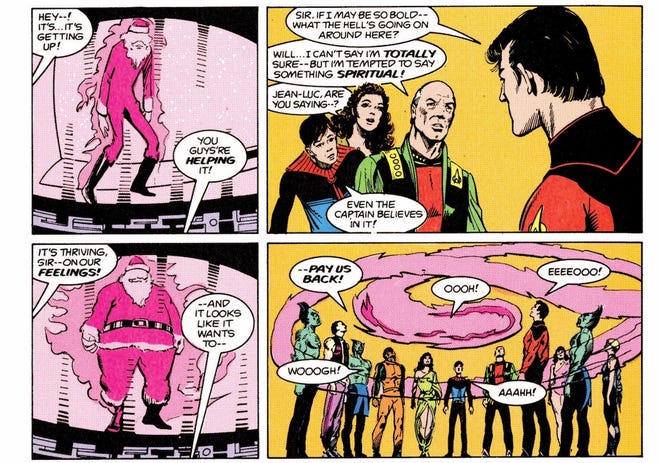 Given, as I am, to enjoying a rewatch of the many Doctor Who Christmas Specials at this time of year, a thought I often have is asking myself, who doesn't my other favorite sci-fi TV franchise do a similar thing? After more than half a century of stories, why aren't there any Star Trek Christmas stories? The answer, dear friends, might be found in the second-ever Star Trek: The Next Generation comic book, which goes by the title 'Spirit in the Sky.' (Sorry, Gordon Lightfoot.)
Star Trek can be sentimental at times, especially when it comes to its treatment of the interpersonal relationships between its core characters; that said, it's also the home of faux-science explaining away everything, especially during the hyper-rational TNG era. That's not really here; instead, we're left with a story that wants us to believe in an actual Christmas Spirit that may or may not look like Santa Claus, that is not only powered by love, but makes warlike aliens want to give gifts to their enemies… and that makes William T. Riker say "Eeeeooo," for that matter. I mean… what?
Let's get this out of the way right away: this issue — by Mike Carlin and Pablo Marcos — is actually a pretty good representation of the first couple of seasons of Star Trek: The Next Generation. The problem is, this issue is a pretty good representation of the first couple of seasons of Star Trek: The Next Generation. Maybe Star Trek and the holiday season just don't mix! Maybe the sci-fi and the yuletide cheer aren't compatible... or maybe the start of Next Gen was a mess, and we shouldn't damn the whole idea based on one bad comic.
Want more? You can read the entire issue in the Star Trek Classics Vol. 4: Beginnings collection, available via Comixology.
---
Stuff those stockings and fill those empty spaces under the tree with Popverse's recommended gifts for friends, loved ones, and yourself.