Superboy and the Legion of Super-Heroes make Christmas special in Day 16 of Popverse Comics Advent Calendar 2022
Even 1,000 years from now, people get tired of Superboy's good mood
Every day of December counting down to Christmas Day, Popverse is hijacking the grand tradition of the Advent Calendar to share a moment from a holiday comic of yore. What else could you want from a classic combination of comic books and the yuletide gaze? Today, it's the turn of 1979's DC Special Series #21, which features an all-time classic holiday tale titled 'Star Light, Star Bright… Farthest Star I See Tonight!' And, when I say "all-time," what I really mean is, "something that can last at least a millennium."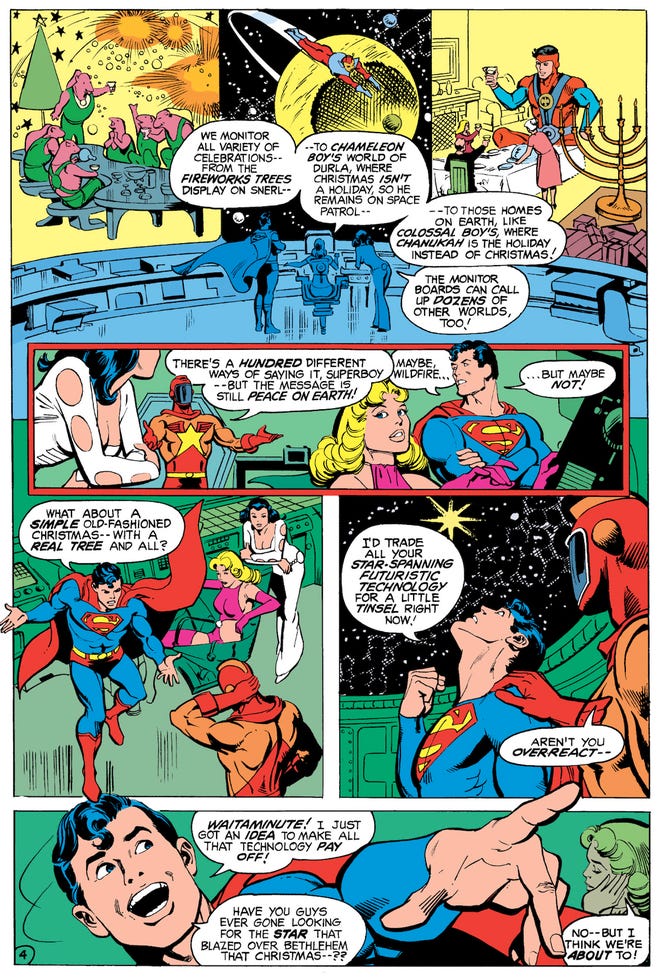 1979 was apparently a great year to be a fan of the Legion of Super-Heroes, judging by the seasonal story that appears in this holiday anthology; as if writing from Paul Levitz — a man who'd go on to define the futuristic superteam just a few years in the future, no pun intended — wasn't enough, the story also features art from the peerless team of José Luis García-Lopez and Dick Giordano, making it arguably the best-looking story in this entire advent calendar of ours this year.
Even better, let's all enjoy the fact that, while this story is technically about Superboy trying to find the Christmas Star in the 30th century — spoilers, he fails, but what he finds instead is the Christmas Spirit. Ain't that always the way? — there's the utterly enjoyable subtext that makes the rest of the Legion incredibly easy to empathize with. Sure, they might be superpowers aliens from a possible reality a thousand years in the future, but they're just like us… a fact made all the more clear by the fact that they, too, get exhausted by Superboy's can-do attitude throughout the entire story.
I know, of course, that likely wasn't Levitz's plan when he wrote the story — he's too much of a nice guy to do Superboy dirty like that — but there's simply no way to read this and not understand on an atomic level that the Legion of Super-Heroes are a collection of teens who just want to get to Christmas Day already without flying off across the galaxy on some wild goose chase. They want to relax, eat some food, maybe open some gifts; that's not too much to ask for… unless, of course, some well-meaning, excitable Kryptonian shows up all full of good intentions and too much pep in his step. Clark! It's December! We're tired already!
Want more? You can read the entire issue, complete with stories featuring Batman, Jonah Hex, and others, on DC Universe Infinite.
---
Stuff those stockings and fill those empty spaces under the tree with Popverse's recommended gifts for friends, loved ones, and yourself.