Batman: The Animated Series team takes on a Mall Santa in Day 19 of the Popverse Comics Advent Calendar 2022
Turns out, you can only go so far undercover when you're pretending to be Santa
Every day of December counting down to Christmas Day, Popverse is hijacking the grand tradition of the Advent Calendar to share a moment from a holiday comic of yore. What else could you want from a classic combination of comic books and the yuletide gaze? Today, it's the turn of 1994's The Batman Adventures Holiday Special #1, where the least likely hero steps into the shoes of, as the story's title puts it, "Jolly Ol' St. Nicholas."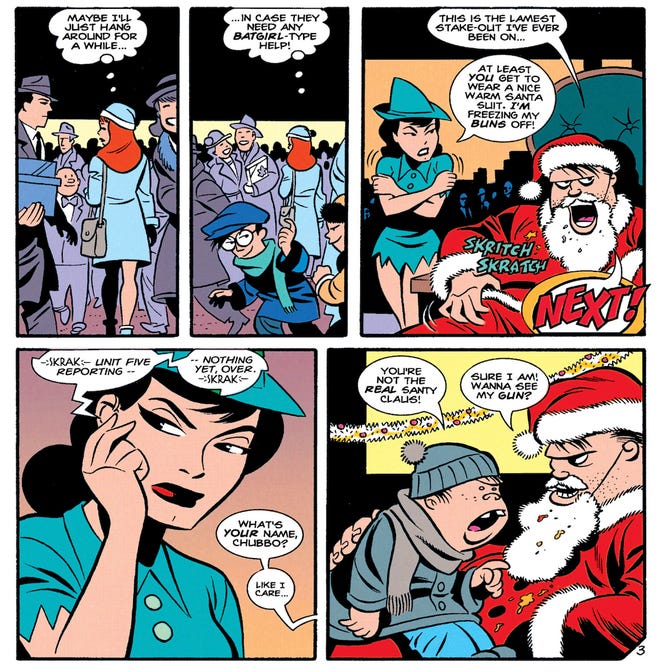 Amongst the many, many things that the 1'0s Batman animated series headed up by Alan Brennert, Paul Dini and Bruce Timm did right was to remind audiences that the supporting cast in Batman stories are a lot of fun. Even beyond the core team of Commissioner Gordon, Robin, Nightwing, Batgirl et al, there's a swath of really enjoyable characters filled with story potential. Take, for example, slob-turned-cop-turned-slob-again Harvey Bullock.
In comics by this period, Harvey had straightened up his act a bit and become part of the intelligence community in the Checkmate series; the Batman animated show, however, saw the potential in a lazy, gross bum who ate too many donuts but was, at his core, a good guy even if he'd struggle to admit it. You can tell that by this story by Dini and Timm from the 1992 Holiday Special comic book tie-in, which puts Bullock right where he's always belonged: undercover as the worst mall Santa imaginable at the height of the holiday rush.
As delightful as the sight of a belching Bullock Santa is, it's nothing compared with the moment later in the story, when Bullock meets the kid of a criminal he's put in jail, only to feel so guilty that he gives her some cash to buy her dad something nice for the holidays. Even a purposefully cranky oaf has his moments at this time of year, you see. Especially if he's dressed in the red-and-white.
Want more? You can read the entire story in The Batman Adventures Holiday Special #1, available via Comixology and on DC Universe Infinite.
---
Stuff those stockings and fill those empty spaces under the tree with Popverse's recommended gifts for friends, loved ones, and yourself.