Yes, Virginia, there is a homicidal robot pretending to be Ol' Saint Nick in Day 22 of the Popverse Comics Advent Calendar
A classic from the Marvel vault.
Every day of December counting down to Christmas Day, Popverse is hijacking the grand tradition of the Advent Calendar to share a moment from a holiday comic of yore. What else could you want from a classic combination of comic books and the yuletide gaze? Today, it's the turn of 2005's Marvel Holiday Special 2005, a comic that dares to admit that, at this time of year, anyone can embody the spirit of the holidays. Even homicidal robots.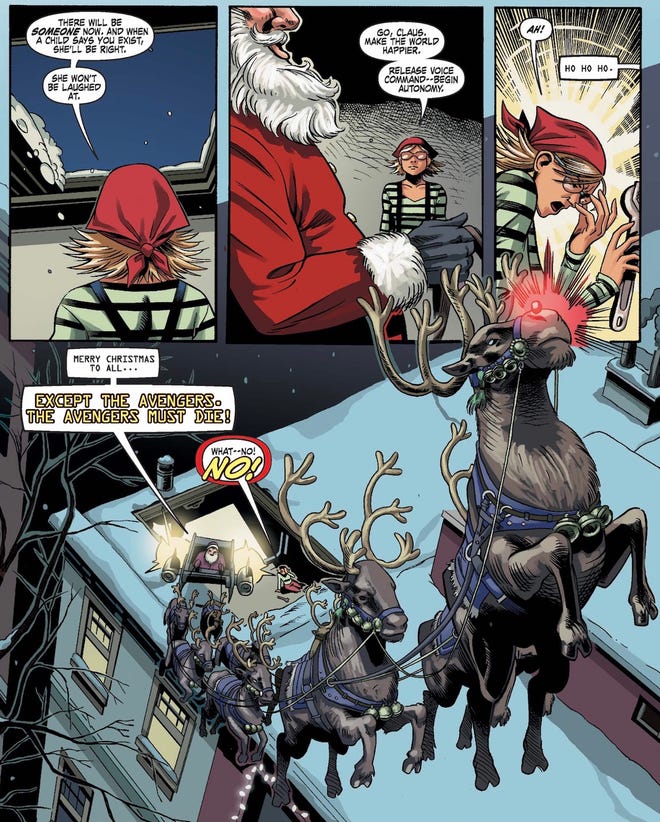 For whatever reason, it feels as if Marvel has shied away from creating as many holiday-themed stories as DC across the decades. Is it that the 'world outside your window' attitude of the Marvel Universe is less forgiving of the unvarnished, unafraid sentiment of the holiday traditions? Is it that no-one wants to risk letting Rudolph into the world too often in case Sentinels discover that his red nose is the result of a genetic mutation? It's unclear — but it does mean that stories like Jeff Parker, Reilly Brown, and Pat Davidson's 'Yes, Virginia, There Is A Santron' shine all the brighter as a result.
As the name suggests, 'Santron' gives regular Avengers bad guy Ultron a festive makeover, as he'd rebuilt by a well-meaning scientist who really doesn't understand what she's done… but quickly realizes, in the scene you can see above. Don't worry; even if it wasn't taking place in the happy, happiest season of all, the Avengers wouldn't have been particularly troubled by this incarnation of the hateful robot: it was quickly dispatched in what might be the most Christmassy method imaginable: an EMP snuck into his body in a cookie that he felt compelled to eat because of his Santa programming.
For those Marvel fans shaking their heads in disbelief, you'd better watch out for lumps of coal on Christmas morning — and for everyone else, maybe you should think about going to find this story for yourself: after all, I haven't mentioned the killer Christmas tree or the mistletoe-drone yet. The holidays were a stranger time back in the mid-2000s; I blame Tony Stark, which only feels like a reasonable attitude for everything when it coms to the Marvel Universe in the past few decades.
Want more? You can read the entire story in Marvel Holiday Special 2005, available via Comixology and on Marvel Unlimited.
---
Stuff those stockings and fill those empty spaces under the tree with Popverse's recommended gifts for friends, loved ones, and yourself.