A '60s style Swingin' Christmas Carol with the Teen Titans in Day 24 of the Popverse Comics Advent Calendar
It really is beginning to look a lot like Christmas, so bring on the Teen Titans to seal the deal
Every day of December counting down to Christmas Day, Popverse is hijacking the grand tradition of the Advent Calendar to share a moment from a holiday comic of yore. What else could you want from a classic combination of comic books and the yuletide gaze? Today, it's the turn of 1967's Teen Titans #13, an updated take on a genuine, accept-no-substitute holiday classic that is, in its own right, a classic in and of itself.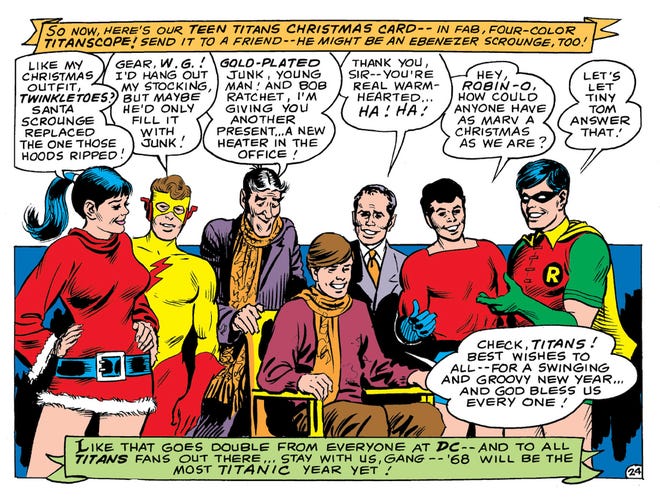 In a way, just the title of the story in Teen Titans #13 tells you everything you need to know: 'The TT's Swingin' Christmas Carol' gives you not just the fact that you're about to read a take on the Charles Dickens' holiday hit, but that it's one that is very much 'with it' and, indeed, 'swingin'' in the way that so much of Bob Haney and Nick Cardy's (amazing, and amazingly dated) '60s Teen Titans stories were. It's a title that doesn't take itself too seriously — it sounds like a variety show title — and promises a good time ahead, if one that might be just a mite sentimental at times.
All of this is true of 'Swingin' Christmas Carol,' but it's far from the full picture. The issue is un-selfconscious in the best way imaginable, and filled with shameless, inexplicable choices that are nonetheless supremely entertaining in their outrageousness: Why does Wonder Girl wear a Santa-themed mini-dress instead of her regular costume? Why use only slightly veiled versions of the Dickens' characters' names when they're so obvious, so that we get Ebenezer Scrounge and Tiny Tom? Are we really meant to believe that the Teen Titans couldn't escape a magnet? The answer isn't just 'who knows,' because there's no way to avoid adding, "who cares, as long as the comic is this much fun?"
Underneath all of the zaniness — perhaps the only word that fully fits the feel of this comic — there's no shortage of heart, though, and that's ultimately what makes this one of the greatest holiday comics of all. As awkward and inorganic as the panel above may be, it's clear that it comes from a good place, and that those involved with the comic really do want the reader to feel the spirit of the season. Despite the out of date slang and the very idea of Ebenezer Scrounge as a character who should show up in a Teen Titans comic in the first place, there's a sincerity and kindness on display that's genuinely charming, more than half a century after the comic was originally published. It's a Christmas Miracle in a way, if a somewhat underwhelming one.
Want more? You can read the entire thing for yourself in Teen Titans #13, available via Comixology and on DC Universe Infinite. And since this is the final entry in the series, have yourself a very merry yuletime!
---
Stuff those stockings and fill those empty spaces under the tree with Popverse's recommended gifts for friends, loved ones, and yourself.