Day 6 in the Popverse Comics Advent Calendar 2022
So much for the season of goodwill (Looking at you, Veronica Lodge)
Every day of December counting down to Christmas Day, Popverse is hijacking the grand tradition of the Advent Calendar to share a moment from a holiday comic of yore. What else could you want from a classic combination of comic books and the yuletide gaze? Today, it's the turn of a story from 1959's Archie Giant Series Magazine #6, which shows that, even in this joyful season, romantic rivalry doesn't end!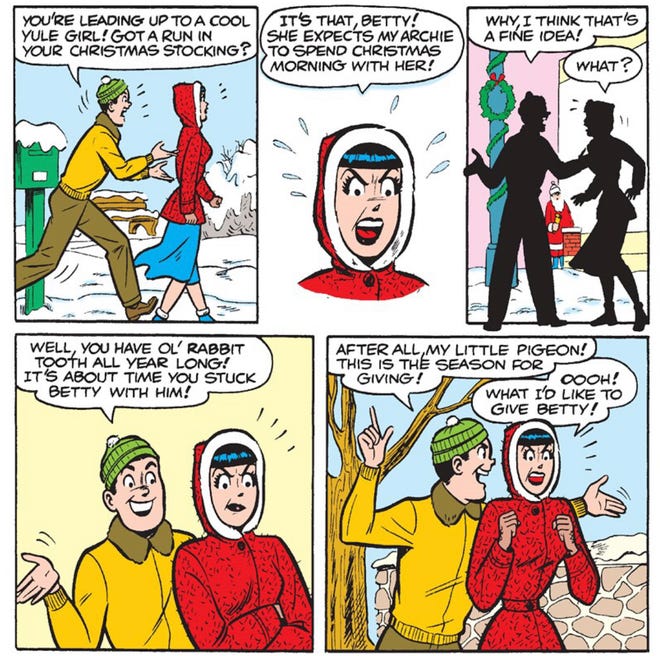 Much like the yuletide season itself, the rivalry between Betty Cooper and Veronica Lodge for the affections of Mr. Archibald Andrews — or, depending on the story, almost any other reason under the sun — is a gift that keeps giving. As anyone who's read any appreciate amount go Archie Comics (or, for that matter, watched Riverdale for any length of time) already knows, Betty and Veronica are very often the best of friends until they happen to both want to same thing.
Of course, this could only mean disaster when it comes to the holiday season, and the subject of just whom Archie will be spending some of those more important holiday moments with. Sure, it looks like Veronica is losing her cool above — with some stylish art from Bill Vigor and Marty Epp, working off a Frank Doyle script — but before too long, Betty's flipping her wig too, and threatening to punch Archie's lights out. Who knew the holidays were quite so stressful? Oh, wait, everyone.
As you could expect, things work out after a fashion — which is to say, after realizing that he's promised to spend Christmas morning with Betty, Veronica, and Jughead, Archie does the only sensible thing: skips everyone else's house, and spend the morning at home with his family, as he should have been planning in the first place. Take a lesson, kids.
Want more? You can read the entire story reprinted in Archie Christmas Classics, available via Comixology.
---
Stuff those stockings and fill those empty spaces under the tree with Popverse's recommended gifts for friends, loved ones, and yourself.