Day 9 in the Popverse Comics Advent Calendar 2022
It's beginning to look a lot like Zombo
Every day of December counting down to Christmas Day, Popverse is hijacking the grand tradition of the Advent Calendar to share a moment from a holiday comic of yore. What else could you want from a classic combination of comic books and the yuletide gaze? Today, it's the turn of 2009's Merry Christmas, Mr. Zombo!, which gives the grand tradition of the holiday variety show the kind of treatment that, while festive, may nonetheless be frowned upon by many seasonal scolds.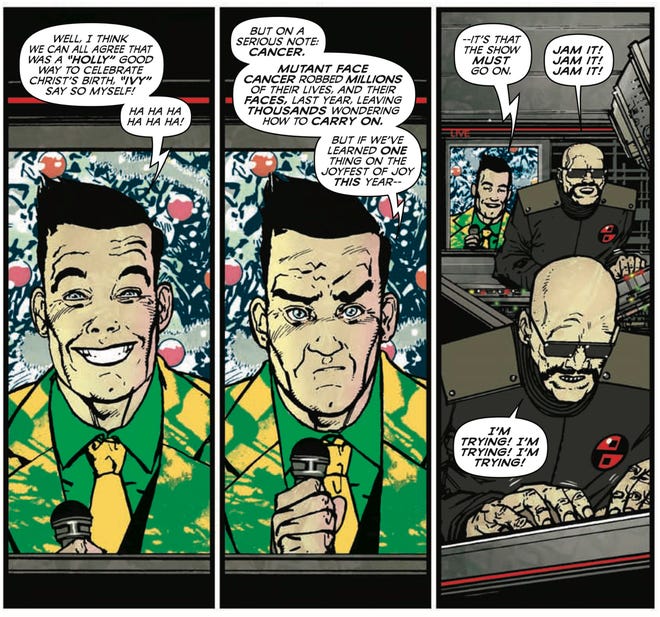 For legal reasons, let's just get this out of the way first: that's definitely not professionally cheeky singer and light entertainer Robbie Williams in the above image. Yes, it looks just like him, and, sure, showing up on a variety show for the holidays to talk artlessly about the struggles other people face in their everyday lives is most definitely the kind of thing that he'd almost certainly be up for, but it's definitely not. His fate at the end of the story makes that pretty clear, if nothing else. (Sorry, Fake Robbie.)
I should also explain what Zombo is, given its unfortunate relative obscurity outside of the UK; a strip in British anthology 2000 AD from a decade-or-so ago, Zombo was the breakthrough project for writer Al Ewing, who'd also been working on Judge Dredd and some other 2000 AD work at the time: it's a hilarious, smart, and occasionally touching parody of horror tropes, sci-fi tropes, and seemingly anything and everything else Ewing and artist/co-creator Henry Flint can think of — a freewheeling, excitable love letter to entire genres and ideas that also wanted to remind everyone how terrible some of that stuff was, in the best way possible.
Which, of course, makes a holiday episode almost inevitable. Merry Christmas, Mr. Zombo is, perhaps, almost too rooted in a particular brand of British Christmas Television — hi, Noel Edmonds — for American audiences to understand every part of it, but the basics are this: there's a certain insincerity to the fake jollity of holiday television, an eagerness to play on people's goodwill for profit, which can only really be exorcised by some good old fashioned hyper-violence, and a Christmas Tree that's actually an alien that's going to try to eat people. Think of it as the contemporary version of Dickens' moral lessons from A Christmas Carol, but with a little more bloodshed. Ho ho ho.
Want more? You can read the entire issue in 2000 AD Prog 2010 Christmas Special, available via 2000 AD's own webstore.
---
Stuff those stockings and fill those empty spaces under the tree with Popverse's recommended gifts for friends, loved ones, and yourself.