Day 17 in the Popverse Comics Advent Calendar 2022
There's normally no room at the inn at the best of times, so imagine what it's like in Mega-City One
Every day of December counting down to Christmas Day, Popverse is hijacking the grand tradition of the Advent Calendar to share a moment from a holiday comic of yore. What else could you want from a classic combination of comic books and the yuletide gaze? Today, it's the turn of 2009's '"O Little Town of Bethlehem', in which the reader is reminded that, however bad the innkeeper in the nativity story was, he's nowhere near as bad as Judge Dredd. Drokk!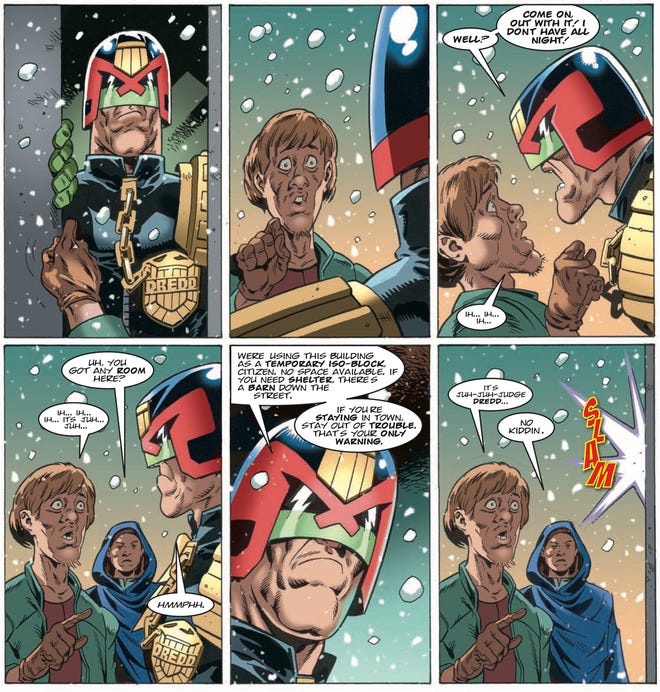 It might seem counterintuitive that Judge Dredd — a long-running series that is part-satire on society and politics, part-science fiction adventure strip, and also one of the crowning achievements of English-language comics in that it's a real-time strip that's been in continuous publication for the last 45 years — celebrates the holiday season every year: he's a no-nonsense future cop who doesn't show emotion and stops at nothing in the service of his mission… but somehow he still finds the space of celebrate the season every year…?
That's the gag, of course. It's that tension, that unexpectedness, that tends to be exactly what creators play on to make the annual holiday Dredd strips work. That's definitely the case with 2009's 'O Little Town of Bethlehem,' by Al Ewing and Paul Marshall; the plot revolves around a thwarted mutant uprising that goes entirely awry for reasons too ridiculous to explain but which involve the Hot New Toy of some years earlier, called Little Juvie Jovus (don't ask), but really, the whole thing is about the fact that, even during the holidays, you can't stop Judge Joe Dredd from being Judge Joe Dredd no matter what.
Therefore, you get the scene above: what happens if you show up in town with nowhere to stay in the middle of winter? Judge Dredd will make you feel lousy for even asking, and demand that you get out of his face as quickly as possible? Looking for some seasons' greetings? Try somewhere else, creep — or else face the wrath of the law. When it comes down to it, this is exactly what we all want. After all, at this time of year, you can't beat the classics.
Want more? You can read the entire issue in 2000 AD Prog 2010 Christmas Special, available via 2000 AD's own webstore.
---
Stuff those stockings and fill those empty spaces under the tree with Popverse's recommended gifts for friends, loved ones, and yourself.