It's Hanukkah time with the Thing in Day 18 of the Popverse Comics Advent Calendar
In which we take a sidestep from Advent to celebrate the start of Hanukkah
Every day of December counting down to Christmas Day, Popverse is hijacking the grand tradition of the Advent Calendar to share a moment from a holiday comic of yore. What else could you want from a classic combination of comic books and the yuletide gaze? Today, it's the turn of 2009's Marvel Digital Holiday Special #2, in which no less a force than Stan Lee himself weighs in on the matter of Benjamin J. Grimm's faith in a story shamelessly titled 'Rock of Ages.'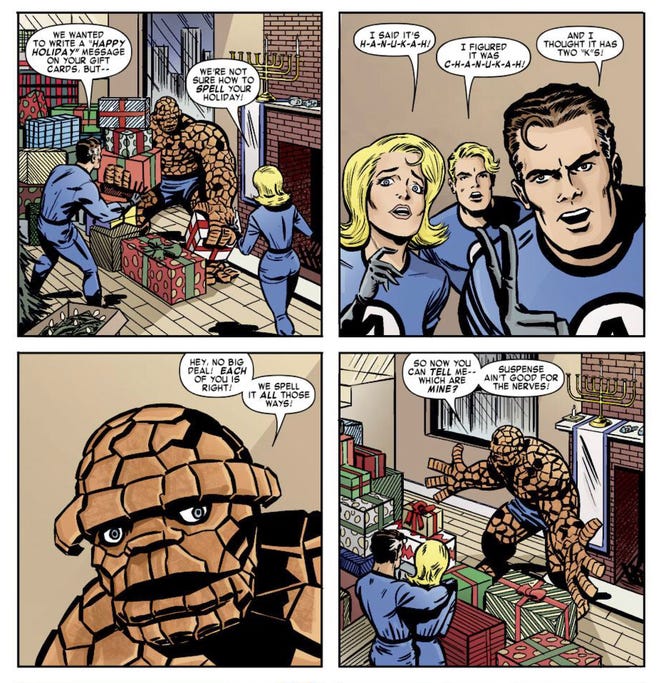 Long before it was canon, comic fans understood that Ben Grimm, better known as the Fantastic Four's bashful blue-eyed Thing, was Jewish. The faith of comic book characters was hardly a topic of discussion when the Thing debuted way back in 1961, in much the same manner than the faith of his (also Jewish) creators was up for discussion, but nonetheless, it was so clear from the way he was portrayed that is barely needed clarifying.
It wasn't until Fantastic Four #56, back in 2002, that the matter was actually raised in a story itself. Karl Kesel and Stuart Immonen were the creators responsible for that story, where Ben said that he didn't talk about his faith because, as he put it, he "figure[s] there's enough trouble in this world without people thinkin' Jews are all monsters like me." (It's a lovely story, and you should go check it out.) A handful of years later, Stan Lee and artist Nick Dragotta — doing a great Jack Kirby impersonation — followed up with a digital-only tale offering another reason the Thing might have stayed quiet about the whole thing: the rest of the Fantastic Four just didn't understand.
Reed Richards might be one of the world's smartest men, but apparently he didn't know how to spell Hanukkah before Ben set him straight; Sue even tells Ben that he can't have his gifts until they figure out the spelling, because… apparently no-one has figured out how to use Google, I guess. Thankfully, once he helps his friends out, he gets his first gift, and it's a great one: an original, signed, Jack Kirby drawing. "I musta died and went to Heaven!" he exclaims, tearing up. It's a moment that makes little sense given a moment's thought, but that's not what's important at this time of year. Let's just take a breath, and enjoy the impossible joy, just for a second.
Want more? You can read the entire story in Marvel Digital Holiday Special #2, available on Marvel Unlimited.
---
Stuff those stockings and fill those empty spaces under the tree with Popverse's recommended gifts for friends, loved ones, and yourself.