Santa Claus joins the Justice League in Day 20 of the Popverse Comics Advent Calendar 2022
As everyone knows, the Justice League is the best of the best - so of course Santa's a member
Every day of December counting down to Christmas Day, Popverse is hijacking the grand tradition of the Advent Calendar to share a moment from a holiday comic of yore. What else could you want from a classic combination of comic books and the yuletide gaze? Today, it's the turn of 2001's JLA #60, a comic that finally did what fans had been waiting decades for: let Santa Claus join the Justice League in post-Crisis continuity.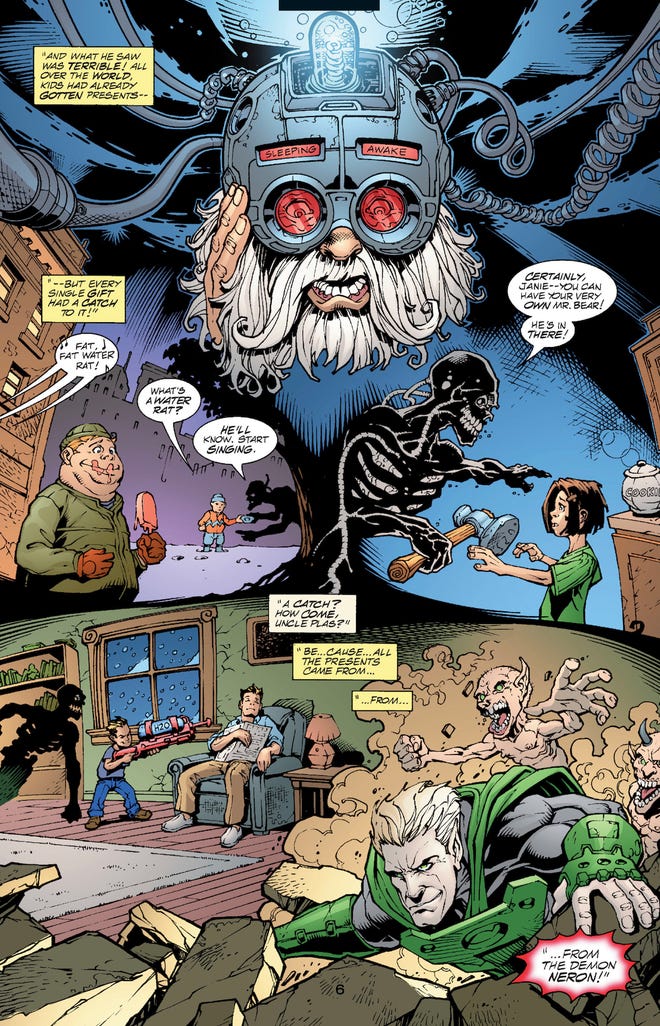 Okay, fine; the central tale in the marvelously-titled 'Merry Christmas, Justice League — Now Die!' Is an intentional feint; it's the story told by Plastic Man to Woozy Winks' kid, as he tries (unsuccessfully) to convince him that Santa is not only real, but every single bit as cool as the mightiest superheroes in the world. It's writer Mark Waid speaking through Plas, of course, trying to convince JLA readers of the particular pleasures of yuletide comics, with artist Cliff Rathburn playing willing and eager back-up.
Of course, Waid can't resist poking fun at both himself and the seriousness of post-Crisis superhero comics in the process; not only is the villain that Santa and the JLA facing off against Neron — the satanic majesty whom Waid had co-created for the Underworld Unleashed crossover event some years earlier — but JLA #60 has no less than two trick endings to tease people with the possibility that Santa really does exist in the DCU. (He does, of course.)
Knowing this is canon once again means that it's time for DC to fully embrace Santa as part of its multiverse of storytelling options: where's the Year One storyline to show us Santa's earliest days? (I guess that's just Boom! Studios' Klaus, come to think of it.) Where's the Black Label mini showing what really got certain people on the Naughty List? And, most importantly of all, how long do we really have to wait until Santa finally gets the guest-shot he deserves in World's Finest? Mark, I know you're out there. I know you want to do it.
Want more? You can read the entire story in JLA #60, available via Comixology and on DC Universe Infinite.
---
Stuff those stockings and fill those empty spaces under the tree with Popverse's recommended gifts for friends, loved ones, and yourself.