Celebrate Winter Solstice with Wonder Woman and Batman in Day 21 of the Popverse Comics Advent Calendar
Celebrate the longest day of the year in the company of Wonder Woman and Batman
Every day of December counting down to Christmas Day, Popverse is hijacking the grand tradition of the Advent Calendar to share a moment from a holiday comic of yore. What else could you want from a classic combination of comic books and the yuletide gaze? Today, it's the turn of DC Holiday Special 2017, a story that celebrates the Winter Solstice in the way the pagans wanted: with Batman and Wonder Woman smiling at each other.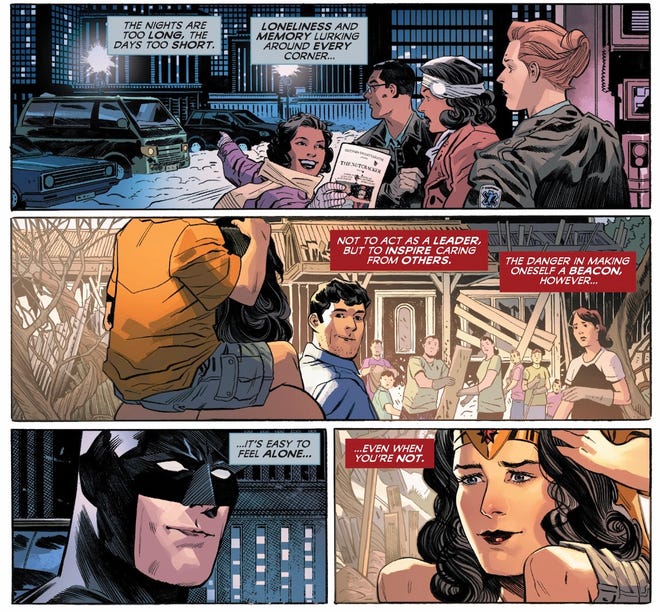 It's the shortest day of the year, everyone: that time of year that feels like a great idea until you remember that you still have the same amount of responsibilities and chores and work, just less daylight to do it all in. (On the plus side, at least all the decorations make the dark that little bit brighter and more colorful; despite what might seem like grouchiness, I actually love the darkness of this time of year for that very reason.)
As important as the Solstice is to many people — and as important as it has been to so many for centuries by this point — it's not something that gets a lot of time in the comic book spotlight, for whatever reason. That's one of the reasons that "Solstice," by Greg Rucka and Bilquis Evely in the 2017 DC Holiday Special, is such a pleasure to read. It's less a traditional story as such than a comic book poem; there's no real plot, but instead narration from both Wonder Woman and Batman as they talk about the special night, before meeting on the final page to talk properly.
That meeting, too, is quietly touching, as the two build a fire together to mark the solstice while Wonder Woman tells Batman, "you and I have a more intimate relationship with darkness. So you and I must guard against being consumed by it… and remind ourselves that the light always returns." It's a nice message on this day of all days, and a reminder for those struggling in this cold, dark season that things will turn around and get better before too long.
Want more? You can read the entire story in DC Holiday Special 2017, available via Comixology and on DC Universe Infinite.
---
Stuff those stockings and fill those empty spaces under the tree with Popverse's recommended gifts for friends, loved ones, and yourself.